Europe
»
Netherlands
»
North Holland
»
Den Helder
July 29th 2008
Published: July 29th 2008
Edit Blog Post
---
Sunday July 27, 2008
Up early to find out what the centre of Amsterdam has to offer. Another gorgeous day, but very muggy. We decided to take the metro. We couldn't even figure out how to get a ticket. We could either use cash, credit card or debit. Well c/c kept asking for a 4 digit pin, the debit card it didn't read and then the system went down due to technical difficulties - cold that have been us? Finally we used another machine used cash, but was suppose to go 3 zones, only would take money for two zones, so we went for it. Figures it was like home as it was Sunday. Our day in the city central was wonderful. We took a canal cruise, went to see Anne Franks house and the history of it, walk through numerous little streets. We saw the red light district and some of the ladies in the middle of the day. We saw old buildings with many different types of architecture as most of these buildings have been there for 100's of years. I am not sure how many km our feet put on today but they are feeling it. Tomorrow we will be touring the northern part of Holland going from east to west and then head to Texel.
Drawbridge from canal tour.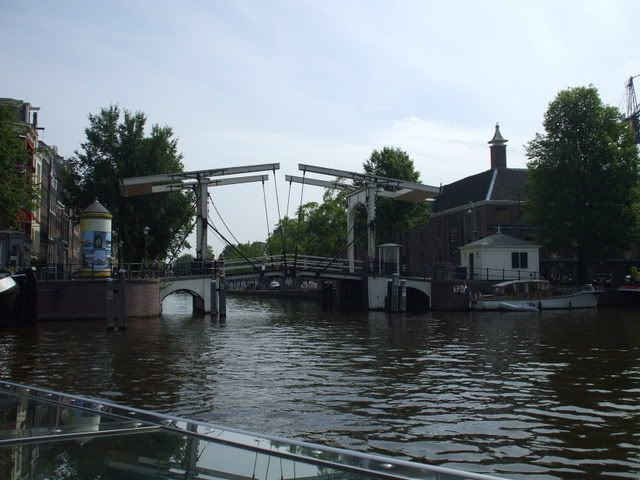 ---
Cheese Shop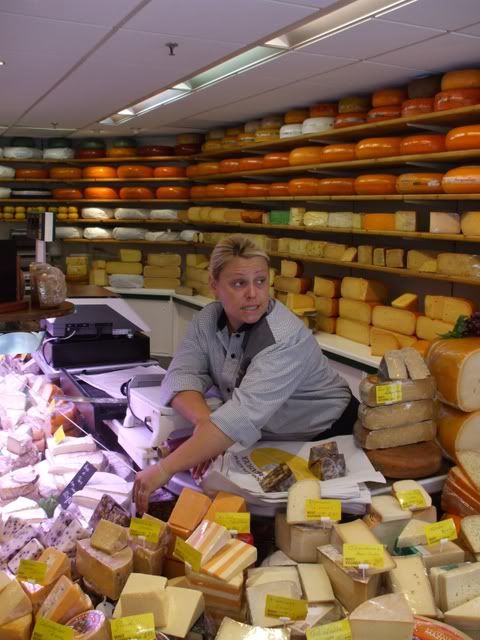 ---
Bikes at train station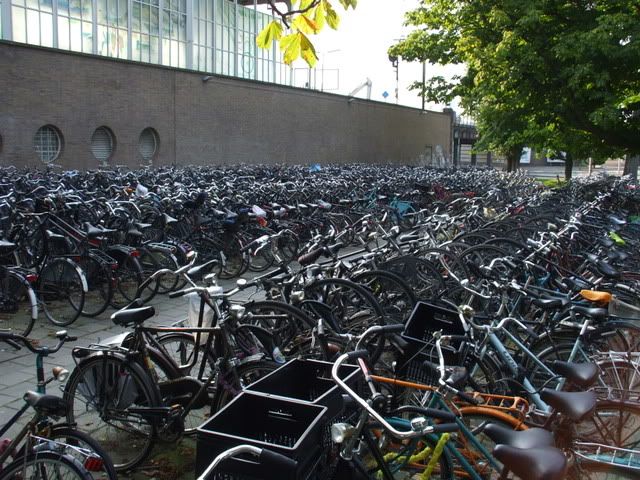 ---
Church in Amsterdam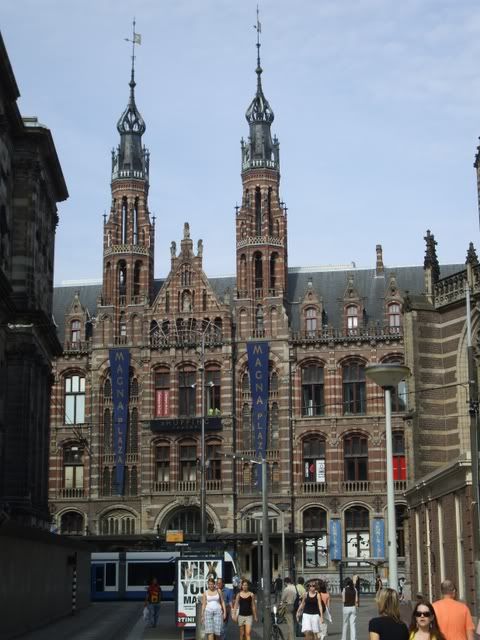 ---
Monday July 28, 2008
Up at a decent hour to travel through northern part of Holland, but first a stop at the Amsterdam AJAX soccer team stadium. A quick look at the fan shop and then off we go. We found our way out of Amsterdam fairly easy with GPS, there are very little street signs to go by, and headed to Zaanes Schans which is where many windmills were once used for sawmills, it is now more of a tourist trap but still interesting to see. We then headed to Monnickendam . The GPS took us through the rural route, where one car on top of a dike could travel. When another car came towards us we had to move over and ease by. On the right, was a canal filled with water, on the left there was a drop of about 30-40 feet. If the dike ever broke it would that area would be filled with water. This little town has some very old buildings and mostly native people of Holland living there. We then head a bit farther north to Edam - you guessed it a lot of cheese. Afterwards we zagged again westward over to Alkmaar on the west side of Holland and north to Den Helder where we took the ferry across to A very beautiful island of what we could see. We found my uncles place where we are staying for 2 nights.
Zaanse Schans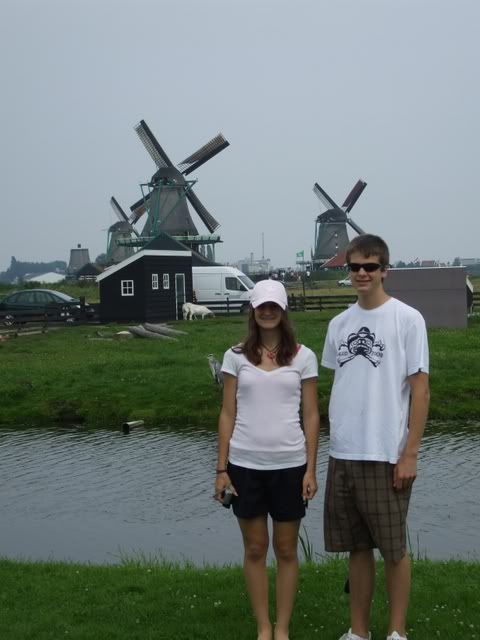 ---
Canal in Edam
---
Church in Edam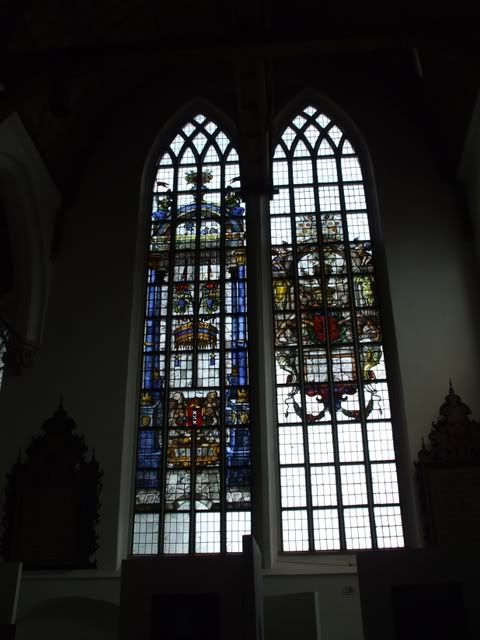 ---
Tuesday July 24, 2008
We are to drive around the island today, the island is about 20 km long, and 8 km wide and in summer has about 35,000 more people than in the winter (12,000) but the island is beautiful with no mountains, lots of fields, thousands of sheep, and the west side of the island is a national park which consists, of sand, dunes and the North Sea. We had a big thunder and lightning storm today, with one lightning strike very close to where we had stopped. We finished the day by being on the beach, just wandering up and down as the sun came out. Tomorrow we head south again with no agenda at all. Till next time….
One of many Sheep Farms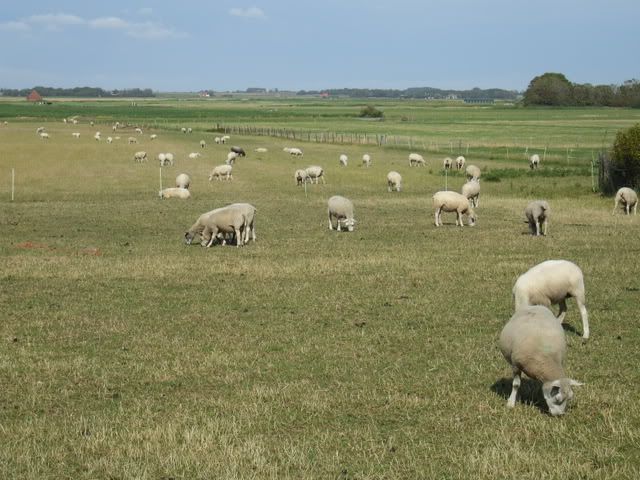 ---
Chruch from 1646 in Den Hoorn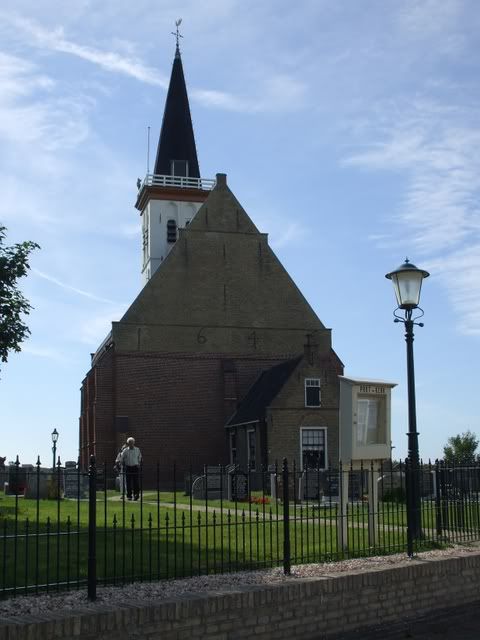 ---
Beach on the North Sea - Texel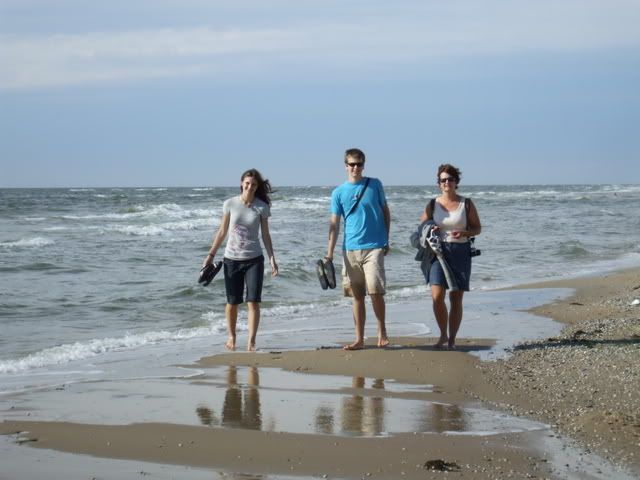 ---
---
Tot: 0.591s; Tpl: 0.014s; cc: 8; qc: 51; dbt: 0.0098s; 1; m:saturn w:www (104.131.125.221); sld: 1; ; mem: 1.3mb