---
(written during a weekend trip to italy four years ago while on assignment in munich, germany)
May 31, 2000. SAG Systemhaus Office, Munich. Late Afternoon.
We hurriedly cleaned our desk. Tomorrow is a German holiday and on Friday, almost every staff in our Munich office will be on vacation taking advantage of the four-day weekend opportunity. So the three of us - Mac, Che and me - will be heading our way to Italy, catching the midnight train from Munich to Venice, the first stop of our Italian tour.
This is a dream come true. I was assigned to this reengineering project a year ago little suspecting that I would be very fortunate to see most of Europe for free. We are here in Munich for the whole of spring to tie some loose ends of the project before it is delivered to the customer.
So here we are, ready to go home to our hotel and pack. We have to stop at the grocery to get some films, train food and all the toiletries we need in small packs. We can hardly contain our excitement. I have in my bag the three Eurail passes that would give our frozen-in-Munich selves an unforgettable four-day break under the Italian sun.
May 31, 2000. Park Hotel Laim, Munich. Midnight.
Knock on the door. Mac's ready to go. I took a last check, two bags loaded with sweatshirts on the top. It gets unusually cold on a night train and one jacket would not do the trick, a lesson we learned last weekend when we took a night train to Paris. We headed to the tram with big smile on our faces and eyes dreaming of gondolas and gellati, among other things Italian. We arrived at the overcrowded Hauptbahnhof, a proof that everyone had plans of going-away for the long weekend. After much trouble on wrong platforms and missing train cars, we settled on our seats and dreamed our way to an early Venetian morning.
June 1, 2000. Venice, Italy. morning.
I could not believe my eyes. I have read so much about the splendors of Venice but nothing, nothing could prepare you to the beauty of seeing it for the very first time. There right in front of me is the Grand Canal with its gondolas and vaporetti in a spectacular water dance that left me speechless. On the other side of the bank are the hotels and museums of ageless beauty. No book or film was ever so accurate in describing its magnificence.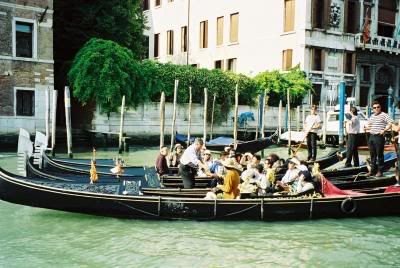 We planned on taking an inn near the station since we are leaving early morning tomorrow for Pisa. As luck would have it, we found one a scanty meter away. We were told to wait because the previous occupants are still taking their time in packing up. "Here in Albergo Adua, we let our guests linger on unhurriedly," spoken with a true Italian accent that left me in another quiet moment of disbelief. Venice, what did I do to ever deserve your beauty? We left our bags in the hotel counter and promised to return at noon when the rooms have been vacated and cleaned. We stepped out, bringing the only things that we need - wallet, camera, films, films and films.
Breakfast is first on today's itinerary. After secretly looking at the menu displayed outside the trattorias and mentally calculating its peso equivalent, we decided on a nice coffee shop that serves pasta. Not that it's the only shop that serves Italian meals but it's the only café that my wallet would be happy settling into. I was dreaming of a real Italian Carbonara, loaded with cheese and cream and more cream. We gave our orders eagerly only to hear that "We don't serve meals until 11." So much for a decent Italian breakfast. We settled on a tuna sandwich from a nearby bakeshop.
We wandered our way to wherever. The map from the hotel had arrows pointing to so many directions that we decided to leave our wanderings to fate. We walked around the narrow streets and stared at the buildings that are at least a hundred years old. Every window, however aging, is decorated with red spring flowers. In every corner you see vendors selling masks that somehow reminded me of the first time Romeo saw Juliet at a masquerade ball. There are street painters too, wrangling to draw my portrait which kind of made me feel like I'm a muse. Okay, that's overdoing it a little but hey, Venetian air gives you an excuse to feel heady sometime. It's not all the time that someone wants to draw me. Don't say that it's for a fee.
So we walked, only stopping by a bridge to watch a carpenter mending a stone wall while plunked on a boat. There was also a delivery boat with cases of wine passing through a hotel backdoor. These things might have little meaning to a city that never knew cemented streets but we were drawn to the scene like the wide-eyed tourists that we are. This is a city unlike any other I have ever seen. Where else can you see a speedboat for a taxi and a vaporetti for a bus?
This endless walking finally brought us to a cafe for lunch and to one famous sight on my Lonely Planet book, the Rialto Bridge. From the steps on the arch, you can see the Grand Canal and the famous palaces along its margins. You could hear from below the deep voices of the gondolier passing by as they entertain their passengers with Italian songs. Excited to traverse the lagoon, we decided to take the first incomparable cruise down the oh so grand Grand Canal en route to its last station, the famous Lido Beach. Along the way we would pass by all the famous sights by the banks and hopefully savor some culture shocks from the freethinking sun lovers on the beach.
June 1, 2000. Venice, Italy. Afternoon.
So here we are, feeling the lagoon wind on our faces as the vaporetti cruises down along the canal. I am trying my best not to blink, afraid that I might miss even one site. I am so amazed at how the buildings keep up its beauty when it's always in association with water. I gape at a building that looked like a watercolor drawing straight from a storybook and as we came near, it turned out that the facade is really a canvass painted to look like a building. I can only shake my head in astonishment.
The beach, however, is a disappointment. We could not help but wonder who ever thought of including it in the list of famous beaches. I saw better beaches in my province in Bicol, not to mention Boracay. But the walk to the beach was like a scene from the movie where Julia Roberts walks her way through shops and shops displaying all the clothes you can only stare but can never buy. Sigh.
We then boarded the vaporetti to Piazza San Marco. Seems like all the tourists in Venice thought about going there at the same time. Everyone was trying to haggle the vendors for a cheaper price for the corn. With corn, you see, you can have your picture taken with the pigeons all over you. It looked like a funny sight to us so we opted to just smile at the camera and take the bird-laden tourists as background. Okey, so our wallet can't afford the corn bits. There.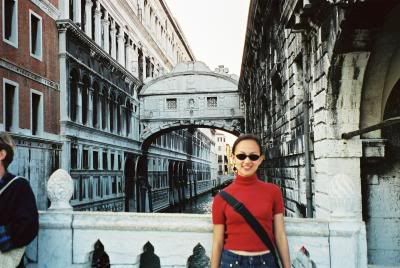 The Bridge of Sighs was a few meters away from the Piazza. I can understand the regret of the prisoners as they pass by the bridge to their cell. It was not called Bridge of Sighs for nothing. From its portholes you could see a magical vista of water, sunset and old churches.
We then found our way to the romantic Accademia Bridge catching the last rays of sunset and watching the water lights slowly set off.
June 1, 2000. Venice, Italy. Night.
It was already dark when we came back to the hotel. The lagoon was a party of colored lights reflected from the elegant restaurants and hotels at the banks. The air was colder and more romantic. The place has settled down to a quiet mood, like a lover quietly holding your hand while trying to convince you to stay. Even the vaporetti has slowed down its pace, letting you savor a peaceful night among water and stars. I could stay here forever.
While Mac was taking his shower back at the hotel, Che and I sneaked out into the streets again, never getting enough of Venice and knowing that it's highly improbable that we would see its beauty again. We scored the little shops eyeing some souvenirs for an early shopping the next day.
June 2, 2000. Venice, Italy. Morning.
Another day, another city to conquer. We packed our things before going out to buy souvenirs. Che and I settled on miniature masks and gondolas while Mac bought us sandwiches for breakfast. He was never after the sentimental stuffs. Men.
We left the hotel and walked to the Central Station to catch the train to Pisa. I could not tear my eyes from the lagoon. When shall I see Venice again? Perhaps never. We seldom get blessed with the same luck twice. I wearily sighed for the happiness money could buy and made my way to the crowded station.
(four years and one week later, i returned to venice with my husband for our honeymoon. but this time, i wisely and happily sighed for the things money can never buy - love, among others.)
---
Tot: 1.589s; Tpl: 0.019s; cc: 6; qc: 44; dbt: 0.0119s; 1; m:saturn w:www (104.131.125.221); sld: 2; ; mem: 1.3mb