Oceania
»
New Zealand
»
South Island
»
Fox Glacier
March 20th 2013
Edit Blog Post
---
The West Coast
After a long drive from Abel Tasman, we arrived in Westport where we had originally planned to spend the day. We realised very quickly that there was actually very little to see or do there....its never a good sign when the girl in the information office has to think for a minute before half-heartedly suggesting a half hour walk. Seeing as it was a bit of a miserable day, we decided to give the walk a miss and head on to Punakaiki and the famous Pancake rocks.
Pancake rocks but the Giants Causeway is of cause-way better...
The pancake rocks, so called because they look like a stack of pancakes, were pretty impressive but neither of us were wowed quite as much as some of the people who had written in the visitors book. .. "Awesome," "Incredible," "Breathtaking! " Rach decided they needed to go have a look at the Giant's Causeway before justiying comments such as these.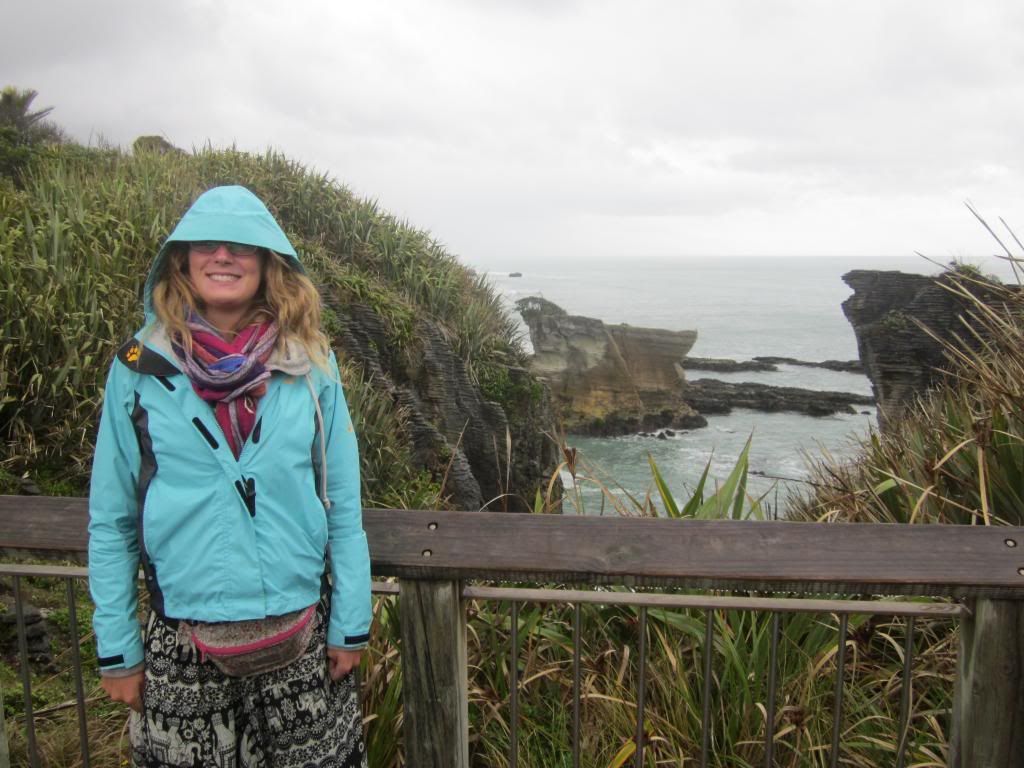 The bleak and miserable rainy maybe did not do the scene justice, especially while being trampled on, barged and jostled by the large group of Eastern European tourists who don't seem to acknowledge anyone else's right to take a picture.
At each upcoming town along the west coast road, we were hopeful we might find somewhere we might want to spend the rest of the day...we were disappointed everytime. The towns, often spread 100's of kilometres apart, are what is left of New Zealand gold mining rush, and seemed fairly bleak and desolate with little to offer apart from a a single empty coffee shop/general store with a single petrol pump outside. We cruised through Greymouth, stopping only to stock up at the only supermarket in 100's of kilometres, before finally parking up in Lake Mahinapua just outside Hokitika.
We had hoped to enjoy a nice walk around edge of the lake, but it turned out the Deparment of Conservation had other ideas with only one path going just 1km from the main road to the lake. Rach, operating like a yo yo, ran up and down this path for an hour on her evening run.
Running on Empty...
Waking up at Lake Mahinapua we discovered we were running pretty low on fuel so decided to fill up at Ross, the next town down the road. ..our first mistake. When we arrived we discovered that the guy running the petrol pumps obviously thought that the pumps supplied liquid gold rather than petrol as he was charging an extra 40cents per litre than anyone else we had encountered. Being stubborn and not wanting to head back the 20km to Hokitika, we decided to try and make it to the next town with the petrol light came on, Harihari 45km away...our second mistake.
Arriving in Harihari and running on fumes we were dismayed to find the "petrol station" was shut as it was a Sunday. Harihari itself consisted of several eerie looking houses with old rusty abandoned cars, a deserted b&b, a single coffee shop and a population of about 12 people, 230 sheep and 3 dogs....much like the majority of other towns on the west coast.
We were left with 2 options, pay $50 call out fee and buy some petrol or try and make it to the next town 35 km. As we walked down the deserted street, a jeep pulled up besides us and a man leaned out and asked us where we were going. It didnt take a genius to work out he abandoned campervan outside the petrol station belonged to us and we were looking for petrol. He conveniently claimed to be the owner of the petrol station and offered to open shop for us...if we got in the car and drove the 30m back to petrol station. Rach looking reluctantly at the car was about to say "no thank you, we'll walk," when Tom cheerily agreed and proceeded to hop in. Rach's heart really started to pound as she got in the car and hit her head off a metal spike protuding from the boot. Her nerves were not eased as the man playing on her fear, asked "What would you do if I didnt stop at the petrol station?" after exclaiming proudly "I've got you now!"
Luckily for us he did turn out to be the petrol station owner, and not just a resident weirdo, and didn't charge even us the $50 call out fee as it turned out he actually lived across the road from the petrol station. Before leaving he asked had we never been told not to trust strangers and to not get into a car with one again...lucky escape!
Fox's glacier....mint!
Another dismal day of rain, and a very wet walk to the base of the Franz Josef glacier we were like drowned rats.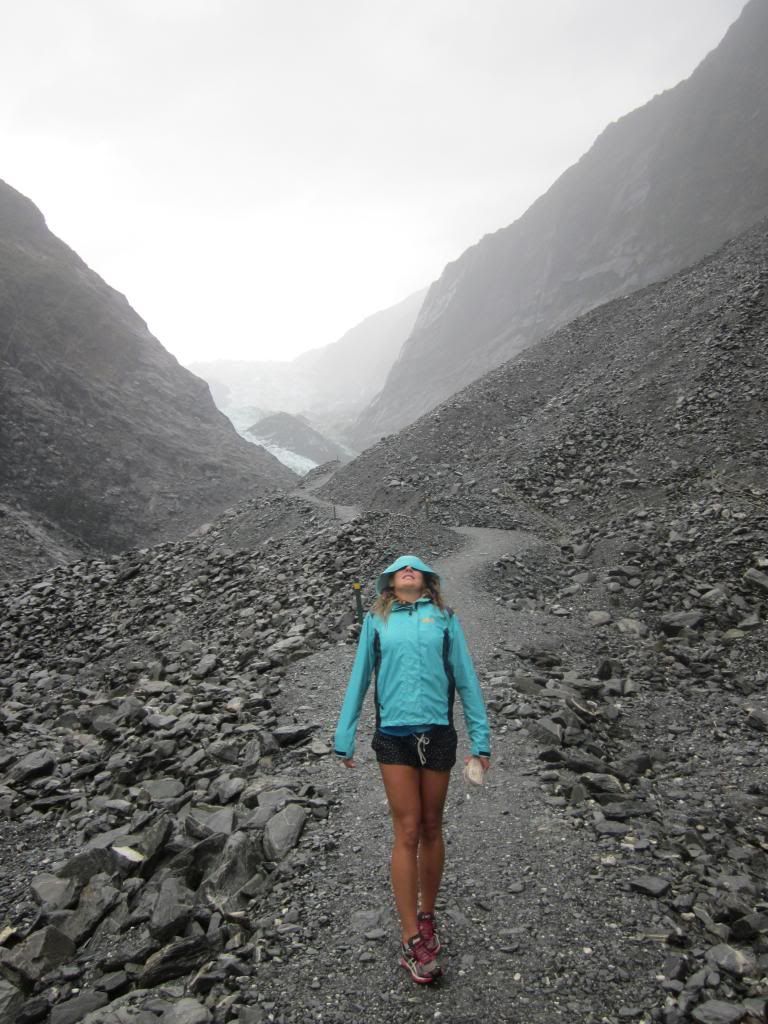 The rain persisted the following day so we decided to postpone our Fox glacier trip and instead purchased some ponchos and braved the weather on a short loop around Lake Matheson...the images displayed on the postcards in the gift shop were far removed from what we were able to see from the lake. Our view from reflection point was pretty underwhelming as not only wss there no reflection, you couldn't evem see Mt. Cook in the distance.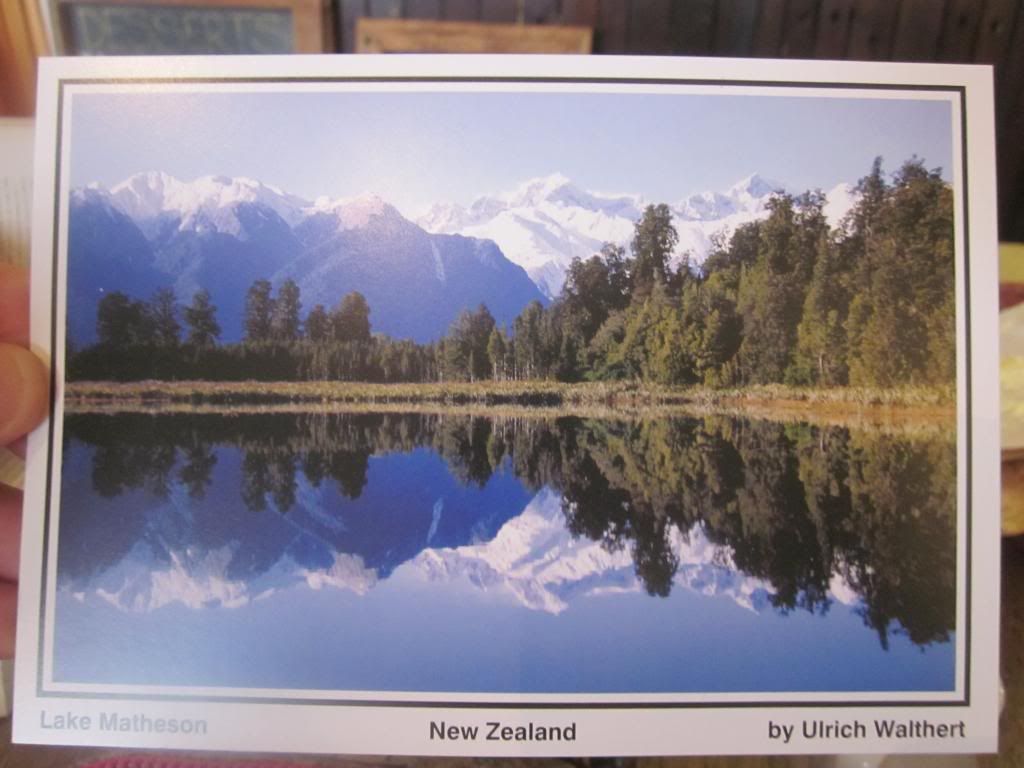 The following morning, we woke up to a cold and crisp but bright day...the rain had finally stopped. The locals arent quite so disappointed about the rain and are actually quite proud that the west coast is one of the wettest places on earth with 5m of rainfall per year in Fox township and a colossal 11m per year at the base of the glacial valley. This is one of only 3 places in the world that you can actually walk through a rainforest straight onto the glacier.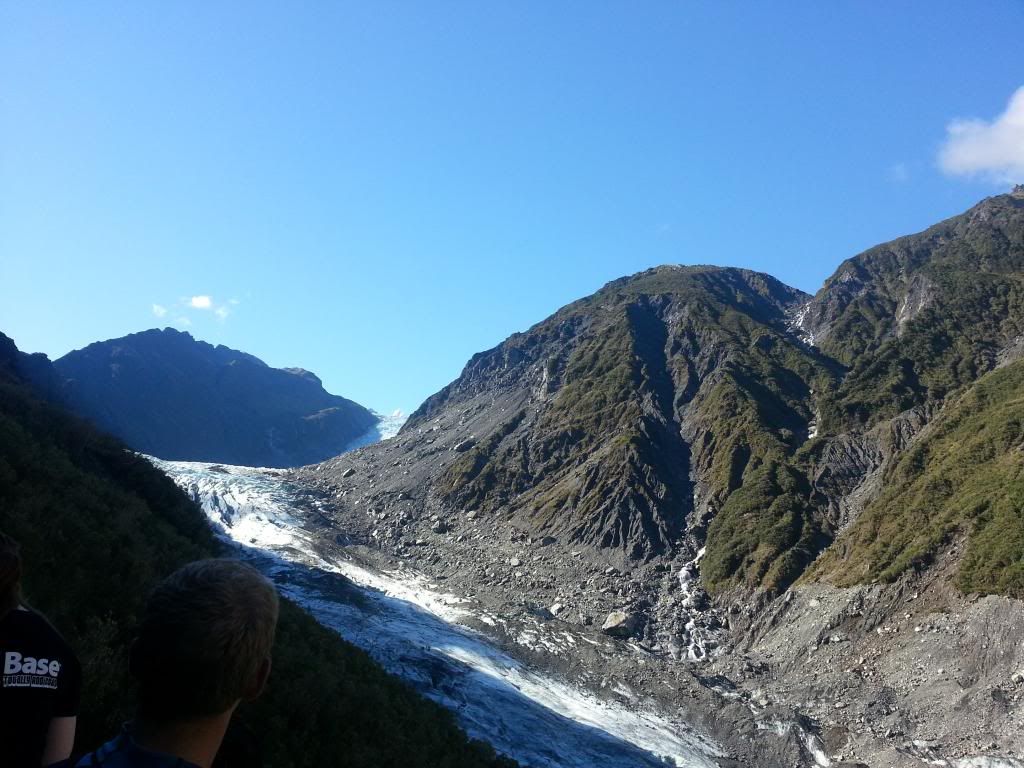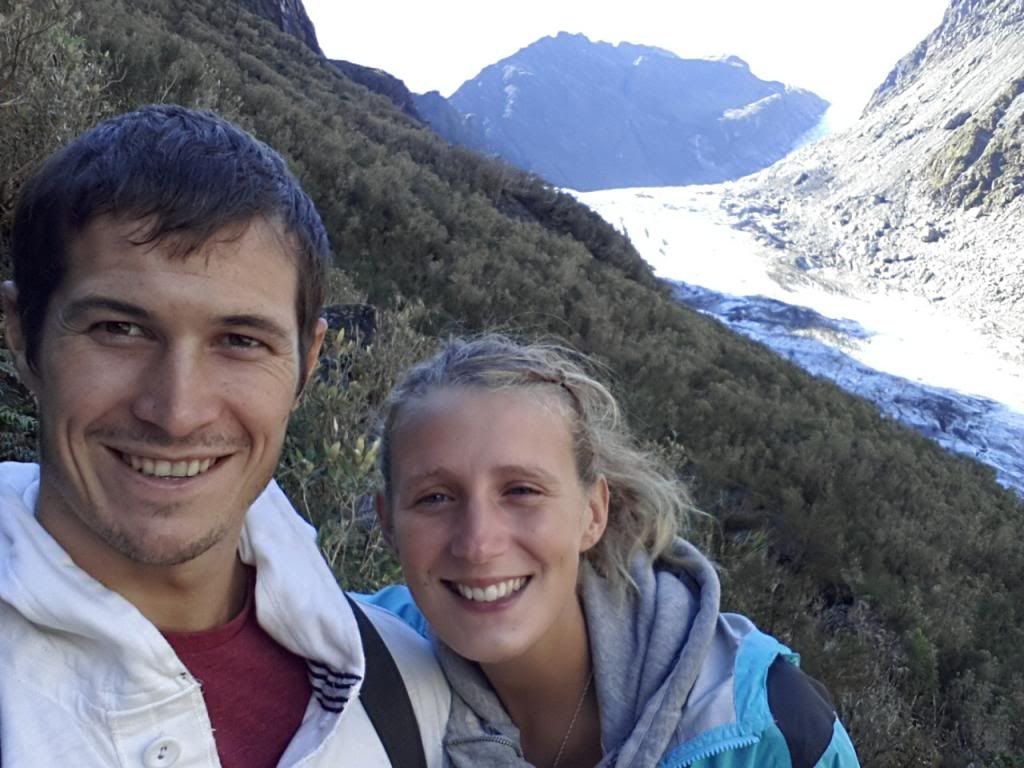 We were kitted out in warm coats, proper walking boots and crampons for our trip onto the ice and enjoyed the unique experience hiking up the ice and standing in between the large icy blue crevasses.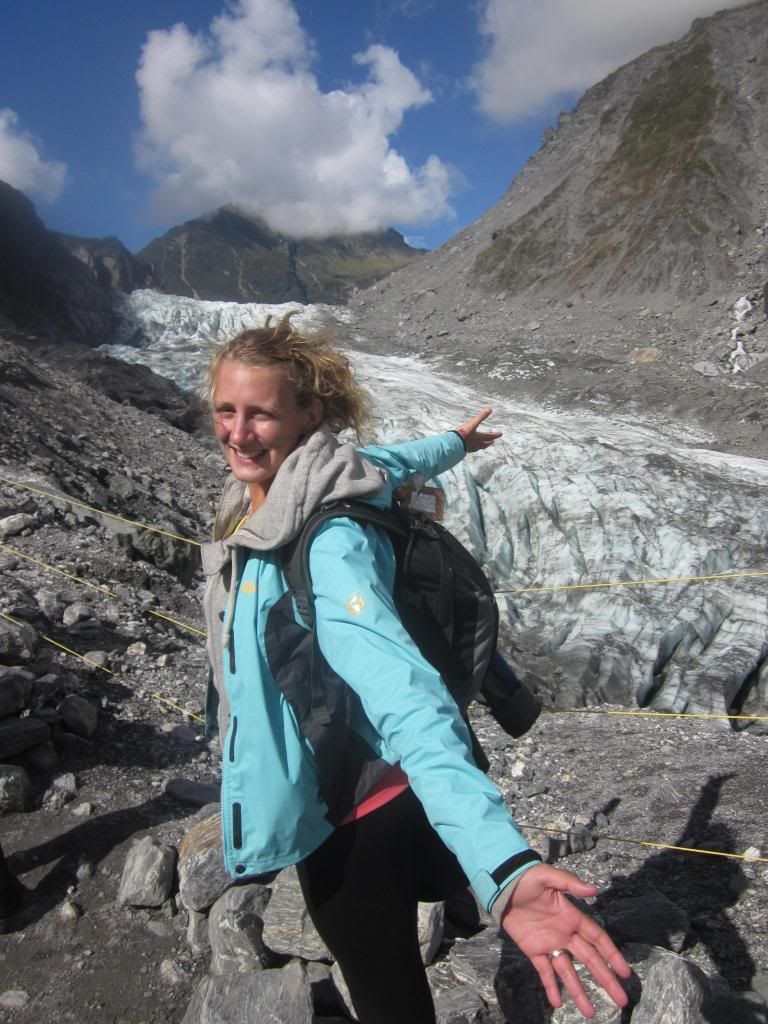 Some of thr interesting things we learnt were:
- There are over 3000 glaciers in New Zealand
- The glacier is flowing at a rate of 4m per day and melts down about 25cm during the day.
- The 11m rain at the base of the valley equates to 50m per year of snow at the top of the glacier which is compressed and hardens into glacial ice. On melting, the ice attempts to crystallise back into snow before reverting to water.
- The glacier ice is up to 200m thick with some crevasses going down 40m.
- There is a very fine layer of mud in areas of the glacier, which is actually formed from the many accumulated dust particles required to form each individual snow flake. The mud is good for your skin and is known as a glacial facial by the glacier guides.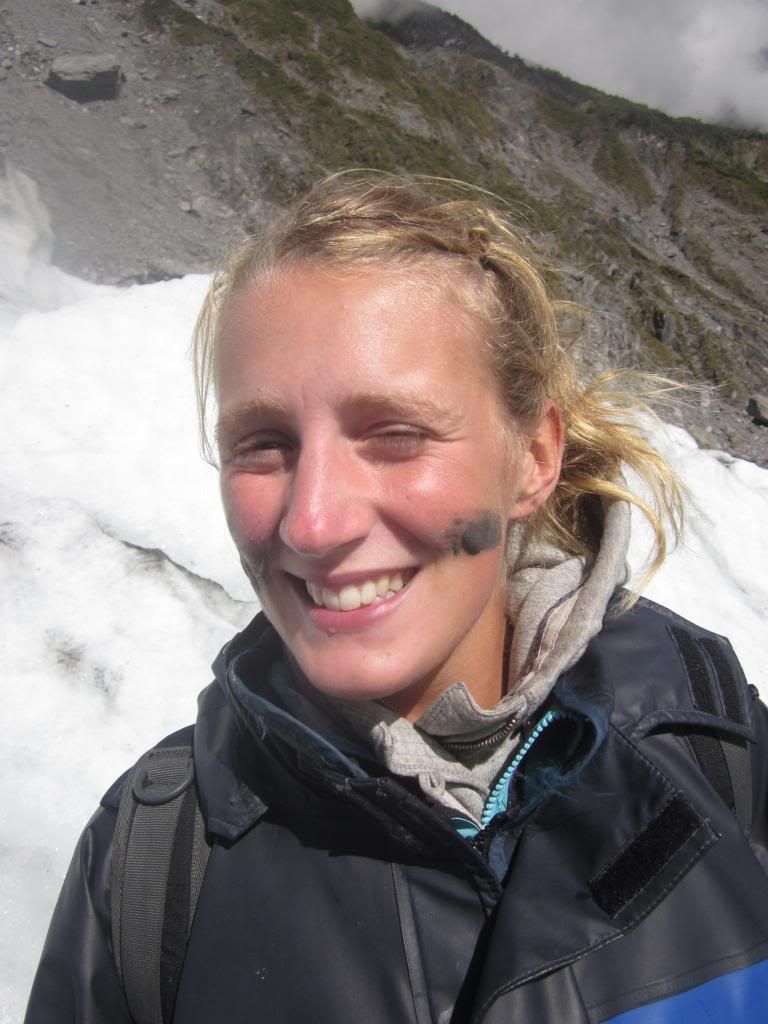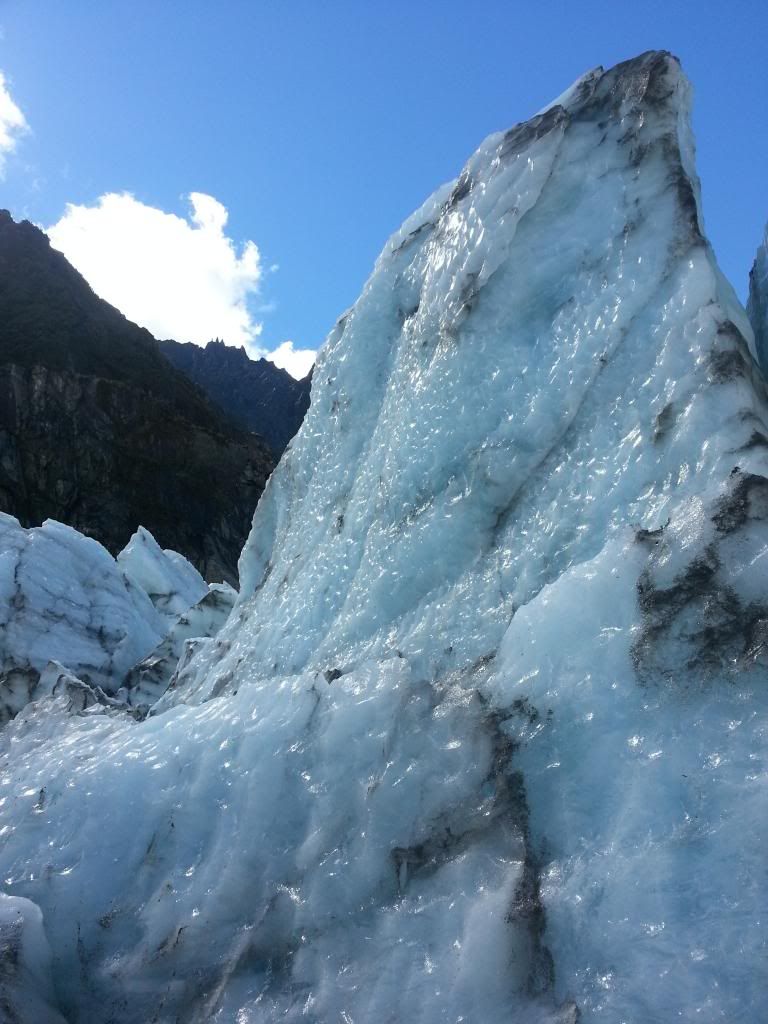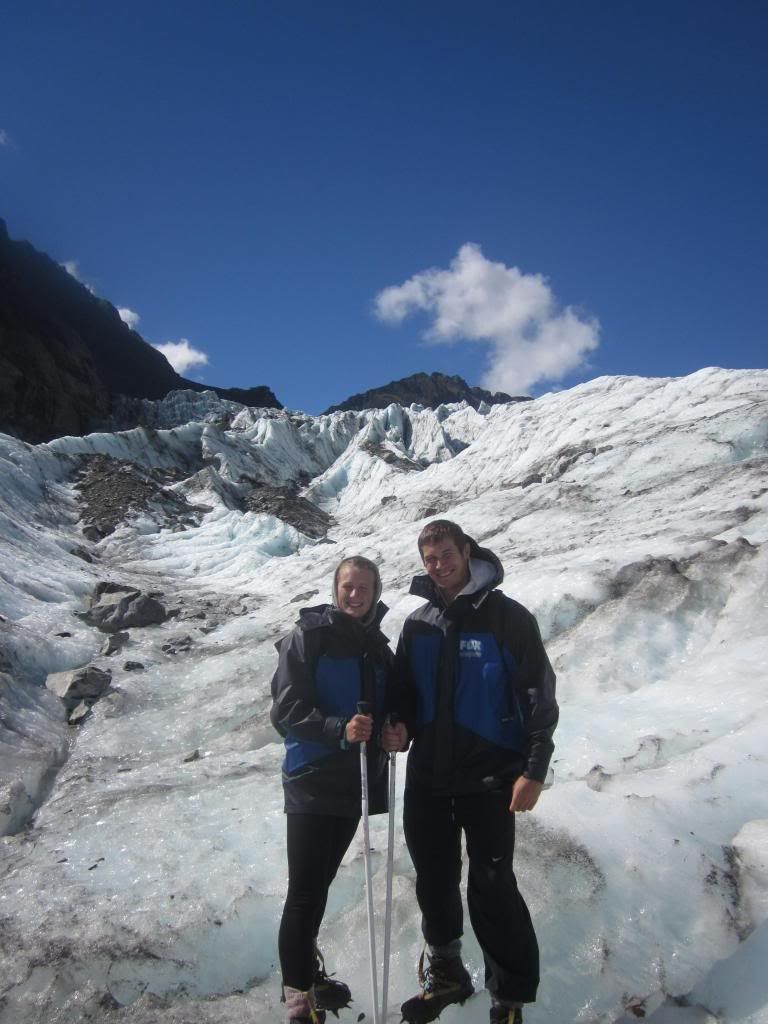 Feeling pretty fortunate we had got such a nice day, and not developed any frostbite, we headed onto to Wanaka.
---
Tot: 0.052s; Tpl: 0.015s; cc: 14; qc: 50; dbt: 0.0117s; 1; m:saturn w:www (10.17.0.9); sld: 1; ; mem: 1.3mb