Britain's American colonies broke with the mother country in 1776 and were recognized as the new nation of the United States of America following the Treaty of Paris in 1783. During the 19th and 20th centuries, 37 new states were added to the origina...
more info
visited countries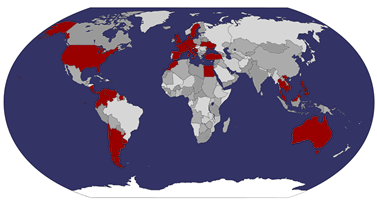 Map Legend: 16%, 44 of 263 Territories

Countries I've been to&nbsp










































Argentina, Aruba, Australia, Austria, Belgium, Bosnia & Herzegovina*, Cambodia, Chile, Colombia, Costa Rica, Croatia, Czech Republic, Denmark*, Ecuador, Egypt, France, Germany, Hong Kong, Italy, Luxemburg*, Malaysia, Morocco, Netherlands, Netherlands Antilles, Nicaragua, Panama, Puerto Rico*, Philippines, Singapore, Spain, Sweden, Switzerland, Thailand, Turkey, Turks & Caicos*, Ukraine, United Kingdom, United States, Uruguay, Vatican City* Venezuela, Vietnam, US Virgin Islands*

* Short visits (up to 24 hrs)

# Haven't been to Alaska or Hawaii, but both are part of the whole USA as a country! Therefore they're coloured as well.