Oceania
»
Australia
»
Queensland
»
Magnetic Island
March 13th 2013
Published: March 13th 2013
Edit Blog Post
---
Magnetic island
Another popular pit-stop for backpackers travelling up the east coast, Magnetic Island reminded us somewhat of Koh Tao and the Thai islands. Not just because of the lack of main roads around the islands, scenic walks and spectacular coastline, but also because of the full moon party hosted once a month.
The island reminded Rach of a giant campsite because of the criss-crossing and large soaces of frass in between where numerous houses were plotted in rows with no driveway or obvious separation of land.
The hostel we stayed at, Base Backpackers, was the most picturesque hostel we've been to so far with the bar area and swimming pool overlooking the crystal clear waters of Nelly bay. Even the toilets afforded a photographic opportunity with the view from the window showing a drooping palm tree and the clear, blue water. Unfortunately this was only to be admired from a distance as without a stinger suit, the enticing water was a no-go zone.
With our only full day on the island, we decided the best way to see it was on foot trekking from one side to the other, including the well-reknowned Forts walk. We gathered an army of carefully selected troops as after all it would be a battle of the fittest. Who needs walking boots, a map, and lunch when you've got flip-flops, red bull and cigarettes ehh Justin! ?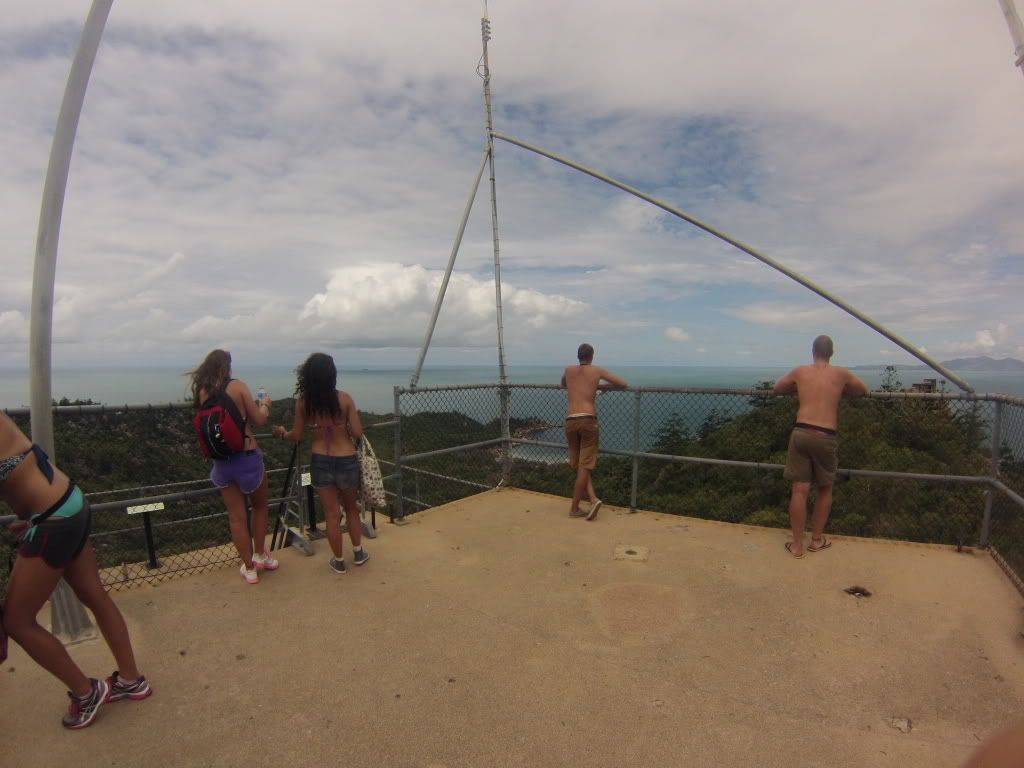 In typical Australian wet season fashion the heavens opened mid-hike, but this was not going to dampen spirits when we had Josh and Justin as lead vocals. "Why does it always rain on me...."
We had a few Steve Irwin moments along the way and got up close and personal with some of the beautiful Australian locals:
- a sneezing wild koala
- the green googly eyed spider
- the plague of a million tiny frogs
- black cockatoos
- and some wild wallabies, which Tom managed to scare of while trying to make friends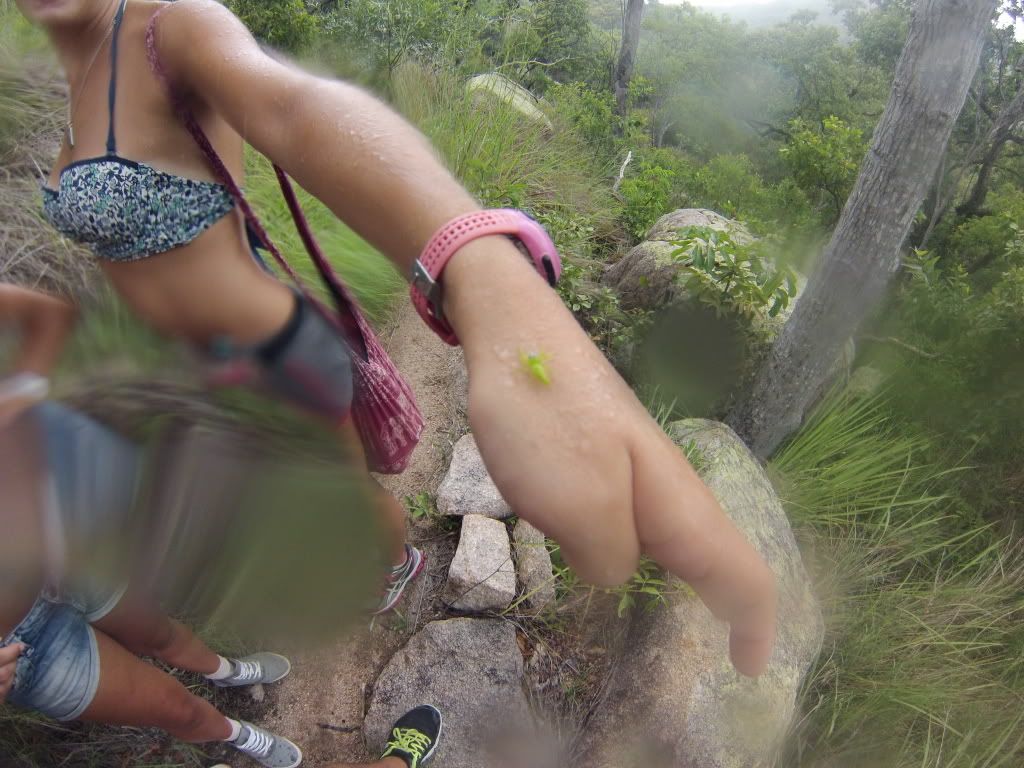 As if a 14km trek wasnt enough, Kate and Rachel attempted to best the clock and return to Base camp within an hour.
Josh and Justin thought that was the activity finished for the day and most immediately regretted agreeing to joining our beach workout. We think they enjoyed it. ..a little bit...maybe.
Rach had to go one better and head out for a run. Turns out it gets darker much quicker than she realised, resulting in falling into a pot-hole, twisting her ankle and landing on her face she returned to Tom crying, unable to put weight through her foot and covered in blood.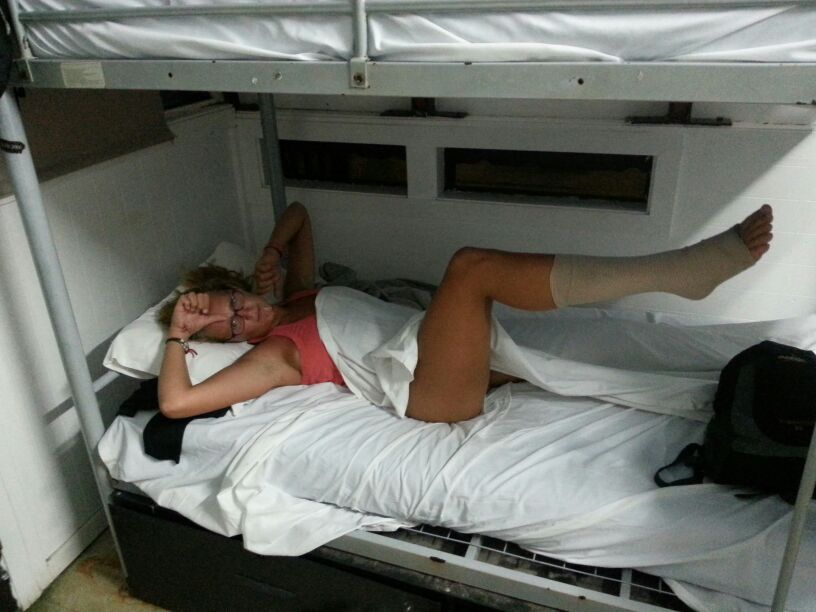 The decision whether to stay for another day had been made for us and we returned to Townsville to continue our worldwide hospital tour.
Townsville - world's worst name of a city
After a quick xray and being stitched up, we were given the green light and told everything was ok apart from some soft tissue damage to the ankle. This was good news and we woukd have been out the hospital in a shot were in not for the world's worst crutches provided in Australia.
We decided to try and see a bit of Townsville, only to get caught in a torrential downpour amd get stranded underneath a toilet block. ..what a good day! As it was a sunday, this meant missing the closing time of the supermarket and having the mexican equivalent of a subway.
All was not lost as we had managed to secure accomodation in one of the best hostels we've been to, with comfy beds, a homely feel and pearl harbour on in the tv chill out area to watch as the rain continued to fall.
Mission beach
Apart from the 14km stretch of sandy beach, mission beach didnt offer a huge amount and is only a top stop for backpackers as it offers the legendary mission beach skydive and whitewater rafting.
Our trip to the town centre was pretty uneventful apart from turtle spotting and giving a wild cassowary right of way on the drive home; town centre is used in the loosest possible way as all that was actually there was a coffee shop and a small souvenir shop.
We got involved in the hostel pub quiz that night. The boys fancied their chances and decided to rival the girls. Little did they know, Kate was the queen of celeb gossip which rocketed the girls into the lead finished in an admirable second place and earning free Internet.
The skydive!
Rach had been dreading the skydive since booking it 4 weeks earlier but after watching several people landing on the beach, none of whom seemed to have hated it, she was starting to feel a little more at ease.
Taking off backwards in what can only be described as a tin can of a plane was not an experience Rach was particualrly fond of. The mounting fears were soon replaced with awe at the sights of the closest islands and great barrier reef in the distance.
All too soon the hatch was opened and there was a gust of icy air into the plane; the time to jump had come. Whilst Tom was full of excitement and anticipation, panic had set in with Rach who was fully prepared to claw at the doors. Rach, so worried about her own jump, didn't even register Tom leaving the plane and then before she knew it she was out as well. Both dvds are worth a watch as Rach's dace at the moment of her jump is absolutely priceless.
Unfortunately for Tom, his nose started running mid freefall and the cameraman had to signal to wipe it...no wonder he didnt want to grab his hand and spin him round after that.
When the parachute went up, we both got a chance to steer our parachutes and finally landed on the beach.
When asked for any words of wisdom, Tom being unable to think of anything else replied "Errr...go sky diving!"...moron.
What an experience that was!
---
Tot: 0.062s; Tpl: 0.018s; cc: 14; qc: 46; dbt: 0.0159s; 1; m:saturn w:www (10.17.0.9); sld: 1; ; mem: 1.3mb