North America
»
United States
»
Alaska
»
Anchorage
March 6th 2017
Published: March 7th 2017
Edit Blog Post
---
---
Today was my first day volunteering at the Anchorage Network Center (ANC). This was what is called restart day for the race - the official beginning. The temperature in the morning in Fairbanks was minus 35! I don't know how these mushers do this. I checked the weather for the next 3 checkpoints and the low temperature was ranging from -35 to - 38.
We watched the start on the website and logged in their start times. The first checkpoint was at Nenana, 60 miles from Fairbanks. All of the checkpoints are connect to ANC by computer and phone (although I heard that 2 checkpoints just have satellite phones because they are so remote). We get emails from the other checkpoints and respond to them. For example - the mushers sent their equipment bags forward (with food for the dogs & whatever they need on the trail), and some bags were not where they were supposed to be. So we try to sort that out. The volunteers are already at the other checkpoints and lots of gear has been sent out with them.
There is also a call center for the public to call in with questions. They are located in a different room at the same hotel as ANC.
After about 5 1/2 hours we started getting the information for check-ins at the first checkpoint. The volunteers there log in who, when, and count the dogs. They send the information to us and we log it in, verify it, and send it out. The mushers will take a short break and leave for the next checkpoint, Manley Hot Springs, 90 miles.
This is an example of what a musher will do at a checkpoint:
Dallas Seavey
Dallas Seavey arrived in Nenana at a lethargic 9.86 miles an hour and was reported to have arrived with 16 dogs. However, the stats fail to reveal that he actually was only driving 12 dogs while, comfortably curled up in his specially designed boxes of his carbon fiber reinforced sled bag were four resting dogs.
On arrival to Nenana, Dallas quickly launched into a 15 minute drill. He checked his dogs, looked at the booties, released two dogs from the tow line who obediently stood calmly by the team, moved like a dervish to the sled, unhooked the stoppers to the kennel door from which two resting huskies emerged. An exchange was made, two fresh dogs were hooked into the team with one assuming the single lead. Then again, two more dogs were unclipped, two emerged from another kennel door, and before the crowd really comprehended the new order, Dallas was ready to leave with thirteen dog team with three dogs now resting comfortably. Deep breath, and now he retrieved fresh bags of what appeared to be frozen snack bags for the dogs and installed them and some fresh booties and harness into well designed compartments that fit to the size of his gear bags.
Laughing, breathing hard, he looked up at this handlers standing by and asked how fast he did it? "14 minutes!" we hear. Certainly, most mushers are taking on average fifteen minutes to reorganize their loads at checkpoints.
So, obviously, Dallas is working with some kind of calculus that leads him to believe that his slower speed—-basically a very safe trot that reduces the risk of injury—the rested dogs, and his physical efforts will gradually afford him an advantage in a few days. Certainly he has done the math or considered the consequences and found that the overall workload will be his benefit.
Of course, we'll never quite know his rotational schedule—-but it does present great math puzzles. I am told by reliable sources that the boxes could actually house five dogs.
Most mushers have 16 dogs. They cannot add dogs while on the trail so maybe Dallas' strategy is to run with 12 and have 4 fresh dogs to swap out. They have to finish the race with a minimum of 5 dogs. BTW- Dallas won last year.
When the mushers leave the chekpoint, the time is logged and the volunteers count the dogs again. There is a GPS on each sled and this can be watched with the GPS tracker on the website.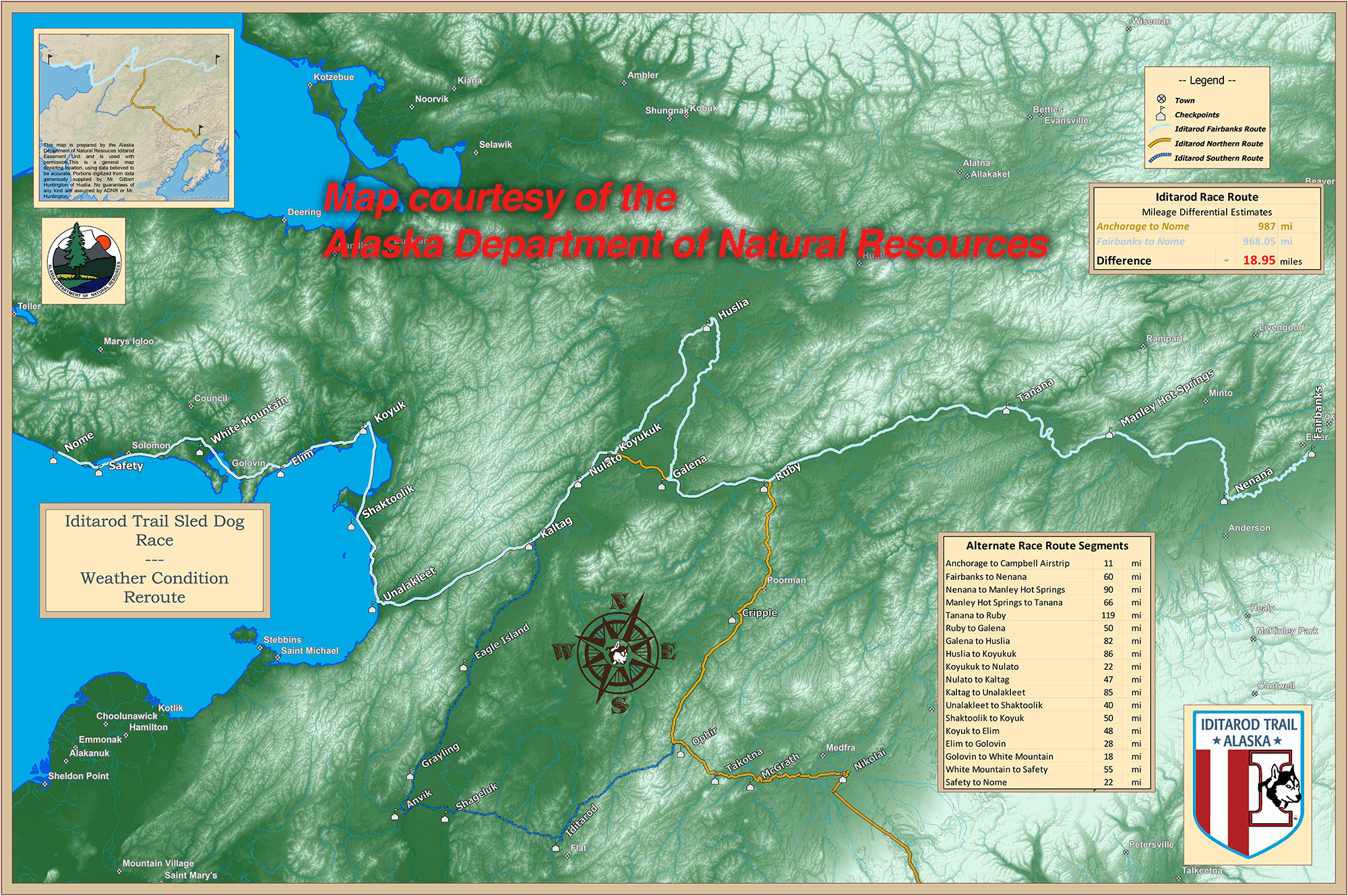 Each musher has a strategy of how to do the race - when to rest, feed the dogs. There is a mandatory 8 hour and 24 hour layover that each musher must take.
I want to highlight certain mushers each day. Here is Dee Dee Jonrowe. This woman is 63 and still going! She was diagnosed with breast cancer in July 2002, had her treatments and went out on the Iditarod in 2003! While she has never won the race, she was the 2nd-place finisher in three races (1996, 1993, and 1998). Her 1998 finish in second place with a time of 9 days, 8 hours, 26 minutes, and 10 seconds is the fastest time recorded for a woman.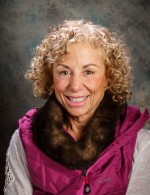 DeeDee Jonrowe
Bib Number:
22
Hometown:
<span>Willow, Alaska
Website:
http://www.deedeejonrowe.com
View full career in the archives
Biography
DeeDee Jonrowe, 63, was born in Frankfort, Germany, while her father was in the military. The family moved to Alaska in 1971 where her dad was stationed at Ft. Richardson. DeeDee has a B.S. degree in Biological Sciences and Renewable Resources and now lists her occupation as kennel owner and public speaker. She began mushing in 1979 when she was living in Bethel and her mother was excited about volunteering in the early Iditarod races. (Peg Stout attended every Iditarod start before she passed away in July of 2015, except in 1974 when her husband was stationed Outside.) DeeDee says, "This will be my 35th Iditarod start, 16 finishes in the top 10. "In three decades I have seen our event mature in many ways as has the state of Alaska. I am committed to using the things I have learned to improve the lives and conditions of all working dogs, the people of rural Alaska, especially young people searching for a meaningful life and our precious elders who have so much to teach us. God has blessed me with the health and circumstances to participate in this celebration of the bond—dogs with man, together opening the unknown. I am truly blessed." Deedee goes on to say, "When challenged with the Sockeye fire, I had very little time to evacuate. Instinctively, I grabbed the most important things in my life, my dogs. Besides a few guns, we lost everything we have ever owned, all our records. We only saved our dogs. That is the deepest value I placed on them." DeeDee is a member of the Big Lake Baptist Church, the Willow Running Club and Alaska Missions. She says her hobbies and interests include raising Labrador Retrievers, Pekingese Rescue, socializing young dogs for service dog training and running. DeeDee is married to Mike, secretary of the Iditarod's Board of Directors.
I'm glad you're enjoying my blog. Keep those comments coming, and tell me what you want to know about the Iditarod.
---
Tot: 0.037s; Tpl: 0.015s; cc: 7; qc: 25; dbt: 0.007s; 1; m:saturn w:www (104.131.125.221); sld: 1; ; mem: 1.2mb