North America
»
Canada
»
Alberta
»
Banff National Park
»
Johnston Canyon
July 15th 2008
Published: October 9th 2009
Edit Blog Post
---
I'd been living in Toronto for the better part of a year and had failed to get out and explore the rest of Canada in this time (bar halloween in Montreal and a weekend in Uxbridge), so I figured it was about time to head west and check out the rockies. My roommate James and I did a bit of quick research and discovered we should plan our trip based on our experience (can put up a tent), equipment (will buy) and fitness (played soccer 3 years ago). We settled on a 7 day hike through Badger Pass, carrying our tent, gear and food with us for the entire 77km hike. I set about spending my entire savings on a sleeping bag, mat, boots, freeze dried food, bear bells, waterproof matches, travel toothpaste and other necessities.
James' Honda Civic took a beating on the 37hr straight-shot drive from Toronto to Calgary (didn't help that we got lost in Montana for half a night, but thats a whole other video). Our rest day in Calgary was spent purchasing last minute supplies (bear spray, hat), packing our packs and watching 'Grizzly man' (just to get us in the mood).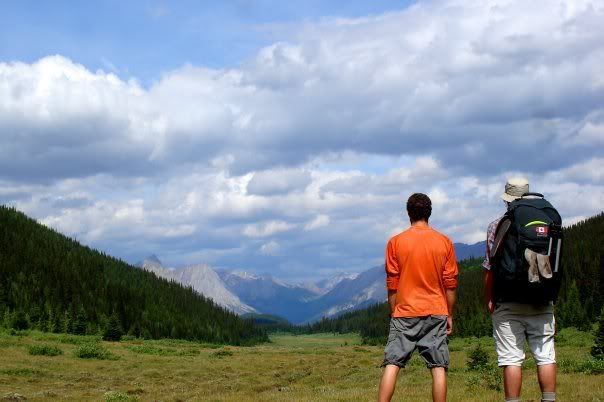 Around 11.00am Sunday, we parked at the trailhead just outside the town of Banff and made our way, very slowly, up Johnston Canyon. The combination of a pretty steep incline, our maximum pack weights (still full of uneaten food), new stiff hiking boots and an obviously unfit Tim made for an embarrassingly slow and uncomfortable first 9km of the hike. We set up camp mid-afternoon and tied all our food up high, out of the reach of any curious bears. Dinner consisted of 'Caribbean rice' which was basically rice with some salt and some extra salt. The tent was cosy and wet and we both woke up with wet sleeping bags thanks to condensation.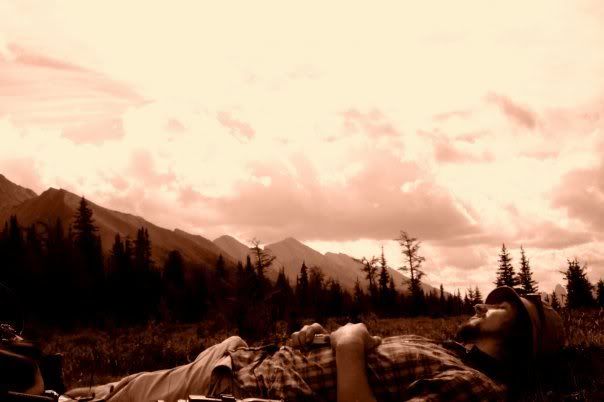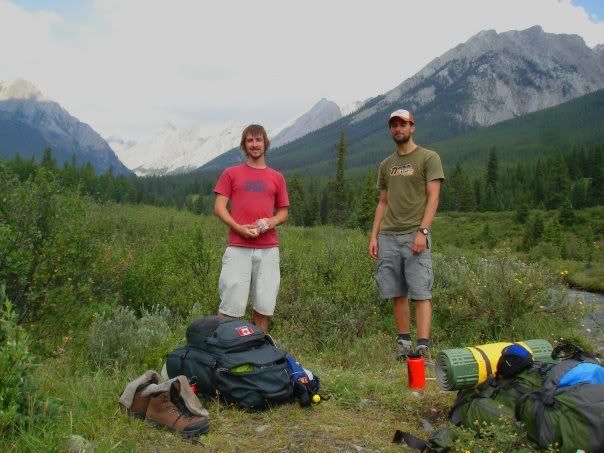 Day 2 we hiked up through Mystic Pass. Rocky cliffs (and trail) guided us to the top of the pass for an amazing view. It took a few hours to make it to our next camp on the shores of the isolated and pristine Lake Mystic.
Day 3 started slowly after we took a wrong turn and ended back where we started an hour after leaving camp. The trail over Sawback wasn't too hectic and we knocked over 12km in decent time. Bear poo started turning up a bit more frequently and we were sure to keep noisy on the trail. I was definitely getting used to my pack and hardly noticed the blisters on my heels. We followed our routine, tent up, cook dinner, sleep and prepared ourselves for a big day tomorrow…
Day 4 was supposed to be a short jaunt along to north leg of the trail, that would take us to the base of Badger Pass, which we would hike through the following day. We arrived at our new camp mid-morning and, after hearing that the weather could take a turn for the worse tomorrow, decided to continue on and tackle Badger Pass today. This would add several hours on to our day and make it not only the highest elevation we would climb (2541m) but also the most distance we had covered in one day at 22km.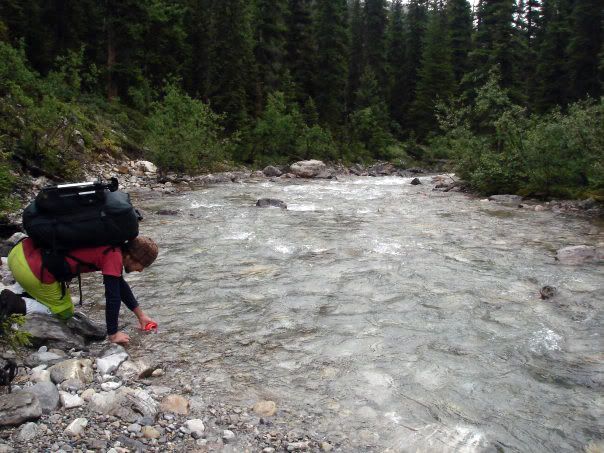 The ascent was not as difficult as we expected, having heard that we were apparently going 'the wrong way' and would be doing a much tougher climb than if we were coming from the opposite direction. We reached what we assumed to be the top of the pass, congratulated ourselves on a job well done, walked around the bend and realised he hadn't even started our hike. The weather turned miserable and as the temperature dropped, misty rain began to slowly soak through our clothes. Several exhausting hours later we eventually made it to the summit and looked down into the valley to our next campsite, still 7km away. But hell, it was downhill! We literally ran down to the junction and set up for another drizzle-filled evening.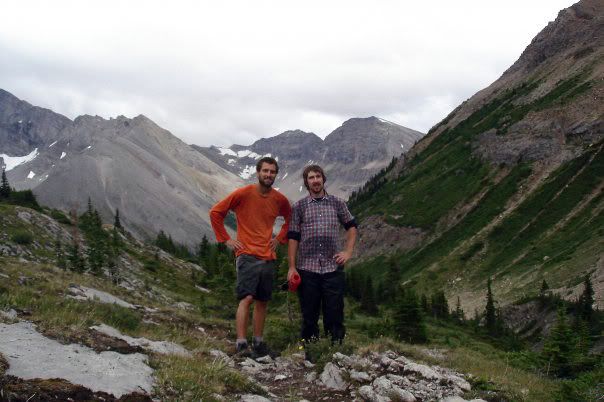 Day 5 we set out for Lake Luellen. It was a short day but the weather was crappy, and I was walking in the same wet socks as yesterday. I attempted to wrap my feet in garbage bags to keep them dry but that was only semi-successful. We arrived on the shores of Luellen mid-afternoon and spent the next 19hrs squashed in our tent, trying to keep dry and happy. We got up briefly to heat some soup over the camp stove but our main meal consisted of protein bars we smuggled back to the tent, despite the risk of curious bears.
Having skipped a campsite to climb Badger Pass a day early, Day 6 was going to be our final day on the trail, but it was going to be a long one. The 18km trek would take us back through our first campsite, down Johnston Canyon and out to the Honda Civic, ready to drive us 40hrs home to Ontario. Big ups to James for instigating this whole trip and filling the lonely silences in the woods with his melodic ukulele twanging.
http://vimeo.com/1910073
http://vimeo.com/1951133
---
Tot: 0.058s; Tpl: 0.017s; cc: 9; qc: 49; dbt: 0.0158s; 1; m:saturn w:www (104.131.125.221); sld: 2; ; mem: 1.4mb