Europe
»
United Kingdom
»
England
»
Tyne & Wear
»
Newcastle Upon Tyne
»
South Shields
September 18th 2011
---
JUST A QUICK NOTE. I am not in South Shields, nor will I be for the majority of the entries I post here. I have to select that because the website will not allow me to publish an entry under 'Newcastle' without selecting 'South Shields' after it. I should probably bring this to their attention. Maybe I will do that tomorrow.
Anyway...
I think my experience transferring flights at Heathrow Airport can be nicely summed up by this one thing: I had to wait in line in order to use the Ladies' Room sinks.
Not because British women are particularly engrossed in their appearance - no more than anyone else, at least - but because when you have 10,000 people in one building trying to do 10,000 variations on the same thing...you have mass chaos. Put these crowds in a country that queues obsessively? You have to wait in line to use the escalator. Or a mirror.
My flight from Boston went as well as international overnight flights can possibly go (i.e. I didn't sleep but was never tempted to throw myself into the Atlantic Ocean rather than endure another minute). Then after 3 hours in the aforementioned hyper-organized mass chaos, my flight to Newcastle was moved and delayed. Which was fun.
By the time we reached Newcastle, I was so tired I couldn't count to three (no seriously, but that story is too embarrassing to put here in detail), had trouble keeping my eyes open
while walking
and had serious issues navigating all my luggage (2 rolling suitcases, backpack, messenger bag) at once. After a string of unfortunate moments - forgetting to tie my shoes after security checks, elbowing a strange man in the head, setting a suitcase down on my own foot - I may have started to despair a little bit. And as I watched 5 of my 1-pound coins roll away across the metro floor in Newcastle, I thought "Is the Universe trying to tell me something? If so, left it a bit late, haven't you?"
My thoughts can sound very British sometimes.
But then the metro went through a field of sheep with a rainbow behind it, so I took it as a peace sign and the rest of the day went very well.
Anyway: Newcastle!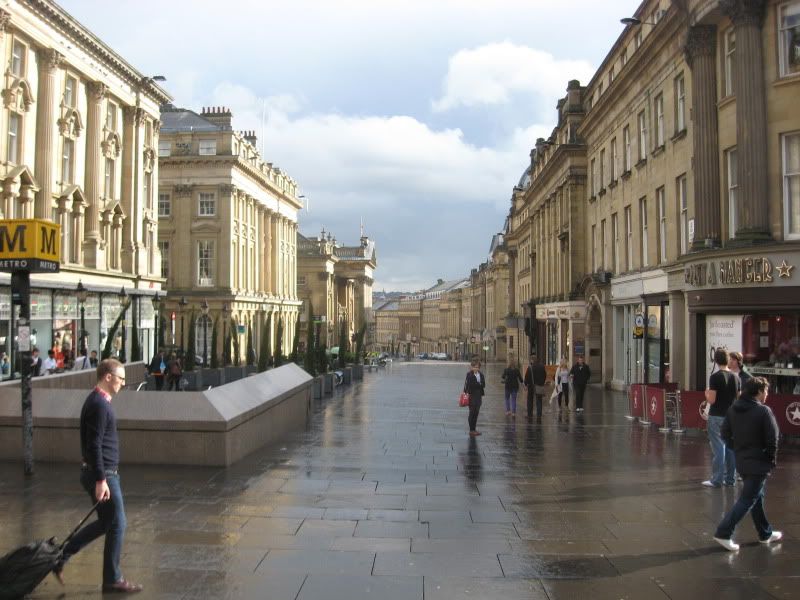 This is Grey Street in city centre and
it has been voted among the best
in Britain
on multiple occasions.
The aptly-named Monument Square stands at the head of Grey Street, where it intersects with multiple streets lined with stores and entrances to multiple huge and complicated shopping centers.
It's a good thing I don't really like shopping, because you could go crazy here. Norwich is kind of the same way (a lot of English cities are, I've found) but this was just intense.
By the way, people in Northern England are among the friendliest I have ever met. Very easy to feel welcome here.
If you can't read this (crap lighting, not much I could do), it says 'NEW ZEBRA CROSSING.' If I ever find out what that means, I'll let you know.
Down (literally, down a hill) at Quayside, the pedestrian walkway along the river Tyne, you come across this:
A pedestrian bridge called the Gateshead Millenium Bridge, the coolest drawbridge in the world.
But don't take my word for it.
It has won
a long string of awards
basically for being the coolest drawbridge in the world. There is a list of dates and times when it is scheduled to go up, so I will definitely plan to be there for one of them.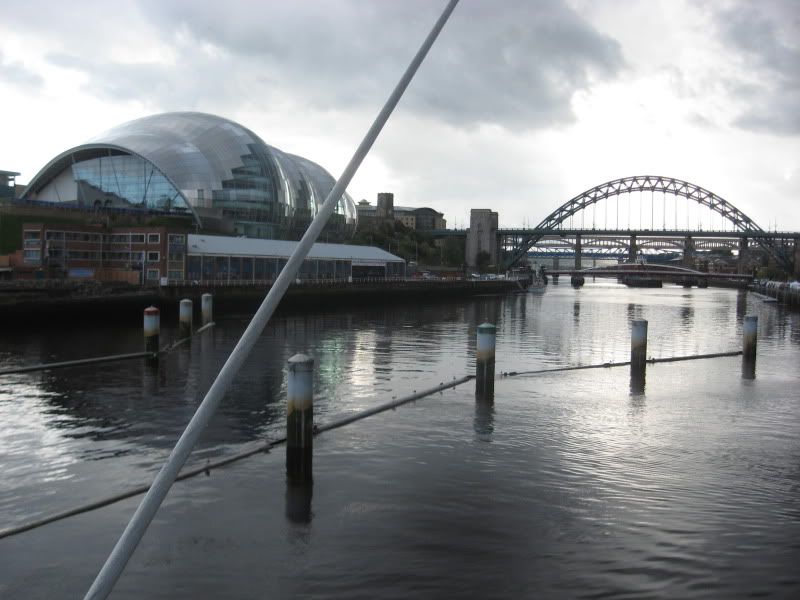 From the GMB, this is Newcastle's OTHER iconic bridge (called, less creatively, the Tyne Bridge), as well as the Gateshead Sage, a huge music/arts/entertainment venue. Gateshead, by the way, is the name of the city across the river. It's a sort of Cambridge/Boston type situation, only without Harvard. Or MIT.
It's interesting to see how locals behave differently by city. Here, people only cross at crosswalks and actually wait for the signal. Coming from Boston - where street-crossers sometimes look to make sure there's no car within 12 inches - doing all that made me feel like a tourist. Which, admittedly I am for today. And now I'm a tourist who didn't get hit by a car, so I guess that's something.
A bit of the history here. In the foreground on the left is the corner of Blackgate, a sort of stone archway, and in the background is the castle keep. There was a display explaining the history of these two things, but honestly I was crashing again by the time I got here and don't remember a word of it. So that will have to be a later entry.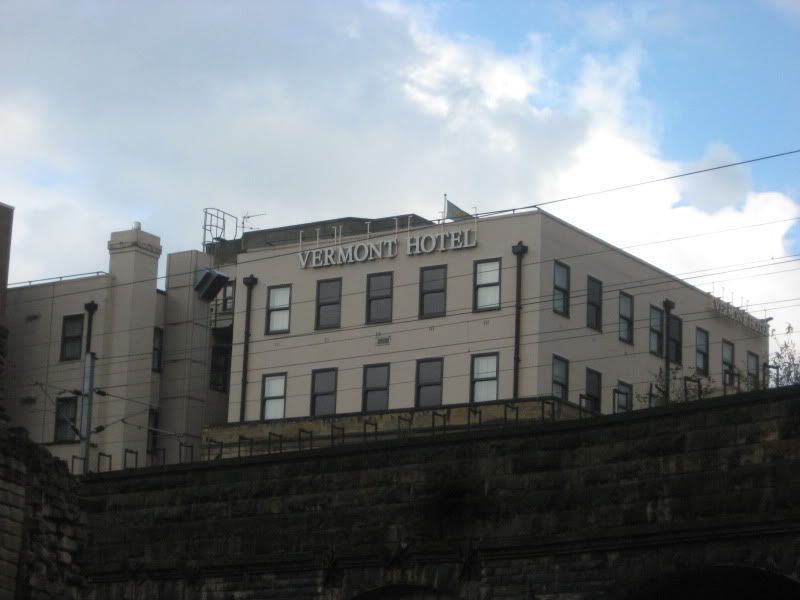 But check this out... I had heard of this but didn't expect to run into it. It's like the 'Peacocks' stores you find all over the place in the UK. Creepy...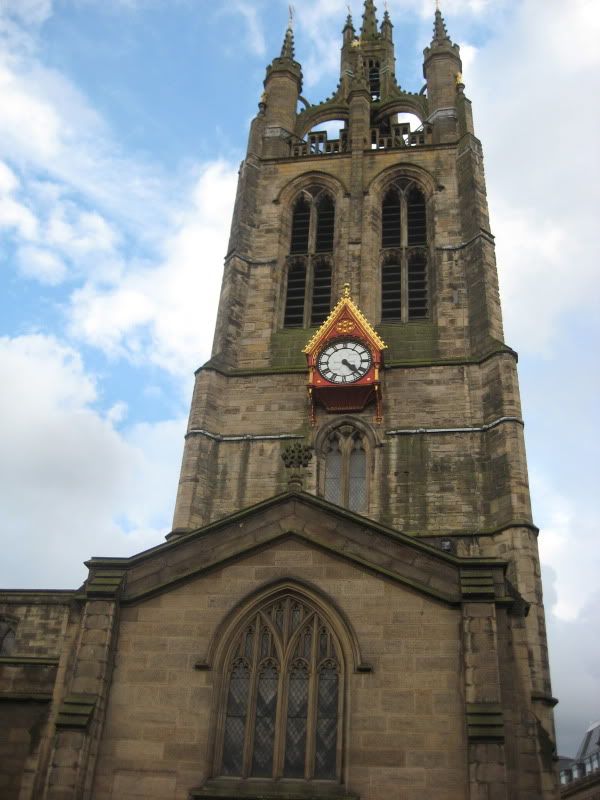 A really crappy picture of one side of the Cathedral Church of St Nicholas. Because it's Sunday and they were having actual church services, obviously I couldn't go in and take pictures. But, those of you who read
my Canterbury entry
know something of my obsession with cathedrals, so a more detailed entry will be forthcoming on this I am sure.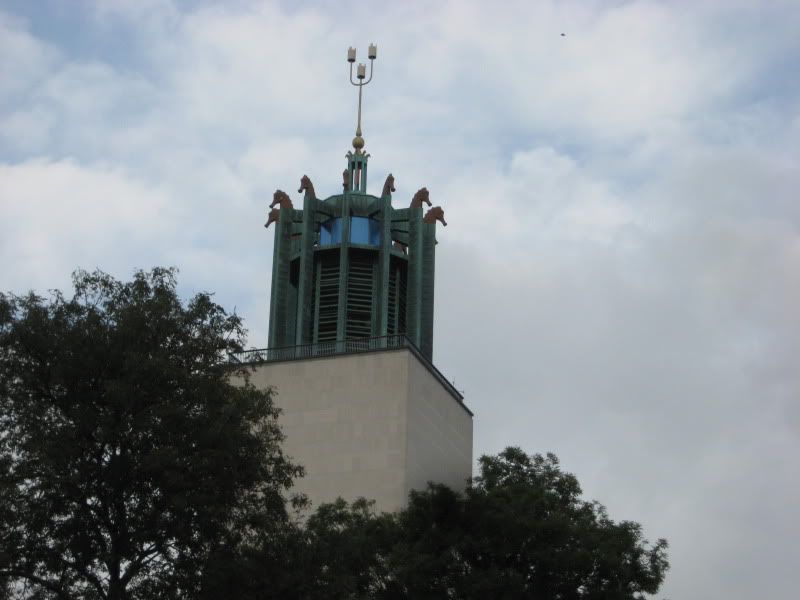 And this is the civic centre. It has seahorses on it. I have no idea why. Not even sure what this place is for, I just love the decor choice.
Induction (orientation) starts tomorrow. My schedule is short (at least, the first day) so I plan to take a few pictures of the campus and maybe do an entry on the University?
---
Tot: 8.333s; Tpl: 0.055s; cc: 11; qc: 50; dbt: 8.2468s; 5; m:jupiter w:www (104.131.28.133); sld: 5; ; mem: 1.6mb