Europe
»
United Kingdom
»
England
»
Northumberland
»
Hexham
February 18th 2012
---
Said my coursemate's boyfriend, seconds before the three of us were hit by a sudden and surprisingly intense snow shower.
Luckily it lasted only a few minutes, which is one of several reasons why Saturday was the most British day that ever Britished. I went with a coursemate and her boyfriend on a walk through the countryside near a small town called Allendale, which is not far from Hexham. On this short trek, we walked through (I am not exaggerating) sun, brief snow, sun, hail, wind, hail, sun, MASSIVE HAILSTORM, sun. All of this in about three hours. At times, the sky would go from being almost clear to completely overcast in minutes.
But sometimes it was very nice.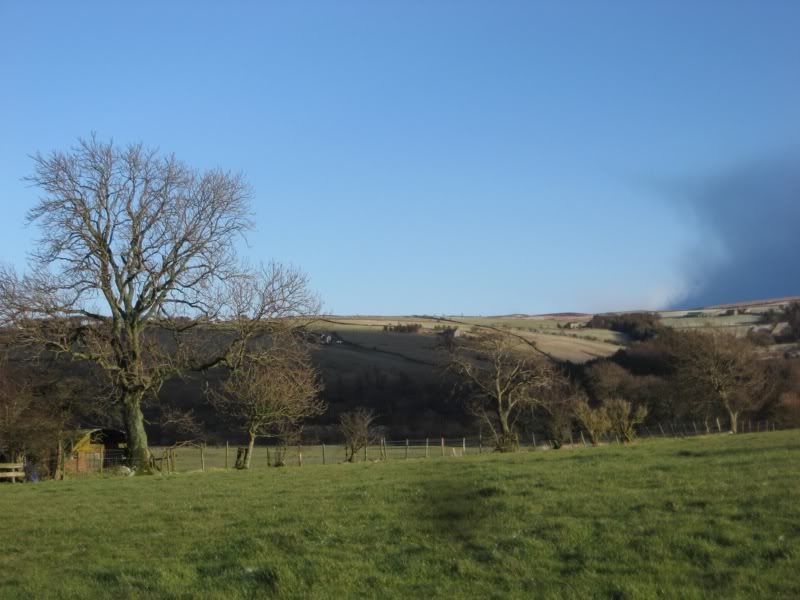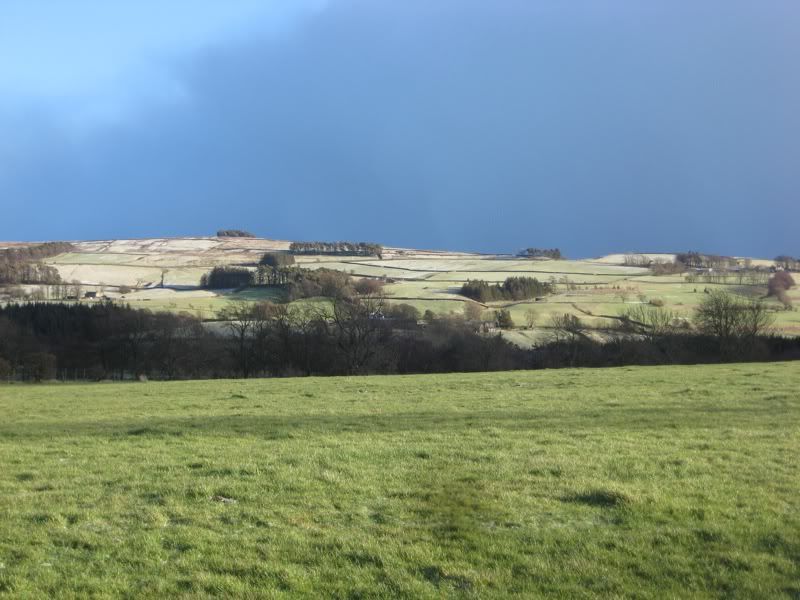 We started by following the River Allen.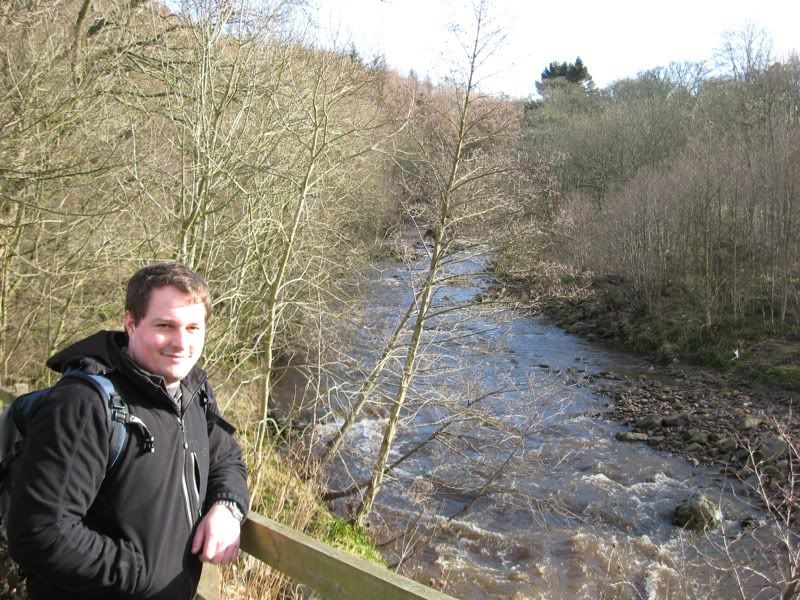 I was surprised how similar it looked, in parts, to places in Vermont. It could almost be the same place, except for the square stone spire on the hill behind us or the farms without silos. Or all the sheep.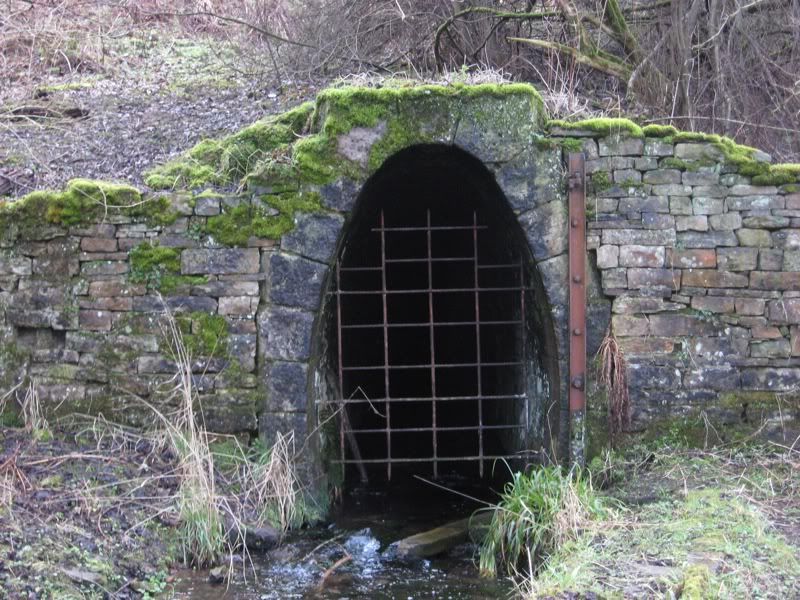 Or the 19th century mine. The air at the entrance was surprisingly warm, which apparently means there are bats inside. Which is kind of cool.
Things I was not expecting to say today, Part 1:
"No, it's guano. It's called guano when it comes from a bat."
Ruins of a warehouse or something else for when the mine was in use?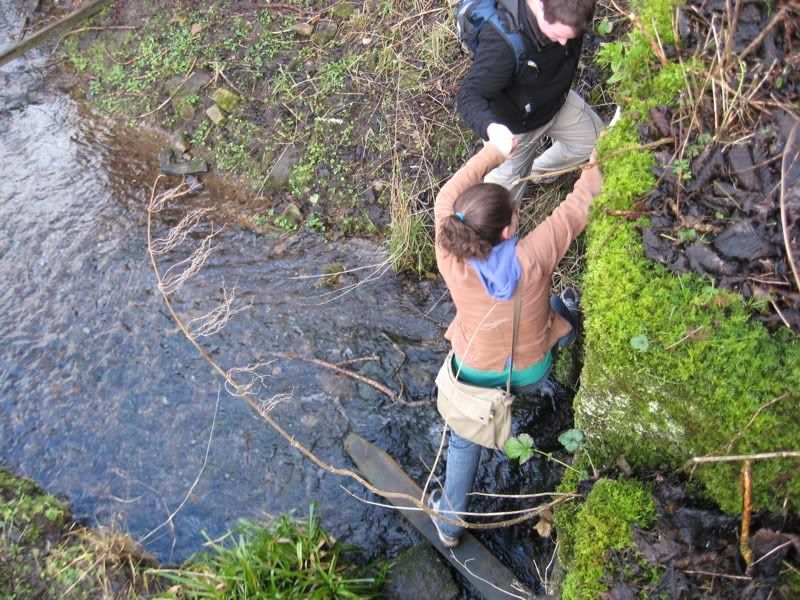 While I struggled to cross the stream without falling into the
bat-guano
water, my coursemate (standing on top of the entrance) held my camera.
So this happened.
And this.
And then I took my camera back.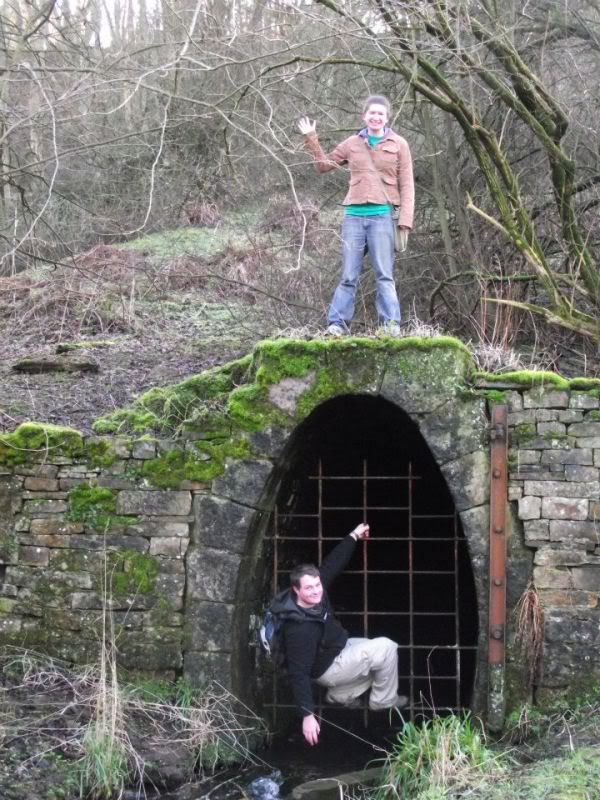 This was taken from her camera. If I had known boyfriend was doing a dramatic, action-hero type pose, I might have done something other than wave. Though in retrospect, maybe I should have done that anyway.
Then the snow hit. And stopped. Then it hailed. And stopped. And hailed again. And stopped. And then the heavens opened up and the hail came down so quickly that it looked and felt like very aggressive snow. A few of the hailstones were about the size of my pinky-nail, but luckily most of them were smaller.
Looking out over the countryside, you could see bands of the stuff blowing across the fields. It looked like a blizzard at times, but it definitely wasn't snow. I didn't take out my camera, but coursemate braved it with hers.
Things I was not expecting to say today, Part 2:
"No, I can't see the nest because small pieces of ice are going into my eyes."
Luckily this is the UK, so even the hailstorm was brief. On our way back, we passed through Allendale town, where it was bright and sunny again. It was obvious that the hailstorm had come through, as roofs and windshields were covered with the stuff, but the clouds had broken and the sky was clear.
So we went to a castle.
It is called Langley Castle and was built in 1350 according to the brochure. Apparently it was meant as a country house for a noble family, rather than a military stronghold like Dunstanburgh or Newcastle. According to one woman, at one point it was an all-girls boarding school. (Fellow dorks will share with me the excitement of a boarding school in a castle. Or at least will understand why.) Nowadays it's a hotel that is mainly used for weddings, but it has a tea room on an upper floor that is open to the public.
Thing I was not expecting to say today, Part 3:
"It's funny because you're comparing castles."
Apparently there is another local castle (of course) that is just as pretty but in a darker, more foreboding kind of way. Coursemate and Boyfriend concluded that this castle is good for weddings and afternoon tea, while the other one is better for ghost tours.
Because in the UK, different castles serve not only different historic functions, but different commercial and tourism functions as well. Of course they do.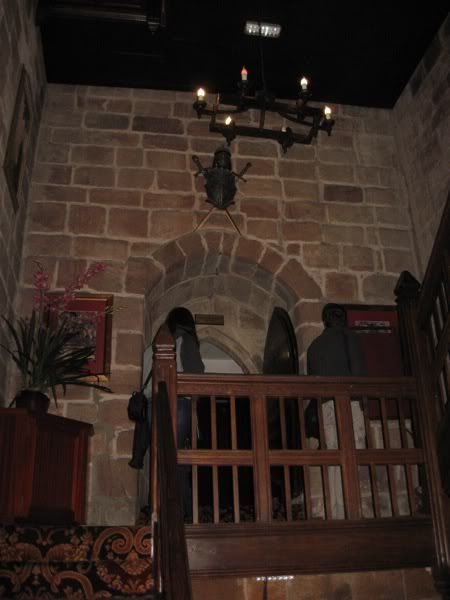 Since it was a hotel, strictly speaking we probably weren't supposed to go wandering around, but oh well.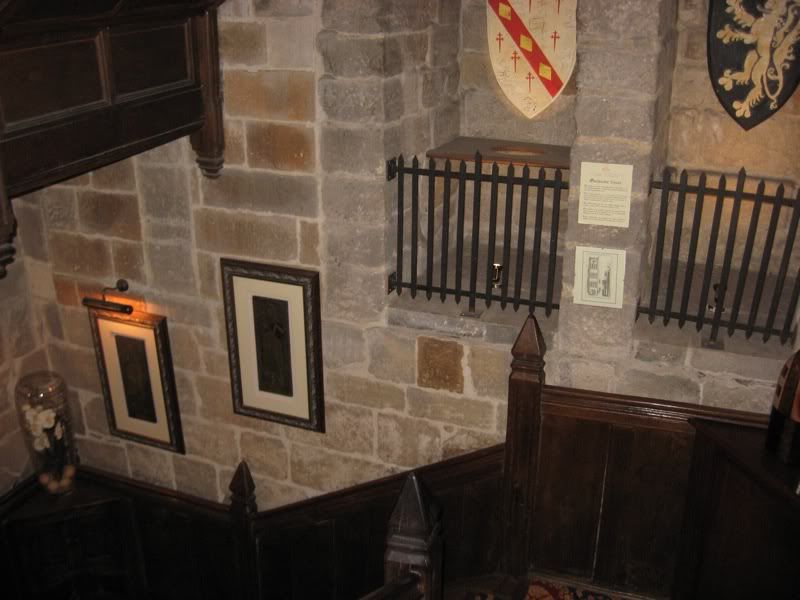 Thing I was not expecting to say today, Part 4:
"Oh, look. Another turret."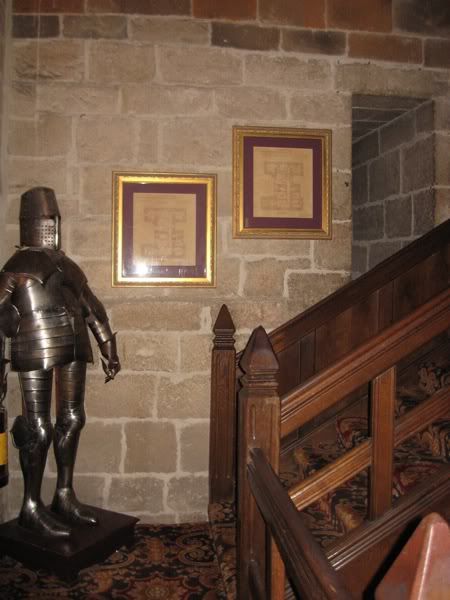 We had afternoon tea (complete with scones, cream and jam) in a room that looked like this: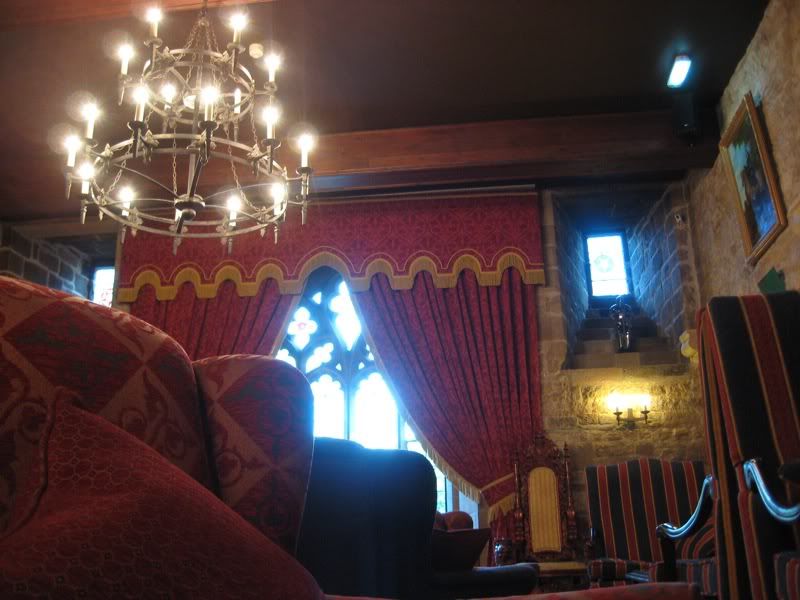 I am very grateful to Coursemate and Boyfriend for doing this with me. Without a car or UK driver's license (or the courage to try for one), I'm somewhat restricted in terms of the places I can go, especially in the rural areas. I would never have been able to visit Langley Castle without Coursemate and Boyfriend, so thank you to you both. It was a fantastic day. And a very, very British one.
There was a wood fire going and everything. Lovely way to end the afternoon.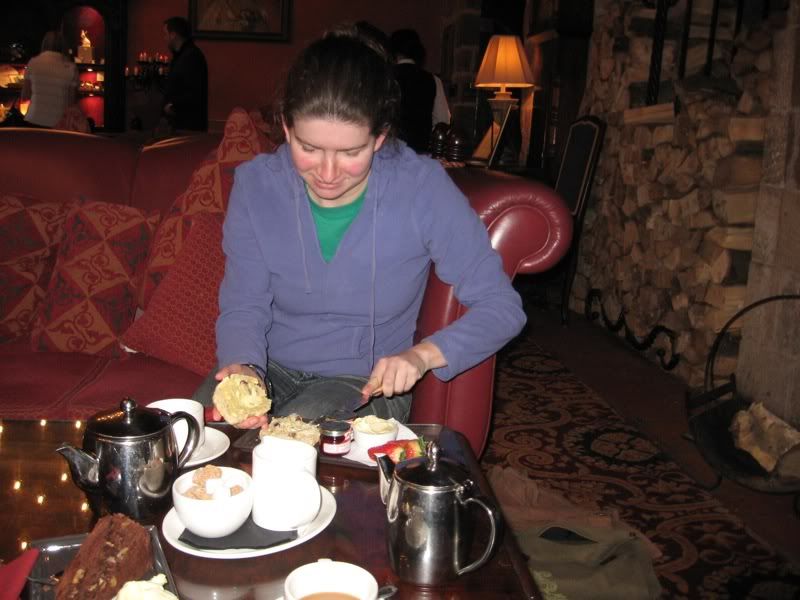 Just in case anyone needs proof that an American can have afternoon tea in a six-and-a-half-centuries-old castle without the world imploding.
General life update: Semester 2 is very different from Semester 1. It has fewer classes, so a lot less time spent in lectures, but now we have clinical placement, and the group work, supervision meetings and research/preparation for our weekly clinical hours (I'm in the Aphasia Clinic every Friday from about 11-5) takes up a lot of time. So although we're no longer in lectures from 9-5 practically every day, we're putting in the same amount of work, and the demands are more serious now that we're working with actual patients instead of hypothetical ones.
And we're still in the dissection room every week. It's just not on Fridays anymore. (That would be a fun way to start clinic, sitting in a tiny room with a client while I reek of fromaldehyde.) Luckily for me, Anatomy is mostly focusing on brain and neural anatomy this semester, and I covered most of that at Hamilton (my undergraduate/first degree), so this semester, it's more of a refresher. Kind of the way the Linguistics students feel about Phonetics I think?
So even when clinic goes so badly that I start to seriously question my career choice (don't ask), at least Anatomy is a bit less demanding.
---
Tot: 0.287s; Tpl: 0.009s; cc: 10; qc: 54; dbt: 0.2111s; 1; m:jupiter w:www (104.131.28.133); sld: 3; ; mem: 1.6mb