Europe
»
Italy
»
Veneto
»
Paderno del Grappa
April 4th 2011
Published: April 4th 2011
Edit Blog Post
---
Spring Break Number 2:
The last travel week, I went to Prague, Czech Republic, Amsterdam, Netherlands, and Paris, France. We started off on saturday morning on a Wizz Air flight to Prague. We landed in Prague and had a taxi/professional driver in an Audi pick us up from the airport and drove us to our apartment right off the old town square. The apartment was a studio with a kitchen and bedroom all connected with a bathroom. Very nice for 20 euros a person for 3 nights. In prague we took the world famous walking tour which was free. It took us around the old square, across a bridge and ended at the worlds largest castle according to Guinness Book of World Records. It was quite cold but very cool to see Prague which is one of the few large cities in Europe that wasn't damaged from bombing during World War II. It is a very beautiful city with a lot of history. I very much enjoyed Prague and everything it had offer. The fun and sometimes frustrating part of Prague was the currency situation. It was about 25 crowns to every Euro or about 17 crowns to every dollar. It got my brain a little fuzzed up after becoming so used to the Euro and Dollar exchange. Also, when taking out money from the ATMs in Prague I would get 1000 crowns and I would get just one 1000 bill. This made it quite interesting to be carrying around 1000 crown bill around. But it was all fun and exciting to switch up currencies for the first time in Europe. It's much easier money-wise in Europe with the Euro than it was a few years ago when the Euro wasn't widely used. Also, to save money we ate in our apartment and cooked our meals. We made tacos twice (haven't had a taco since the states), and Juan made us an authentic Peruvian meal one night, which included spicy beef, rice and veggies. It was amazing!
The next stop on our trip was Amsterdam. We also cooked all our meals in Amsterdam except one breakfast, which we ate at a Pancake place, which was excellent. I ordered the Swiss Pancake. It had ice cream, chocolate sauce and cherries on it with whipped cream. A very sugary breakfast. We landed in Amsterdam on a Tuesday and didn't really know what to expect of it. We landed and found that most of Netherlands people speak very good English. We re-accustomed ourselves to the Euro and found our apartment. It was about 3 blocks from the Anne Frank house. We got in around 930-10PM at night so once we got into our apartment we pretty much went to bed. The apartment was a penthouse with 6 beds, a kitchen, and access to a roof patio with a spectacular view of Amsterdam. In Amsterdam there are many canals, kind of like Venice but with a more northern take on its architecture. It is definitely one of the most beautiful cities I have ever been to. Also in Amsterdam, the order of ruling the roads are Bikes first, then pedestrians, then cars. So when crossing a street you have to look first for bikers coming both ways, then cars, then bikers again. Bikers also don't follow the street lights on the roads, they just fly through red lights and expect cars to stop for them. I was surprised that I didn't see a crash while I was their, but the people seemed to make it work. It was very enjoyable to just watch the city transportation. It was very hectic and challenging to get used to right away, but near the end of my stay I became quite talented at crossing the streets. In Amsterdam, I took the Heineken Brewery tour and learned a lot about Heineken's history, but mostly on their marketing schemes. It was pretty much a marketing tour and they offered a taste test at the end. They may not have been the first, but they were the pioneers in beer TV advertising. In the mid-90's Heineken made a global push in its marketing scheme and started the major beer commercial push we see today, for example when watching the Super Bowl. They took the marketing of beer to that next level, according to their tour. Also in Amsterdam we did the whole biking thing and that was an experience in itself. No injuries but quite exciting. We spent the later part of thursday and most of friday figuring out the best way and cheapest way to get to Paris. We knew we could take a train but figured the bus would be cheaper. Long story short, and after deciding not to split up, we took an overnight bus to Paris on Friday night. I didn't move for 8 hours and slept on and off the whole way. Once we arrived, I was cramping and uncomfortable in many odd muscles, but we made it to Paris.
Once we arrived, we found our hotel and checked in at 7AM. We were able to check in that early because we paid and had reserved the night before (friday night on the bus) as well. So we found our room and took a much needed 2 hour nap. Once we got going around 10 we made our way to Versailles. At Versailles the weather was perfect. We did the whole tour and hung out in the gardens for awhile discussing how huge the palace was. After Versailles, we found Notre Dame, and walked to the Louvre hoping it would be open till 6 or 7. We got to the Louvre at 5 and found out it closed at 530 so we decided we'd do it in the morning. It started raining right after leaving the Louvre, which was disappointing because the Louvre would be perfect place to wait out a thunderstorm. We got a little wet and decided to head back to the hotel. That night we went to the Eiffel Tower and found a nice restaurant a few blocks away. My parents offered to pay for the meal for myself and my three friends. We chose dinner and found a decent restaurant that wasn't too pricy. We had an excellent meal of fine meats, fish and steak between us and helped ourselves to two Creme Brulees. A special thanks to my parents for treating us with a real meal, from Juan, Matt, Zach, and myself. After that it was about 12 so we went back to the hotel. The next morning we walked from our hotel, which is about 6 blocks north of the Arce de Triomphe, all the way down Champs Elysees and to the Louvre. In the Louvre, we hit the main attractions including the Mona Lisa. I found in the Italian Painting room (Mona Lisa room), several paintings by Jacobo Bassano. He painted all of them in Bassano del Grappa, which is the city near Paderno where we get on the train to go anywhere in Italy. He was from Bassano, and lived his whole life there, thus adopting the name. I found this very interesting. We then left the Louvre and went back to the hotel to get our bags and make our way to the airport. Paris proved to be once again one of my favorite cities. I think my friends really enjoyed it as well. They were expecting the people to be mean and not to be a very fun place, even after I told them how cool of a city it is. They were proven wrong and we had no issues with any Parisians. They were amazed at how many things there was to do and how big Paris is. We had an amazing week and learned a lot about several new cultures.
This past week (March 28-April 1) I had a lot of school work and projects to work on. I stayed in Paderno this past weekend to save cash and do some homework. This week I have a paper, project, and finals to prepare for, which are next week, so I will be very busy. We have Friday off of school so this weekend I will go to Sicily. I am traveling this weekend with the usual crew of Juan, Matt, and Zach plus a guy by the name of Corky who will be joining us. He has become a good friend of all of ours so it will be a lot of fun. It should be excellent weather and very safe even with the Libyan boarder semi-close. So there is no need to worry. I will post again early next week for possibly the last time until I go home. I have about a month left here but after the program is over I will have very limited access to the Internet while traveling with my family and then friends after that. Hopefully everyone is doing well at home.
Ciao!
Eating a Sausage in the Old Town Square in Prague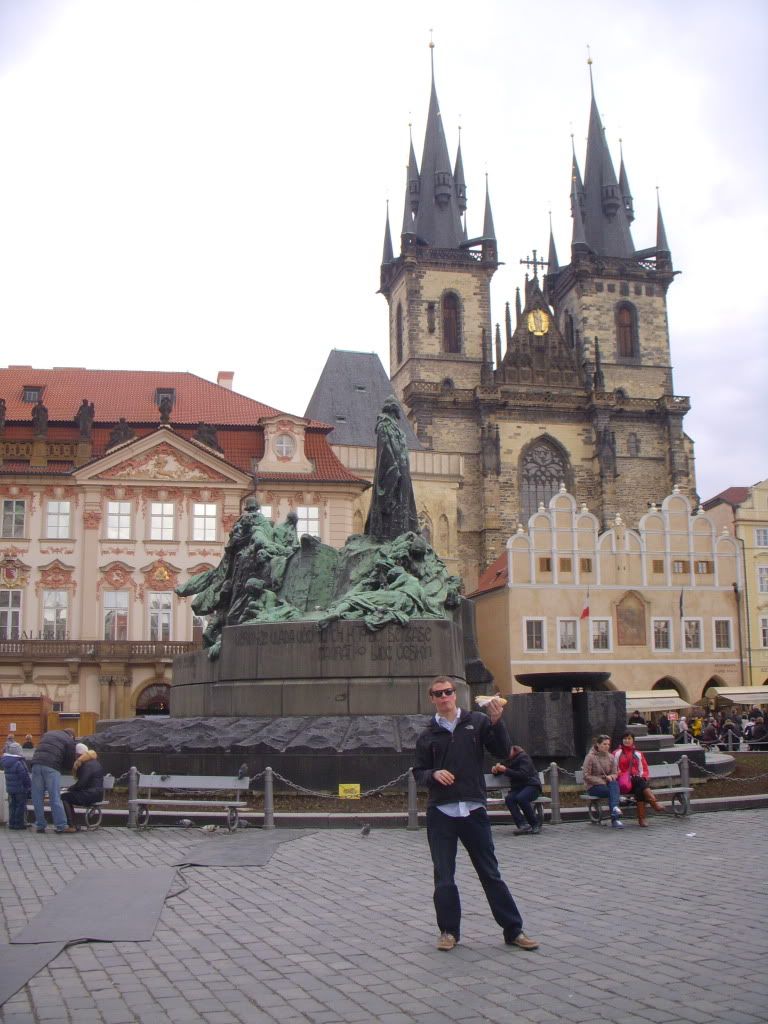 Amsterdam
Outside the Louvre in Paris
Eiffel Tower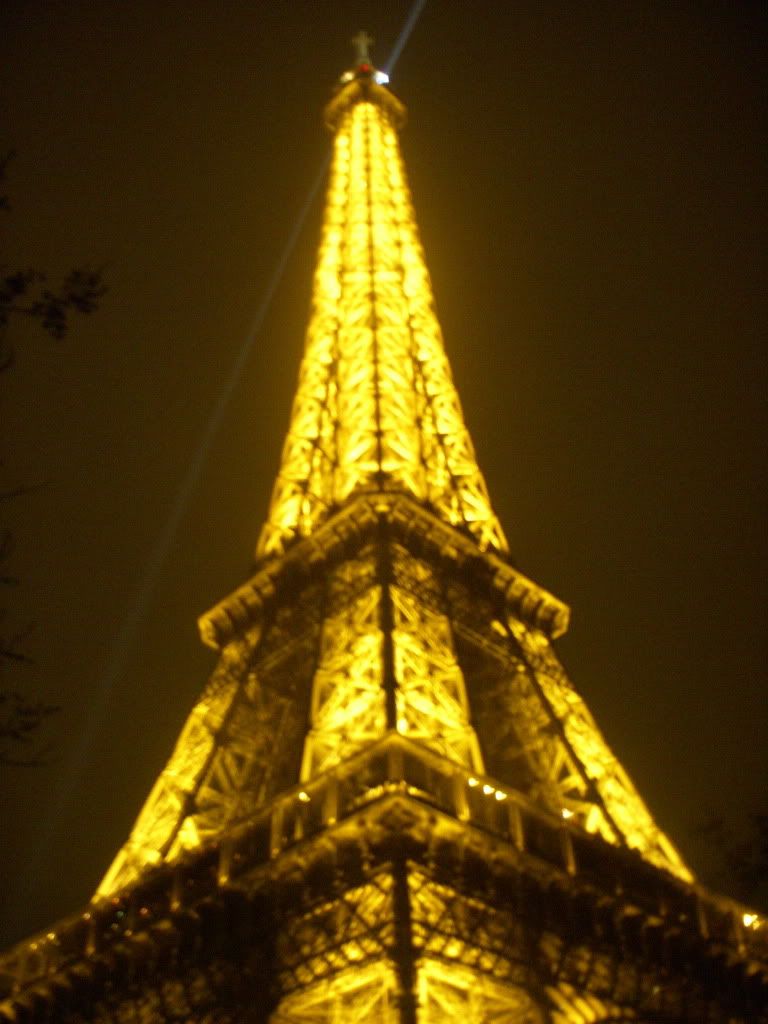 ---
Tot: 3.466s; Tpl: 0.042s; cc: 10; qc: 53; dbt: 0.0387s; 3; m:saturn w:www (104.131.125.221); sld: 1; ; mem: 1.4mb