Europe
»
Ireland
»
County Kerry
»
Iveragh Peninsula
April 12th 2012
Published: April 14th 2012
Edit Blog Post
---
ETA: Yvonne was 21, not 16 at the time of the story mentioned below. Have changed it to reflect accuracy. My deepest apologies.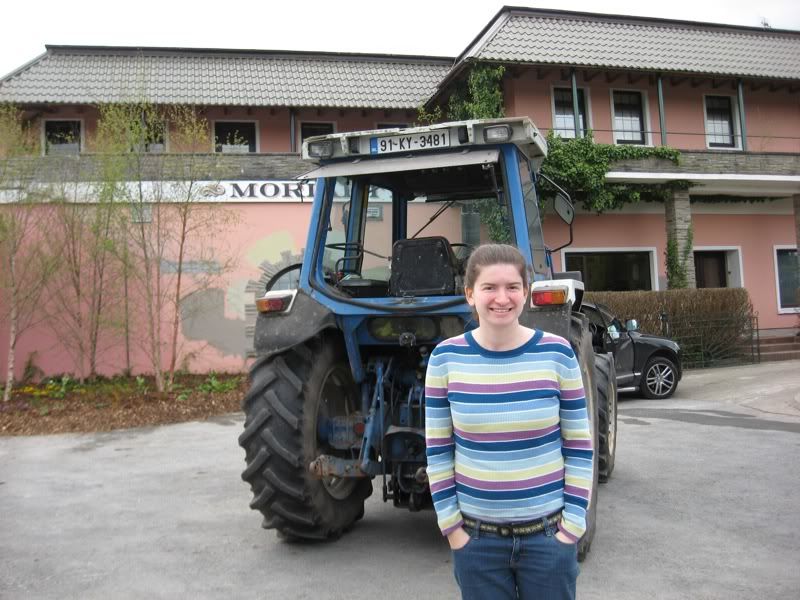 According to Yvonne, it was necessary to have a picture of myself in front of a tractor in County Kerry, a rural county in the southwest of Ireland.
Apparently Irish license plates include the abbreviation of the county the vehicle is registered in, the same way our license plate designs are different by state. Do they do this in the UK? I hadn't noticed. But it was fun to look at all the plates and know (read: have Yvonne tell me) where everyone was from.
Being a country of Catholics, Ireland effectively shuts down on Good Friday. Just about everything is closed all day, the things that do open tend to shut by 5-6pm and no one is allowed to sell alcohol. So we decided that Friday would be the best day to do the major rural drive, when we wouldn't need places to be open. Yvonne was kind enough to drive us through and around the Ring of Kerry, a major road tracing the Iveragh Peninsula. It was beautiful.
We started by crossing the Gap of Dunloe, where this picture was taken. Some of you may notice an ominous looking sign behind me. Here it is in more detail.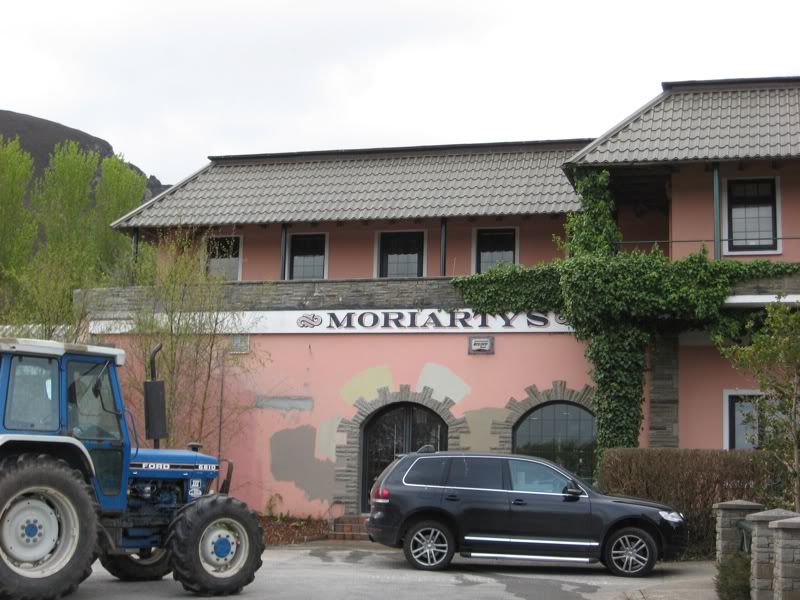 You have probably never heard of Professor Moriarty? ... He is the Napoleon of crime, Watson. He is the organizer of half that is evil and of nearly all that is undetected in this great city." ~Sherlock Holmes, The Adventure of the Final Problem
I actually did ask Yvonne to park here specifically so I could get a picture of this sign. Her response was "yes as long as we get the tractor too." I think that is what you call a Geek Compromise.
Those of you who don't know who Professor Moriarty is, take some time to go read the Sherlock Holmes books. The aforementioned short story and a novel called "The Valley of Fear" feature this iconic Irish villain, and many of the other works in the series are fantastic as well. But don't take my word for it. Since they are all long past copyright, it shouldn't be difficult or expensive to find them.
But I digress.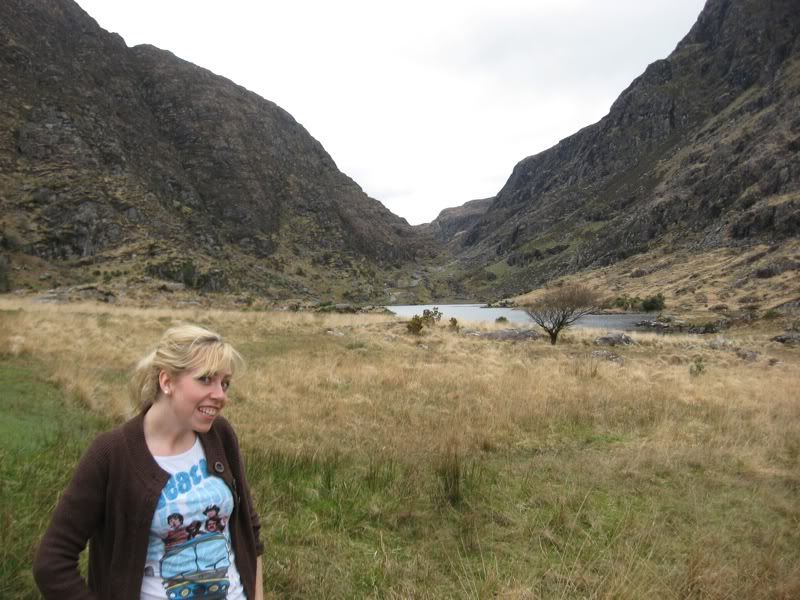 The day before we did this drive, we met some of Yvonne's friends in Blarney village. They told me a story that had happened when they were 21, which involves Yvonne getting hopelessly lost in the Gap of Dunloe, driving down a road marked "DO NOT DRIVE HERE" getting stuck, being unable to turn around, nearly getting into an accident in multiple places...etc
It was not until later that I learned that the Irish have a tendency to exaggerate when they tell stories. ("We don't let details get in the way of a good punchline," Yvonne said to me. Apparently it's why Irish people's stories are always so good.) I, on the other hand, am a bit too literal-minded, so I accepted this story as the unequivocal truth.
Which is why it frightened me somewhat when Yvonne found the same road, said "Oh this was the road they were talking about, see the sign?" and immediately turned onto it. That and the guy standing at the entrance to the road, saying something to us with gestures that clearly signaled "not a good idea." It was the first two minutes of every disaster movie ever.
So yes, I was scared. In the above picture, you can see the road winding between the mountains. But Yvonne told me I would thank her later, and she was right. I thanked her, after it came to my attention that 1) the story may have been somewhat exaggerated and 2) she was a new driver at the time. The road wound a lot, yes. It was narrow and slow going and there weren't many other cars on it.
But it was beautiful.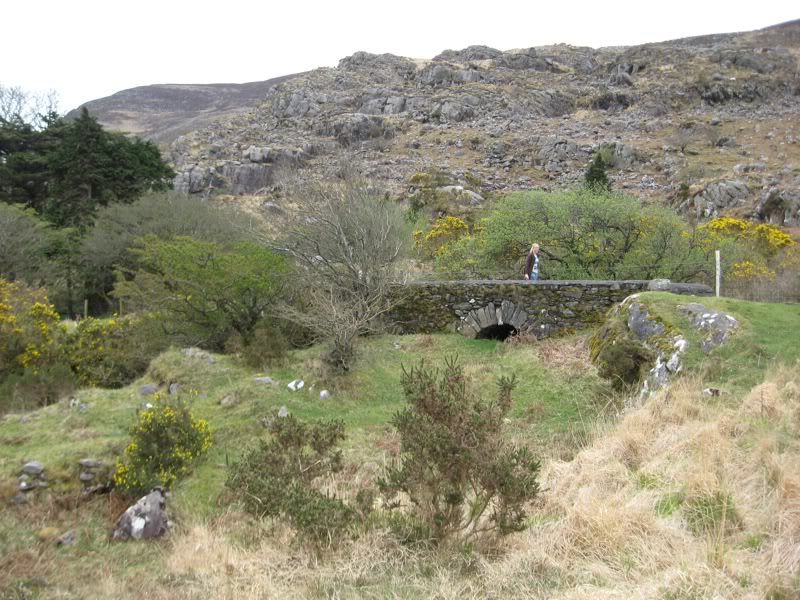 Also lambs: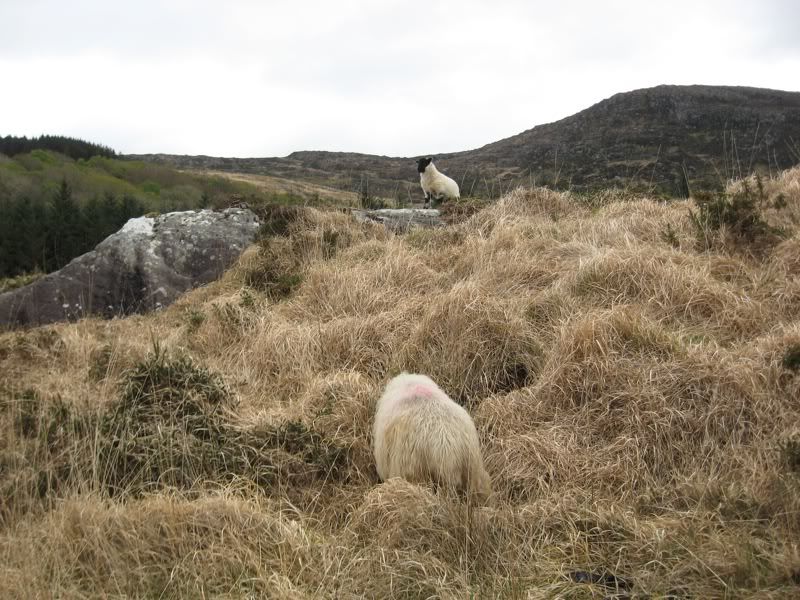 Lambs running may possibly be the most adorable thing I've ever seen. Because they don't seem to have the hang of it just yet, and their movements are more up-and-down than anything that actually gives them extra speed. This one in particular was not interested in being photographed. As we were in an extremely touristy portion of the country, I expect s/he will grow out of that soon.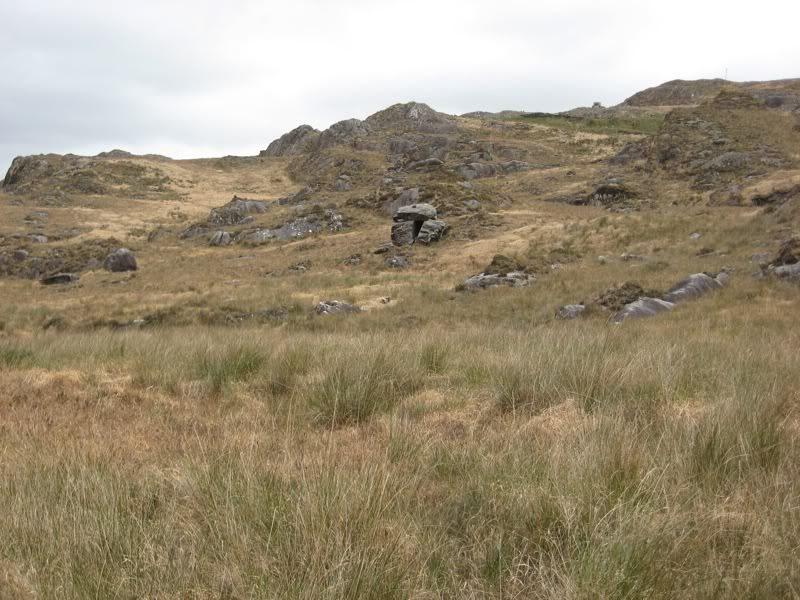 This is a dolmen, or an ancient entrance to a tomb. Apparently these things, which predate Stonehenge, are scattered across the Irish countryside, especially in counties like Kerry.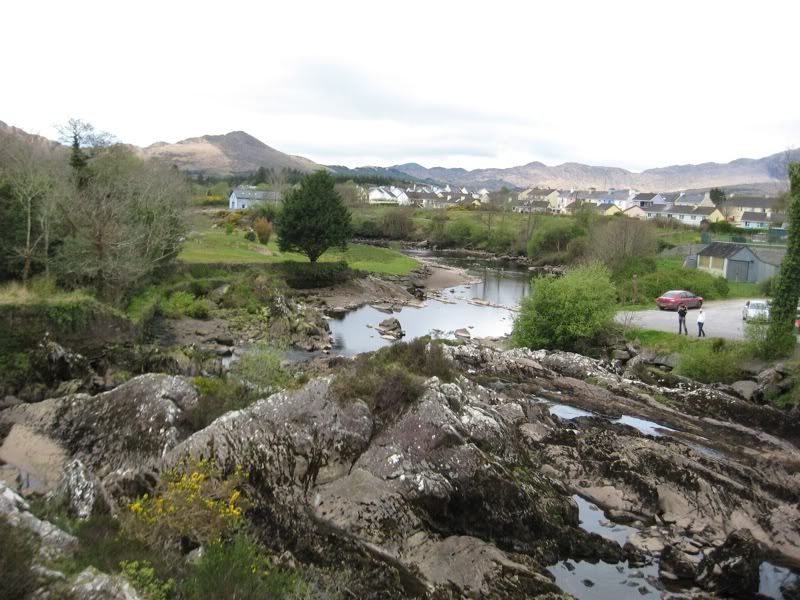 We stopped at a small village on the Ring of Kerry on the other side of the Gap of Dunloe.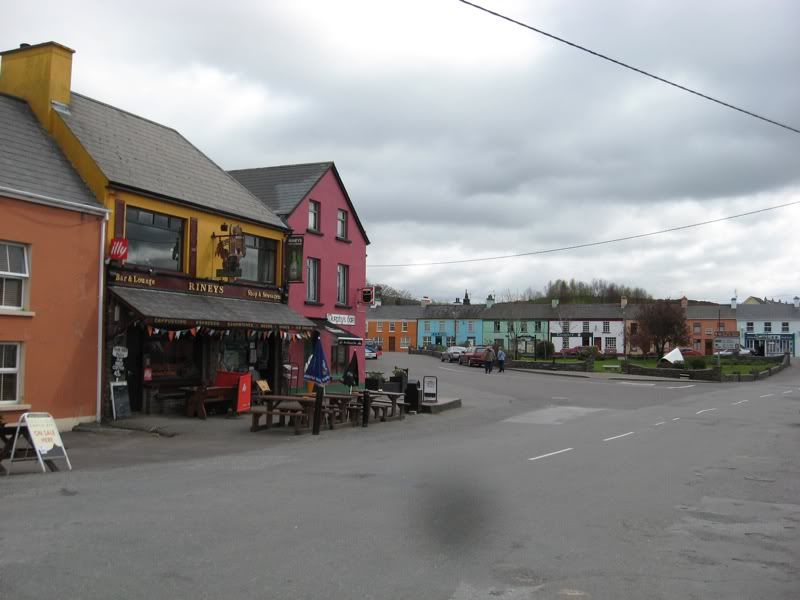 As Yvonne had predicted, the area was full of tourists (mostly American) and very aware of it. But it was still nice. A little boy on a bike said hi to us as he passed.
Right so now this story. Only putting it on the blog because I know Yvonne is going to tell it repeatedly once Uni starts again, and due to the aforementioned Irish tendency to exaggerate, I'm terrified of what that story is going to become.
County Kerry is full of Irish speakers. Everywhere in Ireland has both English and Irish on signs, but many communities claim to have Irish as a first language, and I certainly heard my fair share of locals speaking to each other in Irish. I don't know Irish. At all.
Also (see the boy on the bike above) locals are very friendly to out-of-towners.
We were driving slowly down a road, windows down, having asked a man how to get down to the beach in the above picture. Another man, who we passed, shouted "Hello!" followed by a word I didn't understand. I assumed the word was in Irish. I assumed the word was something meaning "tourists" or "visitors" or whatever.
So I said hi.
Turns out the word was Dennis.
He was talking to the guy we had asked for directions.
I briefly considered setting myself on fire.
I will not be allowed to forget this ever.
I am fairly certain that by Monday, my coursemates will be believing I got out of the car to shake hands with him or something. We'll see.
Moving on.
The water on the beach was not as cold as expected. The ocean by St. Andrew's was colder, no question. I have no idea why that is; the latitude is different but
not that different
.
We stopped at a couple more scenic places on the coast.
As you can see, beautiful countryside, similar to the Scottish Highlands, especially in the Gap of Dunloe. There's certainly a lot in common with the sense of local pride, general animosity to the English, even the languages are close to the same. The word for "lake" is "lough" and "loch" in Irish and Gaelic respectively. As far as I can tell, they're pronounced the same way. Yvonne told me that when she hears someone speaking Gaelic, it sounds like she should understand it, but it's just different enough that she doesn't.
And a lot of the myths parallel each other (similar to the giant on the Isle of Skye, the one of the islands surrounding this peninsula is said to look like a dead man lying down), or involve someone who traveled from one to the other.
Lovely country, overall. One more entry about my last day in Ireland, complete with wanderings around the ruins of an Abbey and an old castle
that is not open to the public but oh well it was cool
.
---
Tot: 0.157s; Tpl: 0.011s; cc: 9; qc: 46; dbt: 0.0772s; 1; m:domysql w:travelblog (10.17.0.13); sld: 1; ; mem: 1.1mb