Europe
»
Germany
»
North Rhine-Westphalia
»
Dortmund
July 20th 2008
Published: July 20th 2008
Edit Blog Post
---
Friday was a rather chill day for Dennis and I. We slept in, which felt amazing. For lunch we biked to the bakery down the street and had fresh baked good and coffee :D. That afternoon we drove around and did some errands, dropped off a ticket for wednesdays match between Bayern and Dortmund at dennis' uncles house, went to go visit his oma, and then took it easy at home. That evening we went to the next towns Shutzenfest. Now i deffinetly didn't get this festival at all before, but i think i get it now. Well sorta; basically Shutzenfest translate to shooting festival, the main part of the festival is everyone shoots at a wooden bird with a shotgun, and who ever shoots it down becomes the King of the festival. Then we went to some birthday party, but the tradition in this area is to have a birthday party the night prior, then you can wish them a Happy Birthday after midnight. On saturday we went to go see dennis' other Oma and Opa. Then met up with some people to go to LoveParade. Which is a huge party in dortmund. They shut down a 5km stretch of freeway, and trucks blaring out music slowly drive down them while people party. They all stop driving at 10, when the real party starts at the main stage, where 1.6 million people were gathered listening to some of the best DJs around. Including Paul van Dyk! Got home at around 2 after that. Today was rather busy, lots of little things to be done. Around 1 o clock we headed out to go meet everybody from the local shutzenfest groups. More info about the festival: every little village has a festival, but around the time of all of them they all meet and march around. So before this march we all partied. Then marched for about an hour. Then partied some more. Roladen for dinner! Next update will probably be wednesday evening as tomorrow we are driving north ran overnight trip on the north sea.
a 1 litre can of ber we found at a supermarket
---
Shutzenfest - shooting at the wooden bird
---
Bratwurst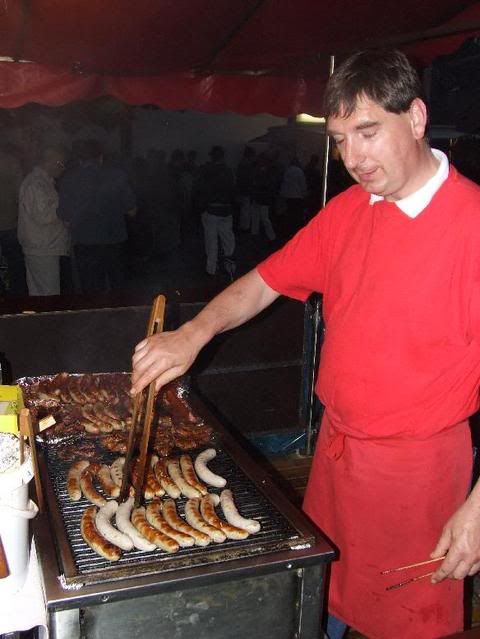 ---
Parade Formations - Dennis is holding the flag
---
LoveParade - Not my photo, but you get the idea.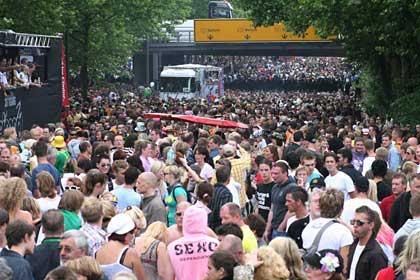 ---
---
Tot: 0.125s; Tpl: 0.014s; cc: 9; qc: 67; dbt: 0.0139s; 1; m:saturn w:www (104.131.125.221); sld: 1; ; mem: 1.4mb