---
[youtube=vI86UJzSOco]

Time to Bring These Back

More Driving Fun
I was up again at 7 am. Why does my Mommy get to sleep longer than me? Once I was finsihed she hopped into the shower while I tried to squeeze everything back into my suitcase. At 8 am we headed down to meet Gail and her mother in the breakfast room.
After breakfast it was my duty to load the bags into the car. We had since acquired two 5 liter beer kegs, Swarovski jewels, assorted souvenirs and food items from Lidl. Fitting everything in the trunk was like doing one of those sliding number puzzles where one piece is missing and you need to keep sliding the other numbers all around to finally get them in order. When I eventually solved the puzzle I went back into Dedlerhaus.
Gail was paying Birgitta for the rooms. Her command of English was excellent. Our rooms cost less than $80 per room per night even with tax. The girls went into the adjacent shop looking over the woodcrafts and souvenirs. Of course Gail's Mom got her handful of postcards while Gail and my mother looked at cuckoo clocks. We had talked about getting a new one to replace the 5 year old one that broke two years ago. We've never had much luck with keeping these things running, but while they last they are a nice reminder of our trips to Germany.
Gail asked my opinion on the clocks. Mrs, Haertle overheard us and came over to help. We said we were interested in those that had music and the cuckoo. That eliminated half the 30 or more clocks on display. Birgitta pointed out the cuckoos with huge pine cone weights only needed to be wound every 8 days. That's what we wanted. That brought the eligible choices down to less than 10. We further limited the field by deciding we wanted one that was painted. But the most important consideration was price and even the cheapest of the remaining
This time we had no trouble backing out of the icy parking spot. Those pine cone weights probably added traction in the back.
Click on the little blue film icons at the top of the page to watch exciting video action!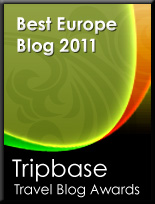 www.Tripbase.com
---
Tot: 0.405s; Tpl: 0.04s; cc: 21; qc: 92; dbt: 0.0825s; 1; m:saturn w:www (104.131.125.221); sld: 3; ; mem: 2.1mb