Asia
»
South Korea
»
Gyeonggi-do
»
Bucheon
October 8th 2007
Published: October 12th 2007
Edit Blog Post
---
Yongsan
September 29th, 2007
So we finally made it to Yongsan which is a place we have tried to get to a few times before. We had heard a lot about this place as it is a very popular destination to get cheap electronics. We had no idea how crazy this place would be. It was like being in a 9 floor mall that sold only electronics, not to mention it was attached to an actual mall and department store. Also only a short walk away from the main Yongsan building in a market that sells electronics as well. We spent all day wondering around in amazement and apparently we didn't even see everything there was there. I have never seen so many cameras, TVs, or laptops. This place literally had everything you could think of and tons of everything. Below is a picture of my by the camera's but this picture doesn't even begin to do this place justice.
Also while strolling around Yongsan we came across a red light district. It was utterly bizarre on so many levels. First of all the police station was literally around the corner and secondly a main street goes right through the heart of it. Girls here would sit in a display type window and when someone came in their door they'd both disappear into the back. I wonder why?
They were even having some sort of televised video game championship going on here. People in the audience even had thundersticks....it was nuts!
---
Drum Festival
October 6th, 2007
On Saturday Seoul played host to the Soul International Drum Festival which was pretty awesome to see. Most of the bands we saw were from Asia although there was a Korea drum band that specializes in playing African Drums. The entire night was pretty cool and even featured a band from china that is going to play at the upcoming Olympics and also the night featured a band that was blind. Some bands were more entertaining than others but the whole night was definitely amazing. Definitely worth going to!thanks to Paul for the great pics!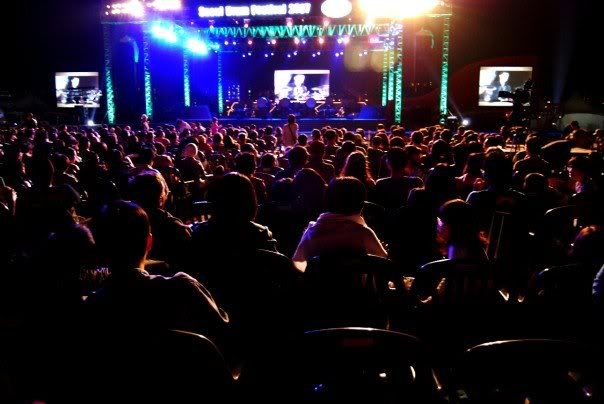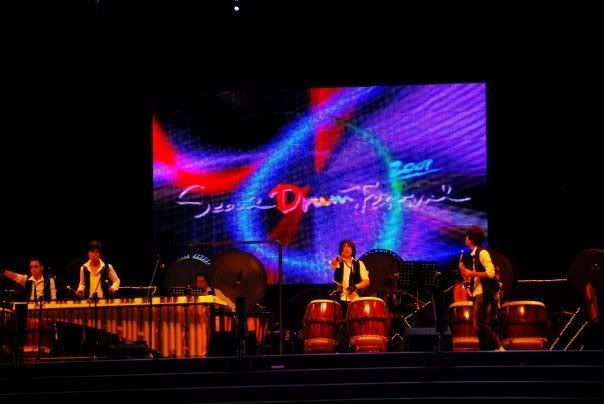 ---
Hiking Mt. Gwacheon
October 7th, 2007
Another thing like Yongsan that we have been continually meaning to do is to go hiking up one of the many mountains that are here. Well today was the day. After roughly an hour of subways to reach Mt Gwacheon, our hiking adventure had begun. There are many mountains near us that we hope to check out soon but had heard a lot about this one so decided to travel a bit further to get there. That also seemed to be the mentality of many other Koreans as there were many people here with us. Many Koreans also deck themselves out with full on hiking gear (hiking suit, back pack with all the accessories, walking stick, and uber large visors...we even saw someone with a pick!) They must of thought we were very under prepared as we should up in shorts and t-shirts with only a back pack. But then again this wasn't Everest. Equipment wise we were fine although it was a bit of a trek and both of us are feeling the hike the next day. Reaching the top took us a bit but we stopped a lot along they way to eat our lunch and take in the scenery. It was very beautiful to be out of the city again. I could also tell that the walk we took to the top would be very different after a storm because beside the path we took to the top seemed to be a dried river bed of rocks. Just when we seemed to be running out of steam we came across a Buddhist temple near the peak of the mountain which was inhabited by monks and everything. It was definitely a very cool site to see. I continued on from here to the top only to have my breath taken away by the amazing view. You could see other mountain ranges go on forever and city upon city below you. I traveled a bit along the top of the mountain, sometimes along rocks that had a decent fall on either side in order to reach another peak of the mountain. Here there was a large rock with Chinese writing on it. I asked someone to take my picture and while I was getting it taken they all started to cheer for me. Hey woulda thunk a white guy could reach the top of the mountain too. It was quite neat. I pushed on a bit further along the top to see another smaller temple perched along a cliff. It was definitely another cool site. I was going to go close to it but there were many people praying in and in front of this temple so I didn¡¯t want to disturb them. All and all this hike was definitely very awesome to do and I am really looking forward to the next hike!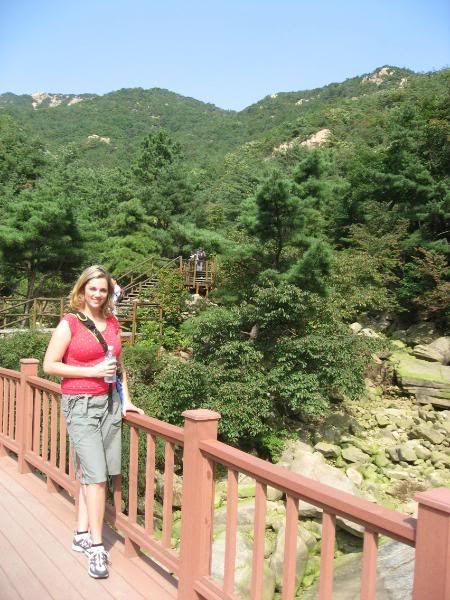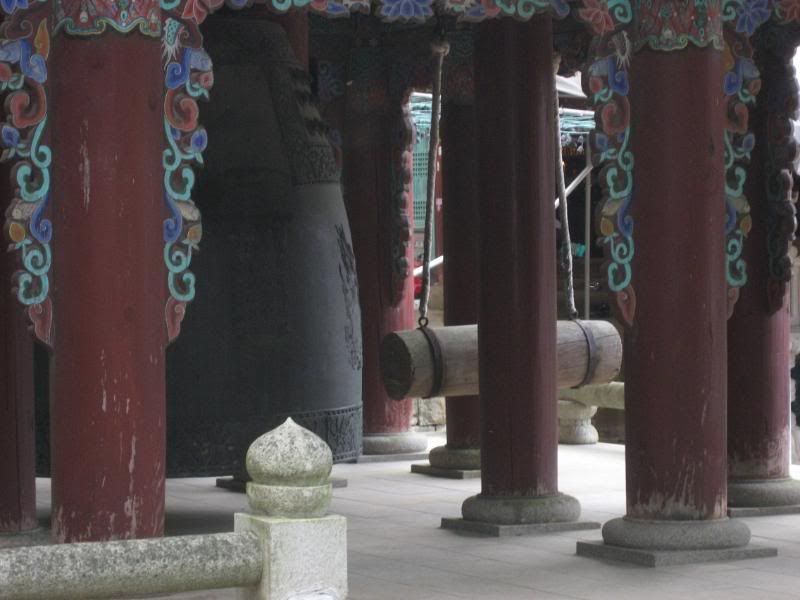 **** for more pics of these and all our korean adventures just
click here!
****
---
Tot: 2.244s; Tpl: 0.057s; cc: 11; qc: 48; dbt: 0.0503s; 2; m:saturn w:www (104.131.125.221); sld: 1; ; mem: 1.4mb