Asia
»
South Korea
»
Gangwon-do
»
Seoraksan
September 15th 2008
Published: September 16th 2008
Edit Blog Post
---
Chuseok being a South Korean version of Thanksgiving, or so I'm told. At any rate, the important thing is that the ESL teachers get Monday off, so even though we have to have make-up classes on Wednesday, we still got to enjoy a three day weekend.
Bright and early on Saturday morning, I hopped on a bus - which turned into a series of buses - and went to visit Seoraksan National Park on the northeast coast.
The Sea of Japan reminded me of Maui, but no pictures because I only saw it from the bus.
Saturday night I did a temple stay in a place called Baekdamsa (or Baekdam Temple) at the park's less-crowded western entrance. I'm not sure I can put into words how incredible the whole experience was, but I'll give it a try.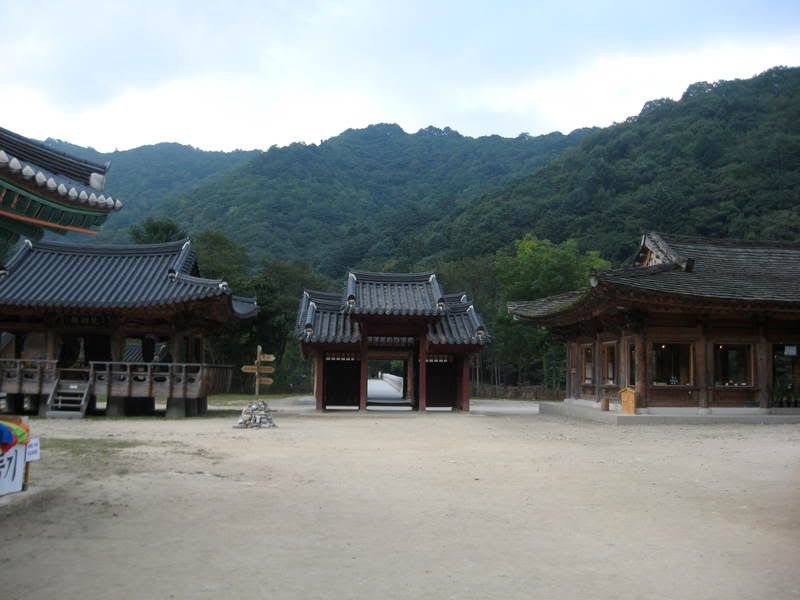 The temple wasn't as colorful or ornate as Bonmunsa. It was smaller, more provincial.
I shared a room with one person who spoke pretty good English and another one whose English was about as good as my Korean. The rooms didn't have beds, just blankets and pillows for us to sleep on (heated!) floors.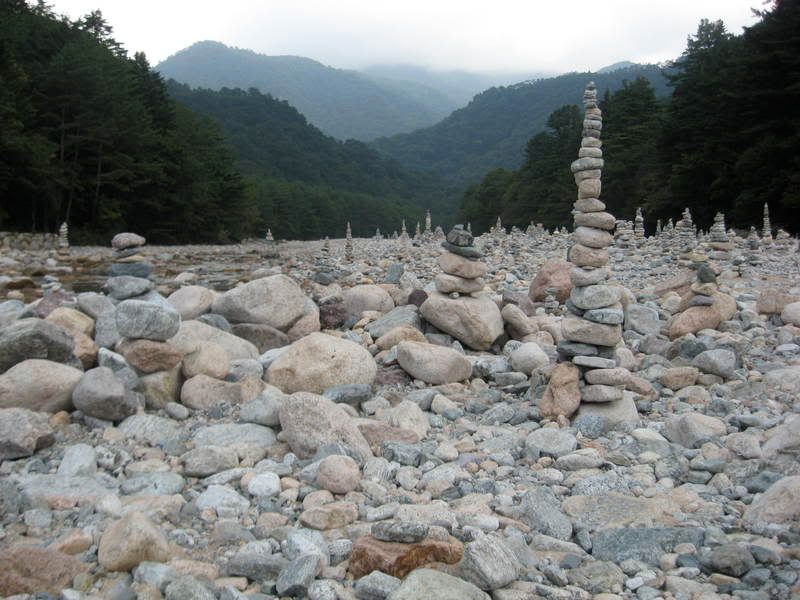 Some day I'm going to figure out what these mean.
Near here was a Korean family with a baby having their picture taken, but the baby wouldn't stop staring at me, so I had to stand behind the person with the camera. Later, a girl who looked around high-school age asked me (in mime) to stand so she could take a picture of me with her two guy friends.
Did I mention I was one of three non-Asians at the entire place? It's a strange feeling because not only do I stick out (expected) but Koreans are often very focused on "showing off" their country to foreigners, so most of them are very welcoming. It was nice because the one English speaking person in the entire place gave me a little tour and explained a lot about Buddhism.
The decoration on the main temple.
Dinner was vegetarian (Buddhist's don't eat meat) which was a nice change from studying picture menus, saying "Kogi ah-me-goy-oh" in my terrible American accent, or trying to figure out how to explain that ham is not a vegetable. We all sat at long tables together. A random Korean mom made me try food her family had brought (special kinds of kimchi, I think. One involved a leaf that she wrapped around my rice, put on my spoon and practically fed to me.) then tried to goad her kids into having an English conversation with me. They do that a lot. Breakfast was very similar.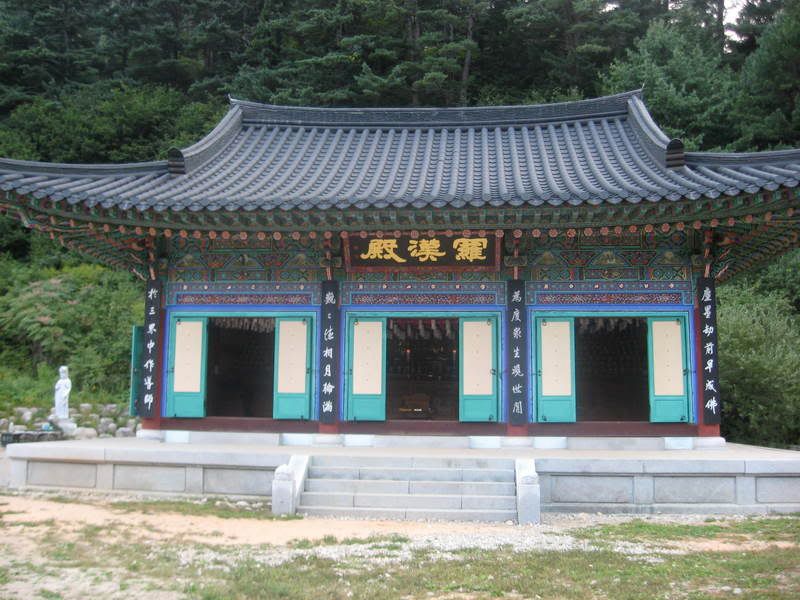 The main temple. At 7p.m, they rang the bell and played a giant drum in a pavilion (remember that building in Bonmunsa that I couldn't figure out?). The English-speaker explained that the drum was made of cow and pig leather, and that the sound of the drum was supposed to give them dharma (meaning kharma?), to help their spirit move up in life. The drumming was fast and incredible to watch. Afterward, they had a ceremony in the temple that I watched from a distance. I wrote in a notebook describing the ceremony. It's pretty disjointed, because things kept happening as I wrote, but I'll put it down word for word anyway to give you an idea of being there:
They've been ringing the bell the whole time. Now they're ringing a gong in the pavilion and - as I write this - another one from the main temple. People are praying there; it's all lit up with candles and gorgeous. Now they are chanting and a monk just turned on the light over the steps where I'm sitting. I thanked him in Korean, and he bowed. Was he not supposed to speak? Am I not supposed to speak?
There are crickets of surprisingly normal volume* and many mosquitos. It could almost be home, except the funny-shaped mountains, and the Asian architecture. And the Buddhism.
Hymns! With a stick-on-wood accompaniment. It dawns on me that this is my first experience with a religion that doesn't involve the God I grew up with. A little girl is walking around in the temple, between the people chanting, with a paper book on her head. Maybe our religions aren't so different, after all?
The only downside was that they did the drum-and-bell ritual again at 3a.m.
*Have I not explained Korean crickets yet? Sometimes they sound like machines, and sometimes they sound like someone being tortured. They can really ruin the mood on a pretty summer day, but evidently Buddhist crickets are less obnoxious.
Early on Sunday, I left the temple to hike to the top of Seoraksan (Mount Seorak). I had read that this park was one of the most beautiful in the country. Having seen it, I completely agree.
But don't take my word for it:
See for yourself.
This was another, smaller temple on the trail. I didn't stop here, but I heard the drum-and-bell ritual after I passed it. Imagine being by yourself in the middle of the woods in Asia with THAT in the background Also the chanting. It was really, really cool.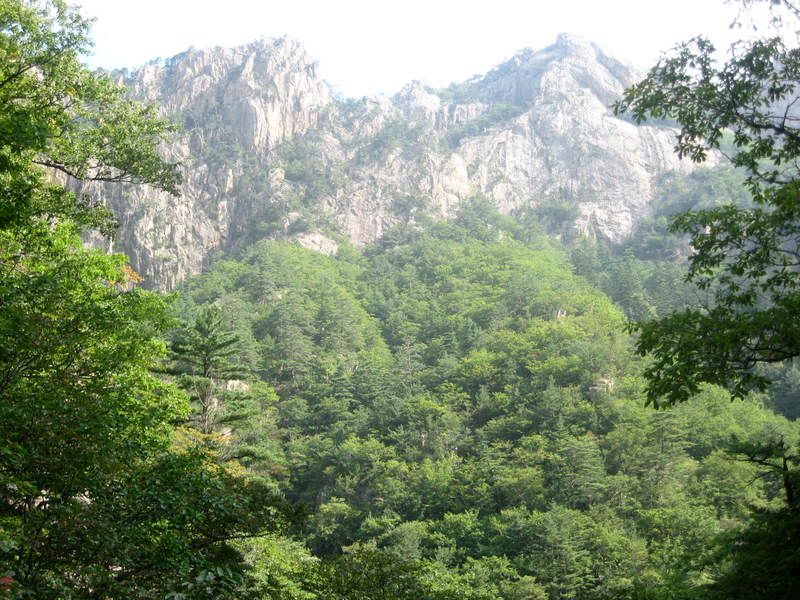 And then there were the granite cliffs, which the park is most known for.
And inexplicably green water. The trail followed the river most of the way, so there were points where you could take a rest and dip your feet in.
Not quite at the top, there was yet another temple. This is the view from a sacred-type place above it. More stone stairs! The view left me speechless.
This temple served free (vegetarian) lunch to travelers who happened to be in the right place at the right time. Also free coffee! Did I mention I'm really growing to like Buddhism?
A special kind of tomb containing crystals from cremated bodies of important monks. People go there to worship. I'm a big fan of this make-the-scenic-spot-the-holy-place theme. It makes a lot of sense. Views like this one aren't just dizzying, they're humbling.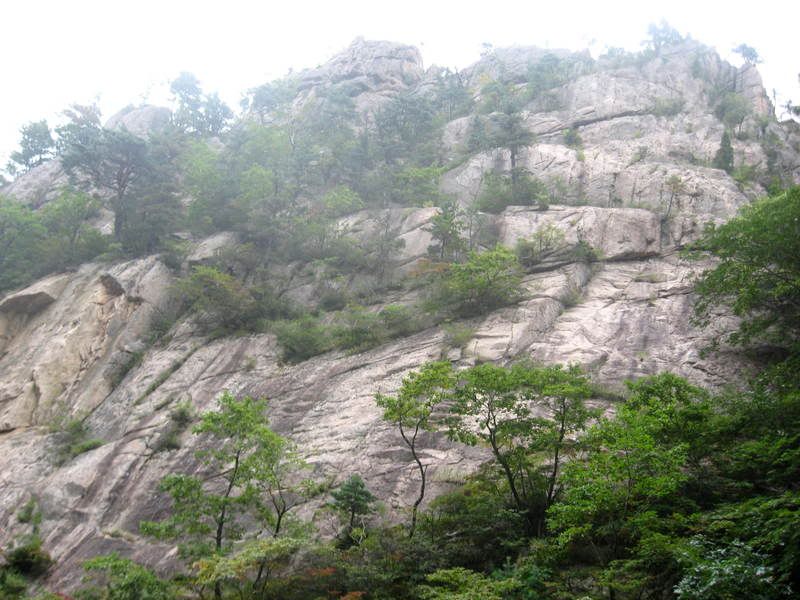 Coming down the other side of the ridge was not quite as pretty, because clouds had gathered on this side. The view was still great, though. This was the main trail, so there were more people - more foreigners - here.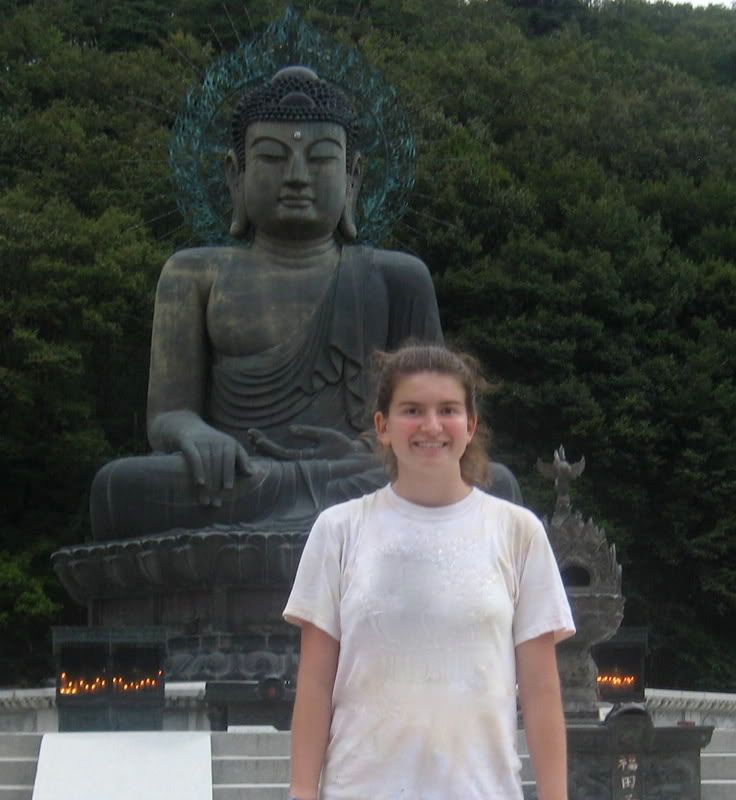 I made it! This is the main entrance to the park, complete with giant Buddha statue.
---
Tot: 0.061s; Tpl: 0.015s; cc: 10; qc: 50; dbt: 0.0131s; 1; m:saturn w:www (104.131.125.221); sld: 1; ; mem: 1.4mb