COMING SOON HOUSE ADVERTISING ads_leader
Africa
»
Egypt
»
Sinai
»
St Catherine
July 31st 2012
Published: July 31st 2012
Edit Blog Post
---
Mount Sinai is revered by Jews, Christians and Muslims as the place where Moses received the Ten Commandments and according to belief in the valley below there, God spoke from a burning bush. Nestled in the shadow of the ± a mountain, lies the Monastery of Santa Catalina (Deir Sant Katreen) where he has lived a community of monks almost continuously since it was founded in the century there was a chapel VI.Aqui before construcià ³ n of the Monastery, built by Empress Helena in the fourth century, the place where the tradition says that Moses saw n the burning bush. soon became a place of pilgrimage and, in the sixth century, Emperor Justinian ± adio year a fortified monastery to protect the monks of the outlaws and asaltantes.
The convent dedicated to Santa Catalina more AFTERNOON.TONIGHT.EAST early Christian saint, was martyred in Alexandria by a toothed wheel, the legend decapito.segun her incorrupt body was found centuries later, in the hill of Santa Catalina (Gebel Katarina) next to Mount Sinai and Egypt's highest point 2642 meters. It access to the Monastery crossing a small ± or shutter in the massive wall, which in some parts reaches 3 meters ancho.Debido it is still active, most of the convent can not visit, escepcià ³ n of the Basilica of the Transfiguration , year ± adida by Justinian in the sixth century. His antechamber containing a spectacular collection of icons, a small ± a sample of a total of 2000 housing the monastery, which include some of the oldest existing dating from the fifth century library, is after the El Vatican in showing the collection of manuscripts more importantante, hardly visited, due to the reluctance of the monks, in the nineteenth century, a German scholar on loan took one of the most imporatantes, Codex Sinaiticus, and never what is devolvio.Ahora in the library of the Museum will be available Britanico.Pronto part of the collection as the monks are hanging from those files on the website of the Monastery. After the Basilica, the well of Moses, where legend situations where this met Sefora.Cerca his future wife there is a large shrub, it is a slice of the original burning bush.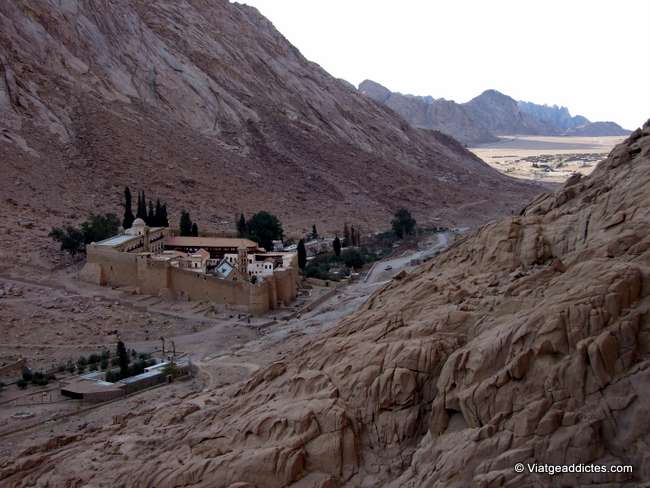 The most unusual feature of this Christian monument, is that inside, contains a mosque built by a Bedouin who worked for the monks, this avoid over history, the attack of the Muslims. Outside the walls, an orchard of olive trees and apricot trees, shade into a graveyard, which are removed promptly, the bones of the monks to an ossuary next, where a macabre collection of skulls and bones are exposed to the public, including Esthephanos skeleton, dressed in clothes of the time, it is a caretaker of Mount Sinai in the sixth century.
---
COMING SOON HOUSE ADVERTISING ads_leader_blog_bottom
Tot: 0.084s; Tpl: 0.009s; cc: 9; qc: 48; dbt: 0.0495s; 1; m:domysql w:travelblog (10.17.0.13); sld: 1; ; mem: 1.1mb