Photo of Los Apus Hotel & Mirador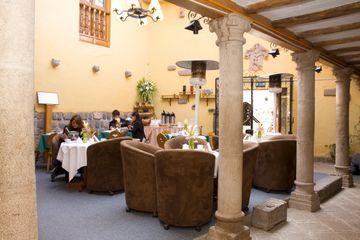 Photo of Los Apus Hotel & Mirador
Address: Atocsaycuchi 515, Cusco, Peru
General Description
The Los Apus Hotel & Mirador is located in central Cusco, right around the historic center. It is found nearby commonly recognized attractions like the Inca Trail, Plaza de Armas and Machu Picchu. The Los Apus Hotel & Mirador is located at Atocsaycuchi 515 in Cusco, Peru. This property is just 10 minutes of driving time away from the Velasco Astete International Airport not to mention the San Pedro train station.
There are 20 rooms to rent at the Los Apus Hotel & Mirador. Rooms provide panoramic views of the surrounding area. Guests can expect central heating as well as private bathrooms with showers/tubs and cable television.
The Los Apus Hotel & Mirador includes amenities like on-site restaurants (specifically the El Mirador) as well as a bar. The building itself has actually been built on the foundation of an old colonial house. The hotel serves breakfast in the lounge. In addition, it keeps 30,000 liters of clean water, ensuring three days of extra water even without public water.
NULL