Photo of Te Tiare Beach Resort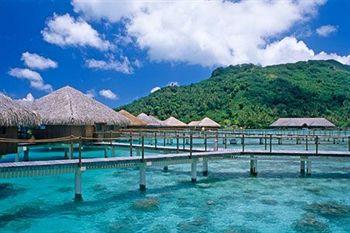 Photo of Te Tiare Beach Resort
Address: Po Box 36 Fare, Huahine, French Polynesia
General Description
Huahine Island is a 35 minute flight from Tahiti , followed by a bus trip to Huahine's nearby main village of Fare. Tucked away in a small bay on the island of Huahine, (part of Tahiti's Leeward Islands), is this resort, accessible only by boat from the main village of Fare. 15 minute boat ride from the village to the resort is through a breathtaking turquoise blue lagoon, full of colourful marine life.
Te Tiare Beach Resort offers the finest in amenities and services. Upon arrival, guests will notice that the reception area, lounge, Restaurant & Bar, boutique and gift shop have been built over the water - something unique in Tahiti. A relaxing spot, with plenty to do. For visitors who are actively inclined, they can choose from a variety of activities & excursions such as island tours, picnic trips, sunset cruises, and snorkeling in some of the loveliest lagoons this side of paradise. Surf transfers, horseback riding and deep sea fishing are also available as well as car, scooter and bicycle rentals. There is a boat transfer to the village of Fare. The resort also offers Beach Bungalows and Overwater Bungalows. (prices are on request only) SB0807.
Tahitian style bungalows, nestled among the resort's lush tropical gardens, with a free form swimming pool under the palm trees.
Located in the main building, over the water, with wonderful views.
Tahitian style bungalows, nested among the resort's lush tropical gardens. Rooms feature air conditioning and a ceiling fan, tea / coffee makers, fridge, hair dryer, safe and TV with a movie channel. All bungalows face west in order for guests to enjoy the island's spectacular tropical sunsets on the nearby islands of Raiatea and Tahaa.
Tahitian style open air lobby. Reception, lobby, lounge, main bar, restaurant and boutiques are built out over the lagoon which is unique in Tahiti.
1 kms to city centre, 26 kms to the nearest airport (huahine), Close to the beach.
NULL