Photo of Hampton Inn Cocoa Beach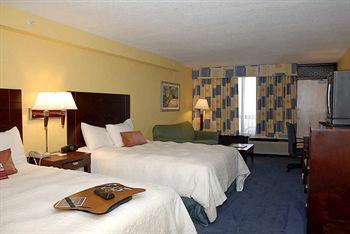 Photo of Hampton Inn Cocoa Beach
Address: 3425 North Atlantic Avenue, Cocoa Beach, United States
General Description
The Hampton Inn Cocoa Beach is within a few miles away from various scenic sites. Among these are the Brevard Zoo, Banana River Lagoon, Space Coast Baseball Stadium, Port Canaveral, Merritt Square Mall and the Museum of History and Science. Corporate neighbors include ATK, Lockheed Martin, USBI and United Space Alliance.
There are 150 spacious guest rooms at the Hampton Inn Cocoa Beach. These are well-appointed with free Internet connections, cable televisions, kitchen appliances, ironing equipment, clock radios and dataport phones with voicemail features. Private bathrooms come with hair dryers and curved shower rods, among others. Some rooms have balconies and sofa beds.
The Hampton Inn Cocoa Beach offers a fitness gym, an outdoor swimming pool and surfing lessons. This eight-storey hotel also provides a business center, meeting/event rooms, an ATM, a convenience store, a gift shop and laundry facilities. Complimentary amenities include a daily breakfast and high-speed wireless Internet access.
NULL