Photo of Golden Sands 10 Hotel Apartments Dubai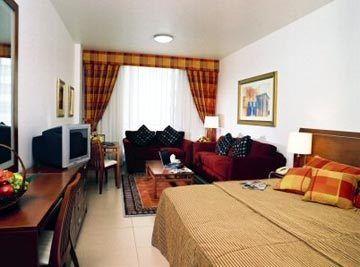 Photo of Golden Sands 10 Hotel Apartments Dubai
Address: PO Box 9168 Bur Dubai, Dubai, United Arab Emirates
General Description
The Golden Sands 10 apartment complex is located in Bur Dubai, just a few metres from a large shopping mall and international banks in the heart of the city. The property is close to leisure, business and shopping districts.
The medium sized apartments are fully furnished and equipped with kitchen/kitchenette, utensils, cutlery, cooker, washer/dryer, fridge, iron and a television with satellite channels. International direct dial telephone is available in every apartment. There is a 24 hour opened restaurant and room service. The tastefully decorated restaurant serves a delicious buffet breakfast.
The hotel is a modern, white building. The lobby is medium sized, with the reception in the centre.
Further services and facilities include baby sitting on request, a temperature controlled pool and a health club with sauna, squash court and gymnasium.
24 hour security and maintainance and safety deposit box are available as well as a home grocery delivery service.
NULL