Photo of Golden Tulip Suites Dubai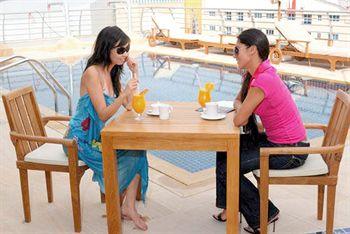 Photo of Golden Tulip Suites Dubai
Address: PO Box 282464, Dubai, United Arab Emirates
General Description
Golden Tulip Suites - Dubai- Al Barsha, Dubai is providing a new dimension in hospitality specially designed for business, corporate and leisure, acting as a benchmark for exceptional comfort, superior service and reasonable rates all underpinned with the latest technology.Conveniently located on Sheikh Zayed Road, next to Mall of the Emirates in the midst of Dubai new business hubs, and only a short drive for the Dubai Convention Center and the adjacent financial district Dubai Media City, Internet City and Knowledge Village. Best of all, we are just a phone call away, anytime of the day, from those who put their trust in us.
La Mode Restaurant
Indulge in international all-day dining at the new trendy MOOD restaurant. Open for breakfast, lunch and dinner or drop by for a quick snack or refreshing cup of coffee.
Dine in luxury and comfort as you are greeted by courteous staff at the restaurant. Enjoy delicious cuisine serving local and international favorites, it's the place to sit back, relax and let your day or night unfold.
Garden Roof Cafe
Here's a perfect place for you to unwind, almost hidden… on the roof top!! Watch the evening shades of the sun slowly hide away over the red horizon. Or snuggle up in our cozy chairs and listen to the gentle strain of the fountain. Enjoy a sip of your favorite beverage of shisha of your fancy at Snug.
Serving coffee, tea and snacks all the day long. What's even more, is that you can enjoy more, with our open air shisha
NULL