---
In the morning of our full day on the Isle of Skye, it was cloudy and drizzling and foggy. But, we were told the weather would steadily improve over the course of the day, and it did. We started by driving up the eastern coast of the island, listening to (probably exaggerated) folktales about the history of the Highlands and Islands and their relationship with that funny little island just a stone's throw west over the water.
I am referring, of course, to Ireland. But more on that next week.
We stopped by a river that had supposedly been enchanted by fairies to keep humans young. The myth was that if you stick your face in the water for seven seconds, you will regain some of your youthful energy.
(It was at this point that our guide informed us that he is 83. Though perhaps he was rounding up a bit for dramatic effect.)
Several of us, myself included, tried it. I'm not sure about youthful energy, but something about sticking your head in a mountain stream for seven seconds will really wake you up, and simulatneously reconfigure your definition of "cold." After we did this, the air actually felt warmer. Amazing.
A few of us had rented wellies (American translation: mud boots) for the day from the hostel. I had forgotten, not having worn wellies for a long time, the feeling of being indestructible when you have them on. You see a puddle or a patch of mud and get this triumphant feeling like "screw you, I'm not detouring" and you walk right through and nothing happens. It's a fantastic feeling.
They do get a bit cold though, after a while.
We hiked up Storr, one of the tallest mountains on the island. Since the low clouds were still covering the peak by this point, we didn't go all the way up. Instead we stopped when we reached the Old Man of Storr, a particularly dramatic rock formation near the top.
Obviously there are myths about it. The version our guide told us is not completely appropriate for a public blog, unfortunately. Again, I'm not sure how much of it is true to the myth and how much of it he made up, or slowly embellished over the years, but I'm not sure I need to know.
The
clean
short version is that three Scottish woman tried to trick a giant out of his collection of silver by tricking him into dancing on Sunday, so that God would strike him down. In the end it worked; the giant danced through Saturday night and into Sunday so God turned him into stone, but in the process he fell on top of his silver, burying it deep into the ground.
Apparently in real life, a cache of silver was found buried underneath these rocks - some kind of Nordic treasure if I remember right. I think (but could be wrong) that it's currently on display in the Edinburgh Castle.
Different parts of the Isle of Skye are said to look like his head, his hands, his feet...etc.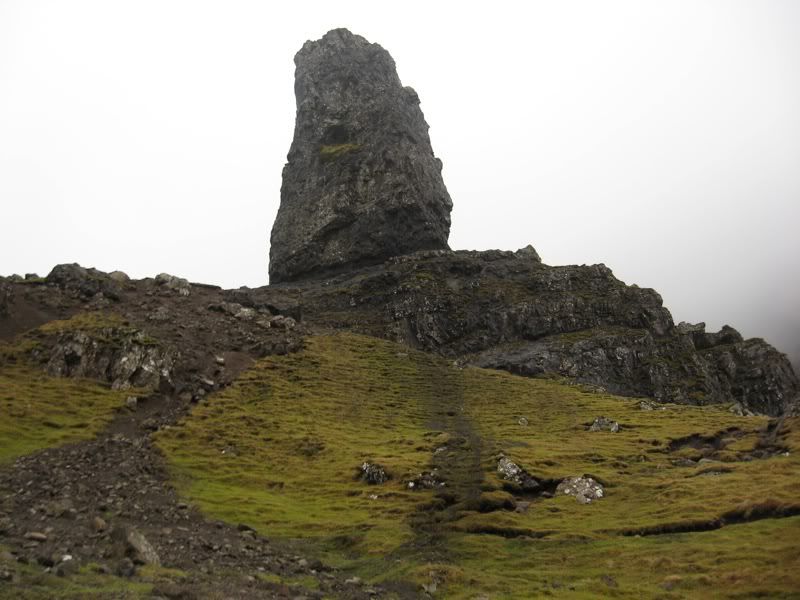 The mist was great because it really added to the feeling of eerieness up here. It was very isolating at times, and the fact that we couldn't see far above us made the mountain feel dark and mystical, a fun feeling to have in historic and mythological places in Britain.
The wind was extremely powerful; the guide said some of the gusts could reach 50 or 60 mph and (unlike most of his stories) I truly believe he wasn't exaggerating. I felt like I was going to be knocked over, at times.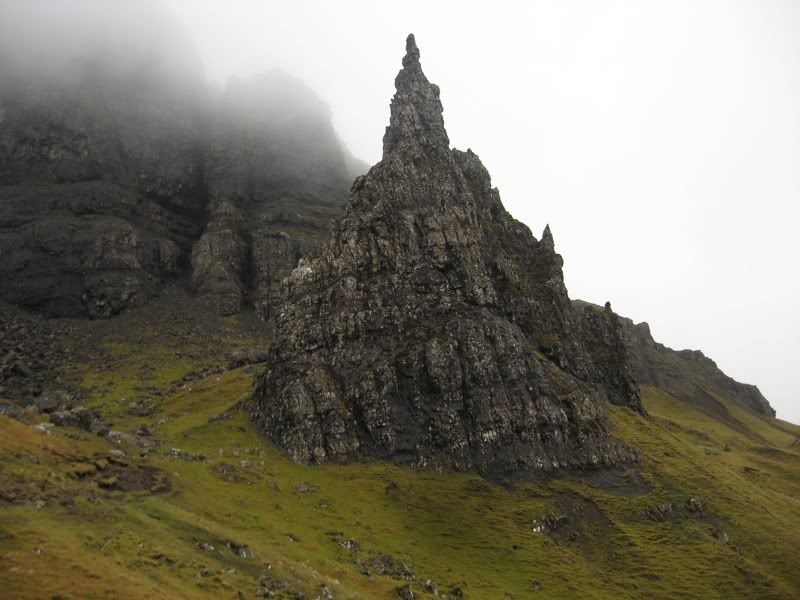 Later in the day, long after we came off the mountain, he had one volunteer try on a "full" kilt, which is a bit more than the kilts you see stereotypical highlanders wearing. Apparently the process was a bit more complicated in the heavy winds: they needed four people just to hold the fabric down.
I was on camera duty. Very entertaining to watch.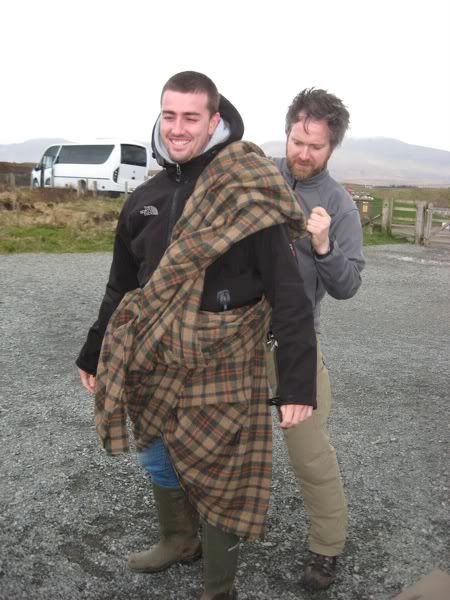 "And you say they went into battle like this?"
I think the wellies and the hoodie complete the outfit.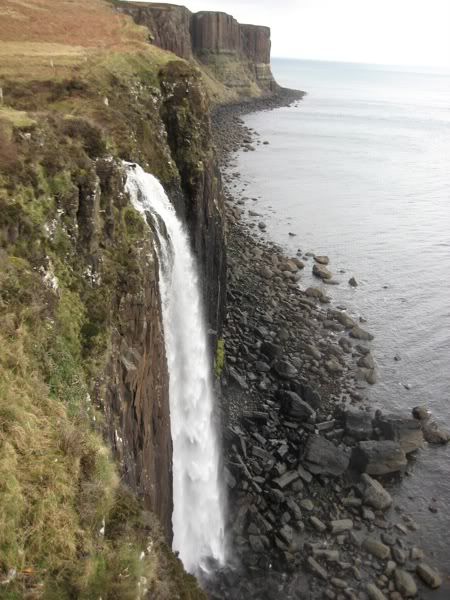 This place is called Kilt Rock; if you look further down the cliffs, you may be able to see why. From the boats, I imagine it looks even more appropriate to its name.
According to a display sign, dinosaur footprints and fossils have been found all over this area.
The sound of the wind whistling underneath us was unearthly and surreal. If anyone remembers those plastic tube toys we used to have as kids - the ones that whistle if you twirl them really fast - it sounded a lot like those. Creepy.
Our next stop was a fantastic place known as "Faerie Glen" or "the village in the hills."
The second name comes from the village that used to be here, centuries ago. There are a few building sites, mostly stone foundations, here and there in the hills. Because it's such a unique landscape, it's no wonder there are stories about fairies and spirits living here. We were told not to whistle or hum as we explored, for fear of attracting the fairies and being taken away.
After we climbed up into the hills, we found this clearing with patterns of rocks all across it. Some of the formations are said to be old, but some of them were clearly tourists getting ideas. I guess someone had made Australia somewhere, but I couldn't find it.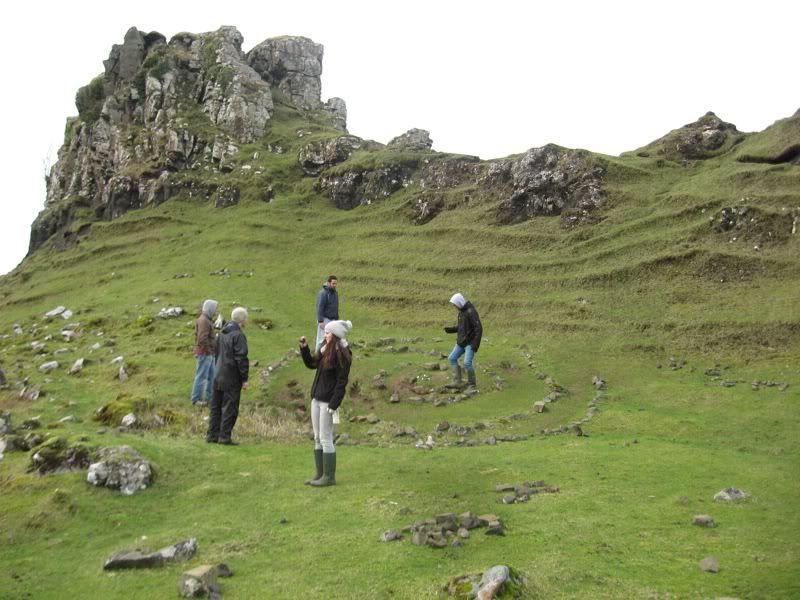 This spiral, on the other hand, is supposed to have been here for a long time, a century even. The superstition is that if you walk into it thinking about negative things about yourself, and walk out of it concentrating on positive things about yourself, then the spiral will take away your negative energy and replace it with positive energy.
It's a very pagan belief. This place is popular with wiccans. I can sort of see why.
This is the Castle; it is said that all the fairies remaining in Scotland live inside it. Of course there are stories about sightings, or people sensing them in some way.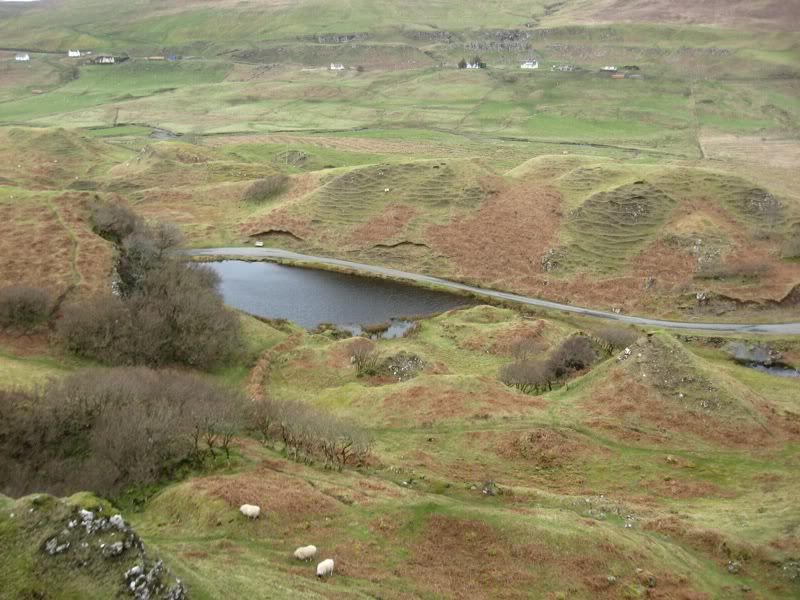 Also on our tour of the island, we had a brief stop at the ruins of a castle. You know, like you have in Britain. No big deal.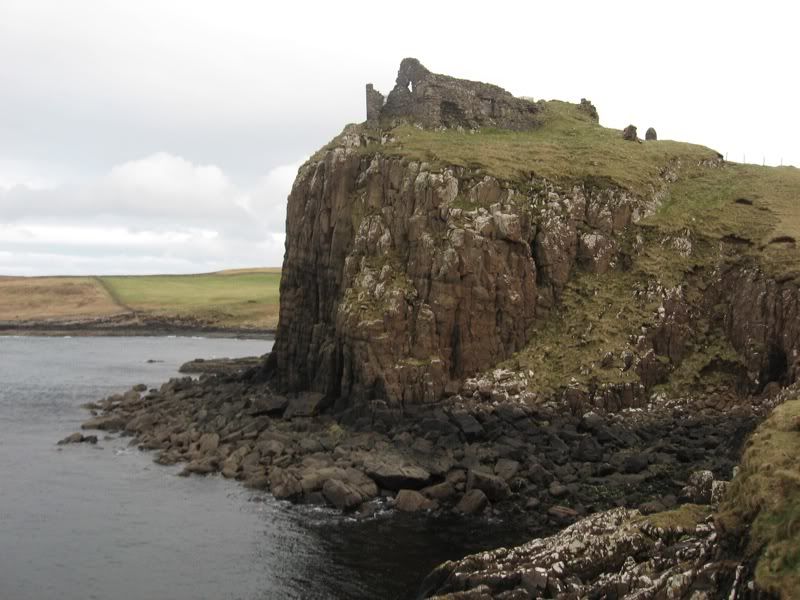 Also some replicas of old highland huts: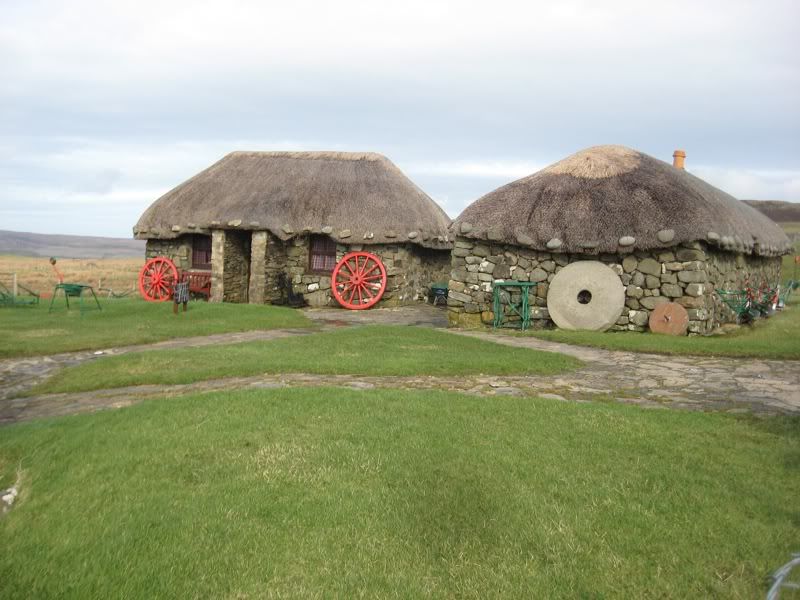 And our last stop was a photo-op view of the Black Cuillin mountains.
By this time, the clouds had cleared enough for some pretty fantastic views, I think.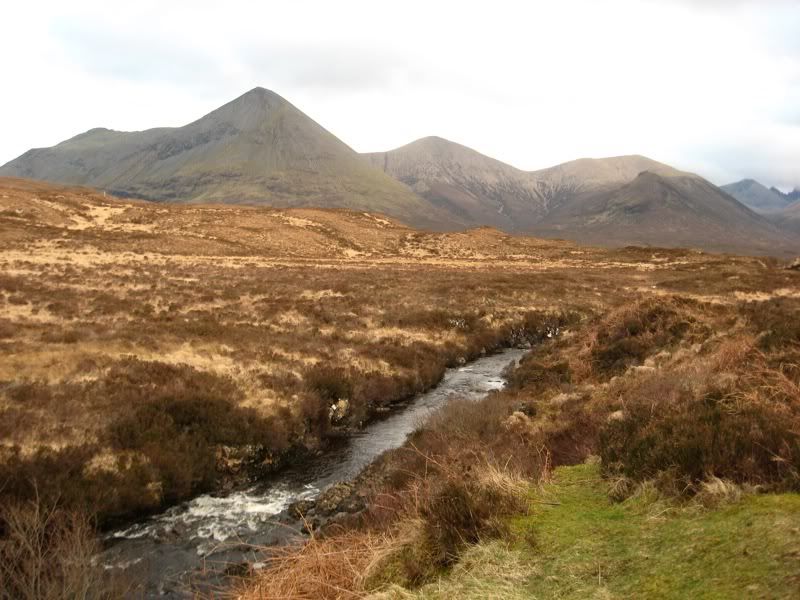 A certain section of this mountain range is said to be the head of the giant from the earlier myth. Haven't shown the picture yet, but I could definitely see it. It looked like the giant was lying on his back, with his tongue in the air.
We took turns posing so that the guide could get a picture of each of us matching the profile of the giant's head.
So I handed him my camera and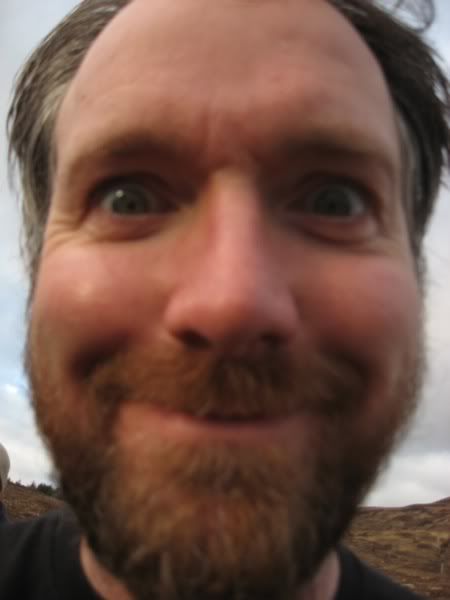 The resemblence is striking isn't it?
But seriously, I had no idea he had done this until later, when I was looking through my pictures.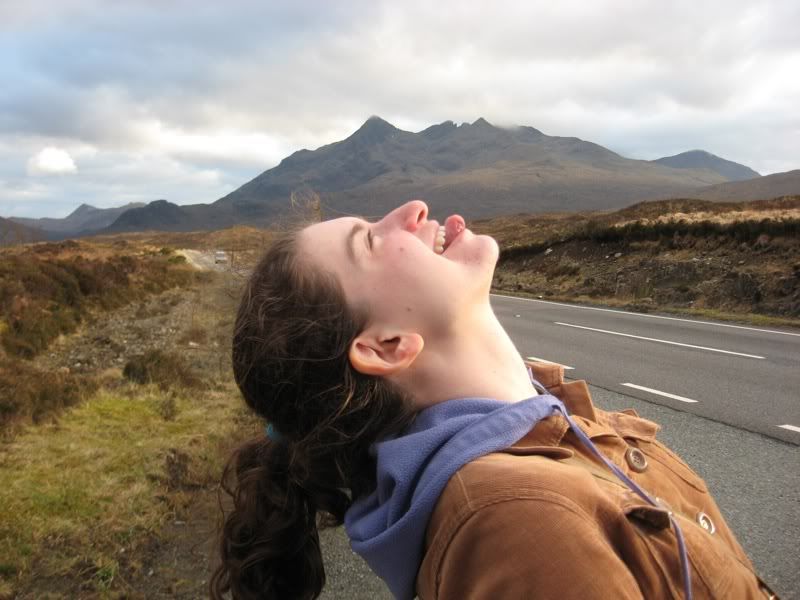 Can you see it?
Please ignore the windblown hair. And the fact - which has been unknown to me all these years - that my ears are HUGE.
Anyway.
Haggis is one of, if not the, most famous of all Scottish foods. It consists of ground beef and barley boiled together inside the stomach or intenstine of a sheep. I am not making this up. I was somewhat exempt from this Scottish tradition, as haggis is about as far from vegetarian as it is possible to get.
Except that vegetarian haggis exists. It consists of barley and ground root vegetables boiled in... not an animal viscera, thank you. We made veggie haggis in our night on Skye. Well, the guide made veggie haggis and I attempted to help. I was anticipating that the meal would be more about being able to say I had eaten veggie haggis than enjoying the actual food.
But I really, really liked it. As it turns out, veggie haggis is
really good
. So good that during my weekend in Edinburgh after this, we went out for lunch and I ordered veggie haggis just for the sake of enjoying the actual food.
And I may or may not be keeping an eye out for it in stores now that I am back in Newcastle.
Leaving Skye tomorrow for some beautiful glens, the tallest mountain in the UK, and a lovely coastal town called Oban.
---