Photo of Hotel Restaurant Alpenblick Berne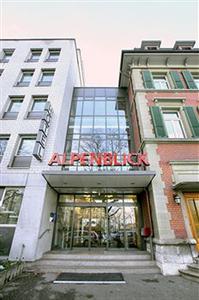 Photo of Hotel Restaurant Alpenblick Berne
Address: Kasernenstrasse 29, Berne, Switzerland
General Description
The Hotel Restaurant Alpenblick Berne is located in a quiet area of the Berne only minutes away from the city center. Guests will find themselves near such attractions as the Stade de Suisse. This accommodation in Berne offers easy access to all that the city has to offer. The Hotel Restaurant Alpenblick Berne is located along the city's public transit lines, ensuring easy access to the many points of interest and attractions located throughout the city as well as to the local airport.
Each of the guestrooms at the family run Hotel Restaurant Alpenblick Berne offers multiple amenities. Each room includes television, telephones, radios, safes, and wireless Internet access. All rooms also include private bathrooms with water closets and showers.
Guests of the Hotel Restaurant Alpenblick Berne will find that there are many shops and restaurants in the area. The hotel offers an onsite restaurant for guests to enjoy. There is also a banquet hall onsite at this three star accommodation.
NULL