Photo of Thon Hotel Maritim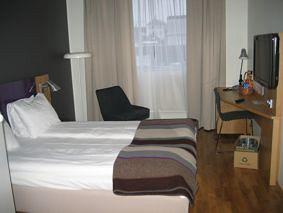 Photo of Thon Hotel Maritim
Address: Kongsgata 32, Stavanger, Norway
General Description
Thon Hotel Maritim occupies a central position in the heart of Stavanger. The hotel enjoys wonderful views of the Breiavannet Lake, and it is only a 2 - minute walk to Stavanger's shops, nightlife, cultural and entertainment centers. This property is 200 meters from the train station and 14 kilometers from the airport.
The hotel houses 223 rooms equipped with modern amenities such as private bathroom with shower and tub, hairdryer, free wireless Internet access, mini bar, and cable TV.
Thon Hotel Maritim is a 3-star rated property that combines contemporary decor and luxurious accommodation. It features services and amenities such as conference facilities, fitness center, sauna, laundry and dry cleaning facilities, safe-deposit box at reception, elevator, 24-hour front desk service, wireless Internet access, bar/lounge and restaurants.
NULL