Photo of Hotel Edvards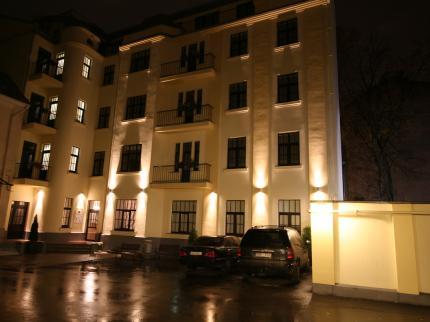 Photo of Hotel Edvards
Address: 45/47 Dzirnavu Street, Riga, Latvia
General Description
This small hotel is located nearby to Riga's downtown area, and it offers Riga accommodation with plenty of modern comforts. The Hotel Edvards is close to the area's many art galleries and museums as well as Skonto Hall, Arena Riga, and cafes, shops, and restaurants. The Hotel Edvards is easily accessible by car, and guests will also be within easy walking distance of many of the downtown area's attractions.
The rooms of the Hotel Edvards all feature en suite bathrooms with showers and tubs. Each room also offers a minibar, a direct-dial telephone, and a satellite television, and all of the rooms have private balconies or terraces. Besides this, all of the hotel's rooms are non-smoking and air conditioned.
This 19th century hotel has been recently renovated in a way that preserves the hotel's beautiful historical aspects while still adding in modern touches and comforts. Guests of the Hotel Edvards can enjoy the hotel's on-site bar, where they can order breakfast each morning and snacks and drinks throughout the day.
NULL