Photo of BEST WESTERN La Tour Notre Dame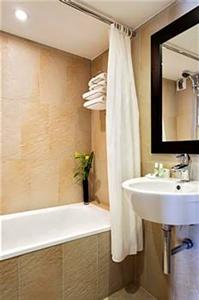 Photo of BEST WESTERN La Tour Notre Dame
Address: 20 rue du Sommerard, Paris, France
General Description
The BEST WESTERN La Tour Notre Dame is centrally located in the Latin Quarter, a Paris hotel set among a sea of boutiques, bistros, and art galleries. It is within walking distance of the Rive Gauche, Notre Dame Cathedral, and the Cluny Museum. Guest will also have easy access to the nearby Sorbonne University. The BEST WESTERN La Tour Notre Dame is 20 miles from the Charles de Gaulle airport, and within walking distance of several metro and bus stops.
Rooms at the BEST WESTERN La Tour Notre Dame all feature Toile de Jouy tapestries on the wall and modern amenities. These include air conditioning, LCD TVs with cable access, high-speed wireless Internet access, in-room safes, a mini bar, and private bathroom facilities in all 48 rooms.
The BEST WESTERN La Tour Notre Dame is in a 17th century building that has been updated to modern standards while still preserving its historical roots and exposed stone. The property has a cellar with vaulted ceilings, where management currently operates a restaurant. Meeting rooms for groups of varying sizes can be booked with or without catering service.
NULL