Photo of Regent Contades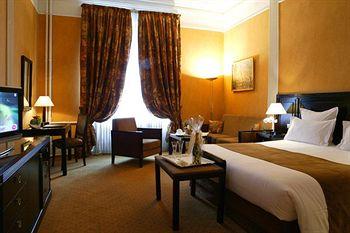 Photo of Regent Contades
Address: 8 Avenue De La Liberte, Strasbourg, France
General Description
Guests of the Regent Contades can see many of the local historical sites of Strasbourg, France. The famous Gothic cathedral is a popular destination, as is Saint Paul's Church. With its location right on the Ill River, this establishment is close enough to many local sites for guests to walk. The Strasbourg International Airport is only sixteen kilometers away. The Regent Contades staff can help with directions or arranging transportation if necessary.
Each of the forty-seven rooms at the Regent Contades is equipped with modern amenities for guest comfort. Lodgings are decorated in an Art-Nouveau style. Air conditioning is standard. Room service is available.
Constructed in a 19th century building and equipped with modern technology, this hotel has many facilities and services for guest convenience. The Regent Contades has a bar, called Le Regency, and a breakfast room, called Belle Epoque. Meeting rooms are available for business travelers. The establishment also has a fitness center samarium for guests' well-being and relaxation.
NULL