Photo of Bella Vista Hotel Drvenik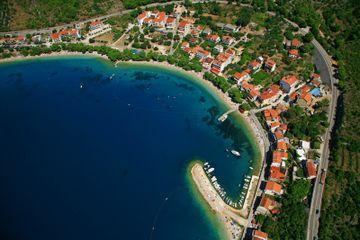 Photo of Bella Vista Hotel Drvenik
Address: Gornja Vala Bb, Drvenik, Croatia
General Description
Situated between the steep cliffs of the mountain Biokovo and the coast with beautiful beaches.
This is a great hotel in a lovely area of Makarska Riviera.
The Hotel is a modern medium rise building.
Each of the 33 rooms and 7 suites is a stylish blend of modern comfort, Mediterranean ambience and contemporary style. Rooms are equipped with mini bar, satellite TV with LCD monitors, safe, direct telephone line and Air-condition that setting new standard to destination. Superior comfort contribute specifically designed beds in accordance with high standards of Hotel Bella Vista and desire to make each guest sleep relaxed and wake up cheerful in the morning.
The Bella Vista Restaurant with its elegant and luxurious setting will stimulate all those true admirers of gastronomic and oenological tales. Excellent chefs will deftly take you on a gastronomic tour through Dalmatia and through the other Croatian regions too. Traditional specialities such as pa?ticada (fine stew), fish, etc. are prepared following traditional local recipes that include local ingredients and lots of spices, Mediterranean herbs and olive oil.
Wellness comfort zone Bella Vista foster holistic approach to health and life. In relaxing atmosphere, enjoy Finnish sauna, whirlpool, and various massages, aromatherapy . .. . Maintain your condition in the fitness room. In the vicinity of hotel there is beautiful natural pebble beach, where you can rent bicycles, scooters and boats. There you can find sub-diving club and centre for sea sports for exploring windsurfing, paragliding. Those seeking of adrenaline rush will certainly enjoy canyoning and rafting on the Cetina whilst the Biokovo mountain is ideal for all hiking lovers. Excursions are organized daily to Dubrovnik, Makarska, Split, Me?ugorje - Mostar, Krka National Park, to the islands of Bra?, Hvar, and Kor?ula and to the Biokovo Mountain ? which is a protected nature reserve. Gradac and Makarska are ideal places to explore charming galleries whilst as far as cultural events are concerned, we really should bring your attention to the almost traditional Strip Festival. Also do not miss festivity of Saint Roko on August, 16. in Drvenik.
The lobby is medium in size and modernly decorated.
130 kms to the airport (split), 140 kms to the airport (dubrovnik), 25 km to the nearest station (ploce).
NULL