Photo of Paradise Bay Resort Saint David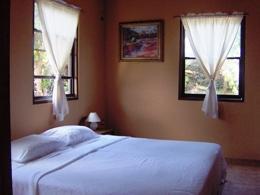 Photo of Paradise Bay Resort Saint David
Address: La Tante, Saint David, Grenada
General Description
Grenada is a Caribbean tropical island with friendly people, gorgeous nature, ocean and beach. Paradise Bay Villa Beach Resort and Spa offers 9 Caribbean tropical villas on 8 acres in a huge natural park with great ocean and beach views. Paradise Bay Villa Beach Resort and Spa offers good cuisine, personal service, (beach) massage and therapy treatments, a small gym. Relax...no TV or traffic noise. Revive your senses in a hammock or ocean canoes.
We only feature beachfront suites & rooms with large bathroom and verandah offering spectacular ocean and beach views. Comfortable beds (King or two singles). Hardwood and rattan furniture; Italian tiles. Each resort suite sleeps 1-2 on the sofa in the small living.
Here are the rates for the rooms and suites (villa= room + suite).
FLEX RATE:
3 night deposit refundable up to 14 days before arrival
Balance payable 14 days before arrival
Paradise Bay ex tax/svc/night
sep 1 - oct 26
oct 27 - dec 14 & apr 12-aug 31
dec 15 - apr 11
Superior room $98 $130 $175
Superior suite $123 $162 $195
Superior villa $221 $292 $371
Jacuzzi room $119 $150 $195
Jacuzzi suite $156 $195 $219
Jacuzzi villa $274 $345 $414
3d person (suite) 22 29 39
child -12y (suite)15 20 26
(only during school holidays)
When you are absolutely sure about your dates and book at least 60 days ahead, contact us about our Saver rate. If you need flexibility, check us for the rack rate that allows refund up to the day before arrival.
What sets us apart is our Super Inclusive which is much more than traditional All Inclusive, where the more expensive activities are excluded. At Paradise Bay, it's all included in the affordable Super Inclusive add-on.
The Super Inclusive add-on costs US$ 94.50 per person/day and includes served to table breakfast, lunch (on Sunday our 7 course brunch), 4 course Dinner, all house drinks, -cocktails, -wines and -champagne as well as these activities: Whale/dolphin watching, a Catamaran trip, scuba diving, golf (9 course), horseback riding, 1-2 persons ocean kayaks, walks and hikes; island tours as well as massages and other Spa treatments on weekdays and use of the gym.
Interested in a cooking lesson or demo? If you stay Super Inclusive, once a week you are welcome to join our Chef in classes in cooking Caribbean with a French accent.
Beach massage, learn to give a massage, aroma therapy; it's all in the Super inclusive package! Our Spa uses fresh Aloe Vera, natural scrubbing agents and seaweed. Most all inclusive resorts in Caribbean islands charge extra for massage and therapy treatments. Spas in resorts can be very expensive. Our affordable Super Inclusive package includes it all.
Our small gym may not rival big health clubs and gyms, but has all major exercise equipment to keep you healthy and fit.
Our child policy: during school holidays we welcome children and offer 75% discount (up to 12 years) and 50% discount (13-16 years) on the extra person charge and Super Inclusives. Please note that 1-2 children can only be accommodated in suites and that outside the school holidays the minimum age is 13. With this policy, couples are assured a quiet stay outside the school holidays, while families are assured a warm welcome during the school holidays.
Wind and sun are the major sources of alternative energy. We are the first resort in the world with a utility grade windmill and the first in the wide region. Our windmill energy supplies all we need and we have solar path lights and solar water heaters. Really green resorts must be zero carbon. We go a few steps further by supplying our excess energy to the utility net and purchase carbon credits for the flights of all our guests.
Easy walks along beach and ocean or rainforest hikes, you will love Grenada's outdoor nature. From the resort you can walk for hours and just meet fishermen: Tap local culture. Feel one with nature! Swim in the island waterfalls, visit an ancient slave pen, the world's smallest chocolate factory, fruit, nutmeg and cocoa plantations.
When you look for luxury, formal service and nightlife we would not be your best choice. But if you are looking to get away from it all, enjoy nature, serenity, privacy, good food, personal service and a wide range of activities at a very reasonable price, you found the right place!
On select dates we currently have a special offer for 149 $ (+18% tax/service) per person per night including accommodation and the Super Inclusive add-on. Based on our Flex rates (refundable deposit 3 nights up to 14 days before arrival, balance 14 days before arrival). Single surcharge 40$ per night. Room Upgrades are available upon reservation. Please let us know the dates of your anticipated vacation and the number of adults/children and we will advise the best we can offer.
Please appreciate we designed the Super Inclusive program to include a variety of activities guests could possibly want, So if you're not divers you may like the whale/dolphin watching, the catamaran sailing with optional snorkeling and/or take as many massages as you like....
Our Aloe Vera restaurant features served to table breakfast, lunch and dinner at reasonable prices. Full board option, including drinks during meals is US$ 65 per person per day
Call ++1-473-405-8888 or email paradisebay@spiceisle.com and mention your dates and party details. We will get back with the best offer.
NULL