---
After 4 stressful weeks of:
- lack of sleep
- travelling long, uncomfortable journeys
- whizz stop tours of places
- early morning alarms to get up and go
We decided island hopping in Thailand was a perfect way to end our stay in south east Asia... We imagined:
* having time to spare to enjoy experiencing each island
* lie ins
* minimal travelling
* chilling out
*. basking in the sun... Finally topping up the tan!
In reality...
We continued Tom's whizz stop tour of hospitals, and our planned island hopping trip fell by the wayside. After the patient was fit and healthy we ended up ...
* making not one but two rocky boat trips to Koh Tao
* cramming as much as humanly possible into our stay ... Each day was filled to the brim!
* awakening to the alarm clock... Urgh! More early morning starts!
What we managed to see and do was pretty epic...
1) Stocking up on the cheap food before Australia! Demolishing two all you can eat breakfasts, which we certainly got our money out of! It's a wonder we didn't sink while in the water!
2) Taking as snorkelling trip around the island! It took Rach a while to get used to not drowning, the concept of NOT breathing through your nose was a bit much to handle!
3)Climbing to the peak of one of the most beautiful islands in the world, by passing all the smokers dying half way up the climb for a cigarette break!! What a sight it was...
4) Completing a fun dive, where again Tom put Rach to shame, taking a mere 30seconds to complete the skill test while Rach was on her third attempt.... Cringe!
5) Discovering a new pancake flavour... Mango and vanilla!!! Best find ever!
6) Taking ourselves off on our own trekking adventure... Dripping in sweat its astonishing we managed to pick up some friends along the way! We tagged along with a big group and continued our quest to find the view point... Mission accomplished!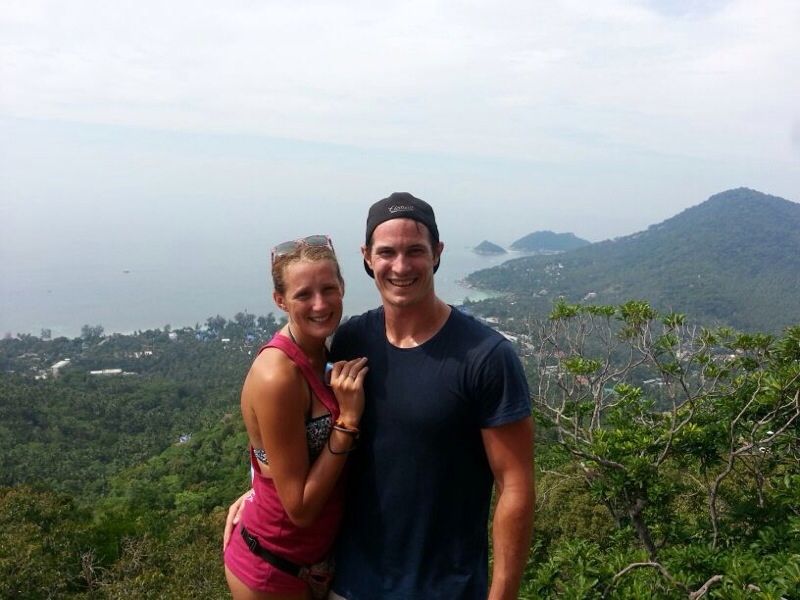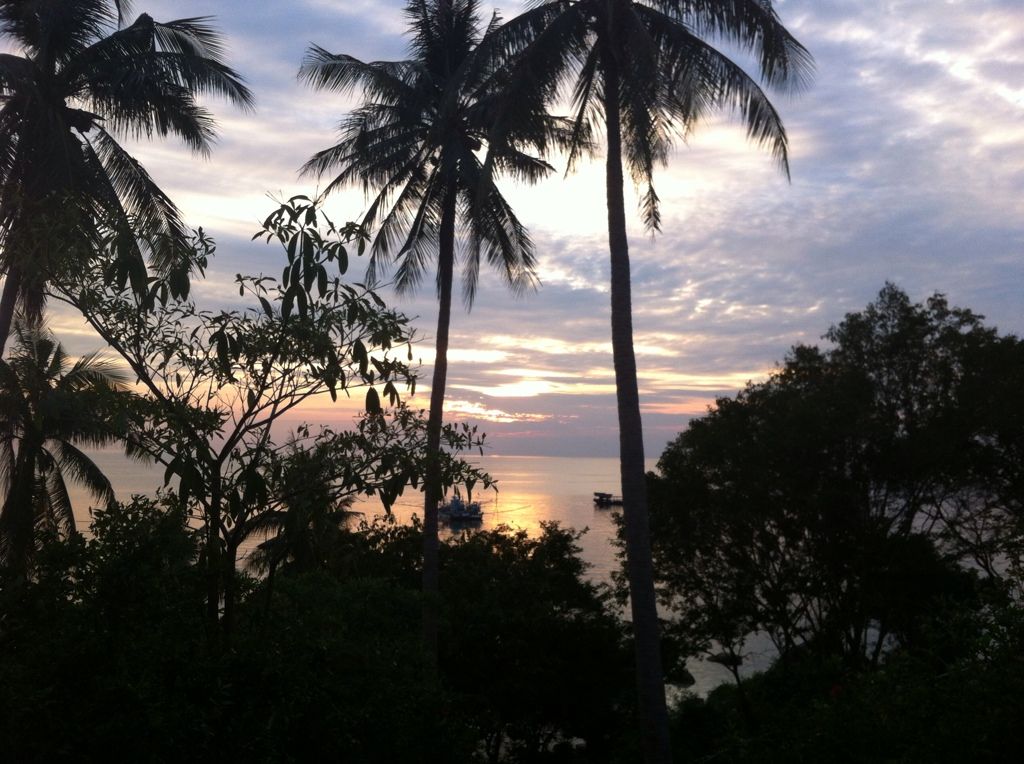 7) Lived in a beautiful beach hut, alongside all the lizards, centipedes and cockroaches we could hear! Nothing like embracing the moment and living with the great outdoors!
8) After 12 weeks of no western food, broke the routine and treated ourselves to 'Big Blue' Italian style pizza... What a guilty pleasure - demolished!
9) BBQed sweetcorn on the beach - it is as good as it sounds, painted with butter and sprinkled with a dash of salt! Yum!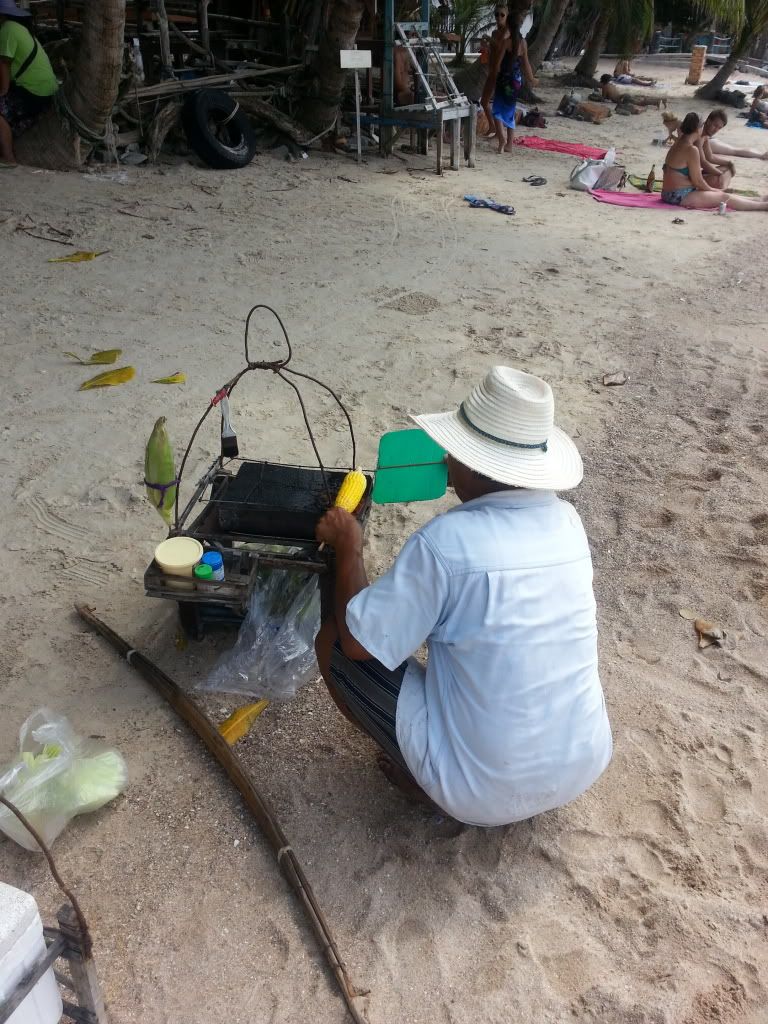 10) Enjoying 'Lotus Bar' fire display... There was some crazy stunts happening!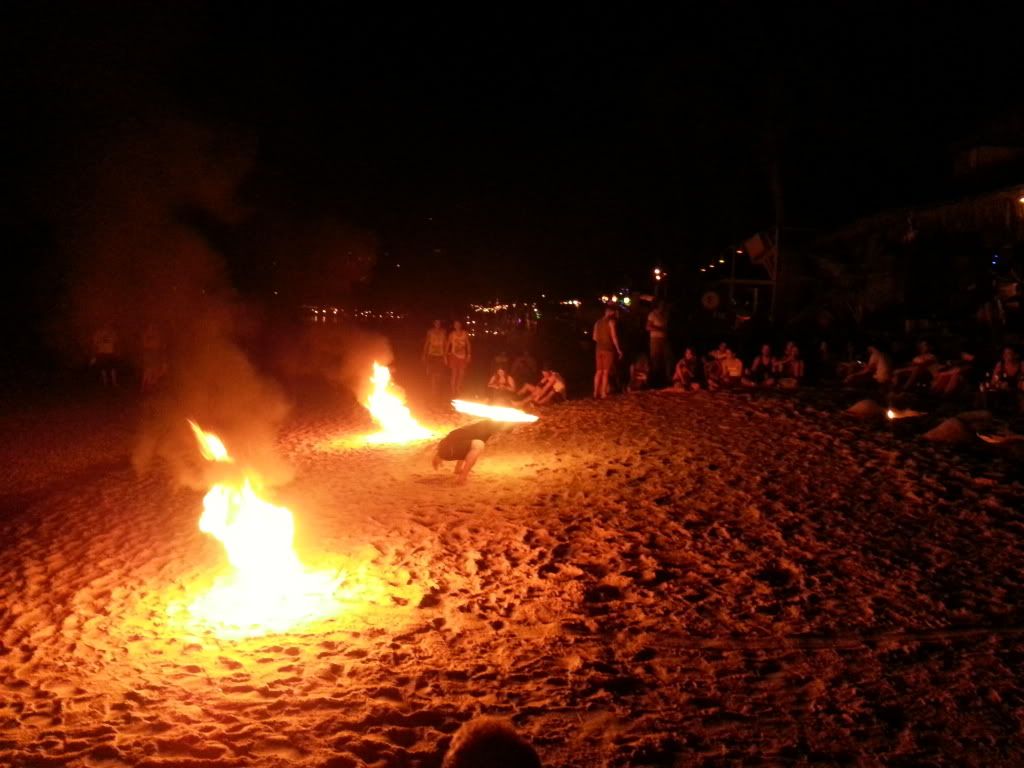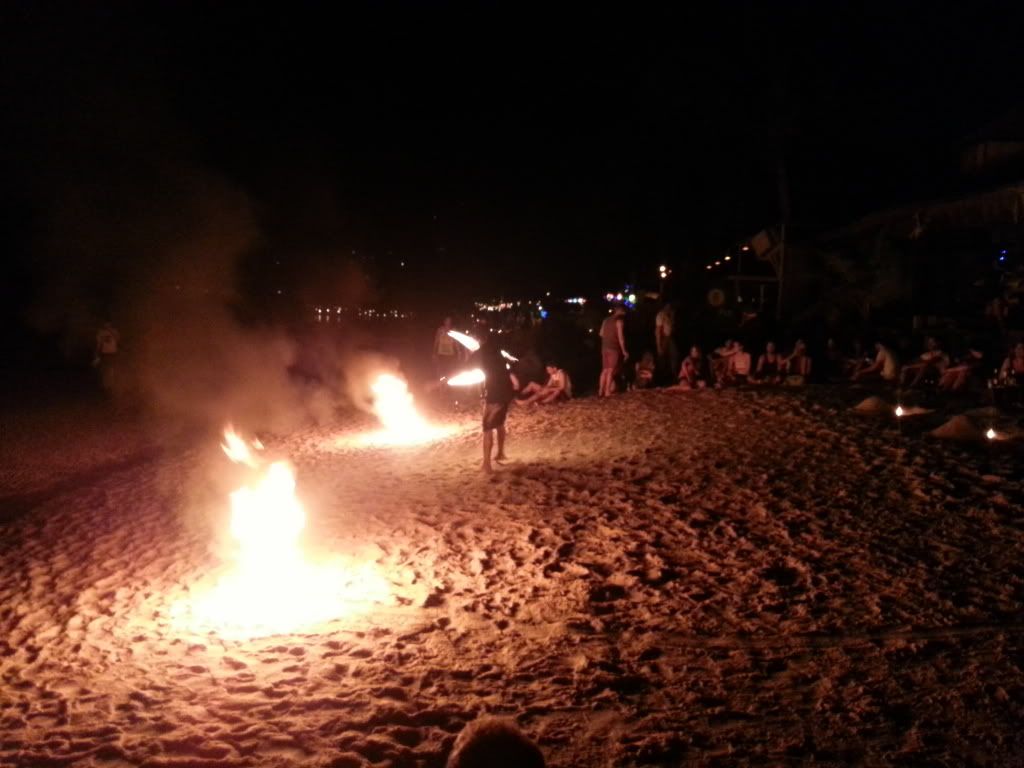 11) Witnessing a spectacular beach sunset
Next stop...
Krabi -
where the transportation was similar to that of being trafficked, with hundreds of people being smuggled on the overnight ship packed like sardines on the floor!
Arriving at 5.30am, its safe to say the mood was a little 'krabi', particularly after waiting in a number of cafes along the way... Typical Asian transport!
Onto
Railay island
which was 'railay' nice... Yes believe it or not these are the jokes that Tom managed to feature in just about every sentence!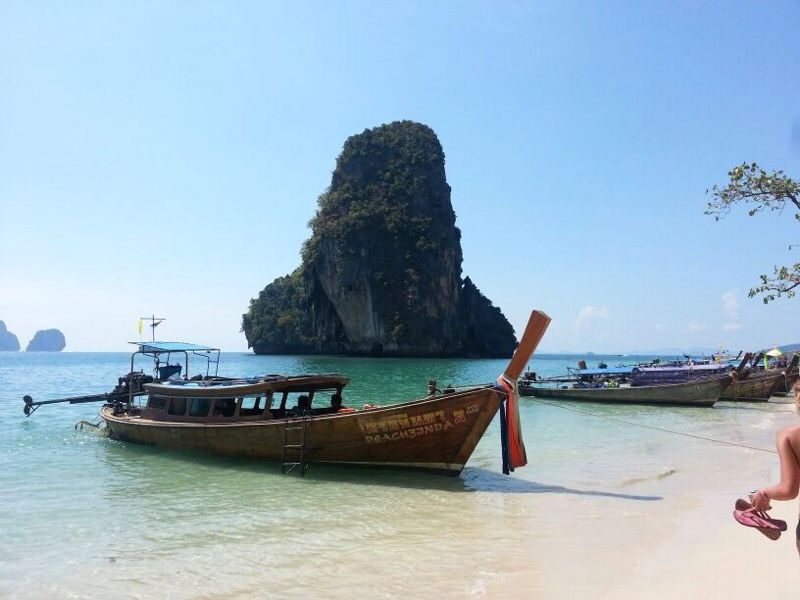 Railay island was 'railay' populated by ladyboys... Was it a man? Or a woman? A lot of the time we weren't quite sure...
Often the big, hairy manly legs gave it away...
Or the deep voice
Or the way they looked at Tom... He got his fair share of unwanted attention, much to Rach's amusement!
But often it was easy to be fooled as they pulled it off 'railay' well with their feminine charm, long locks of hair and surprisingly good dress sense! Most had bikini bodies to die for... Gutted!
While we were getting reports of freezing artic conditions at home, we were blissfully topping up our tans in the most scenic of islands! Did we feel guilty?! Did we heck! Lol! (Sorry guys... We did think of you)
Setting an early morning alarm, for once it wasn't to rush about and get ready! Instead some relaxation yoga on the beach where we both wondered what we had let ourselves in for as the instructor started asking us to hum and chant with him!! Tom proved boys are not renowned for their flexibility while the male instructor managed to pull his legs into positions that didn't look humanly possible!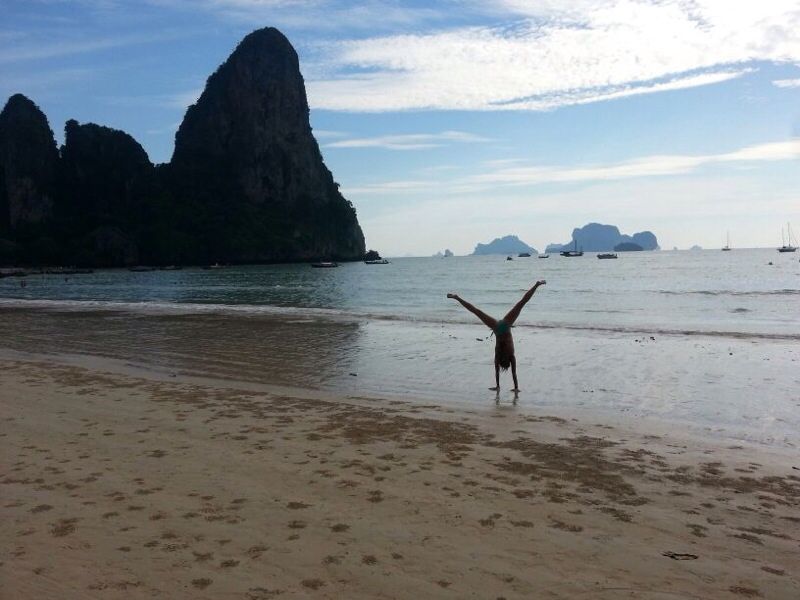 An island famous for rock climbing... We took ourselves off on our own adventure!! A pastime we are beginning to enjoy more and more... Setting off into the unknown seeing what we discover!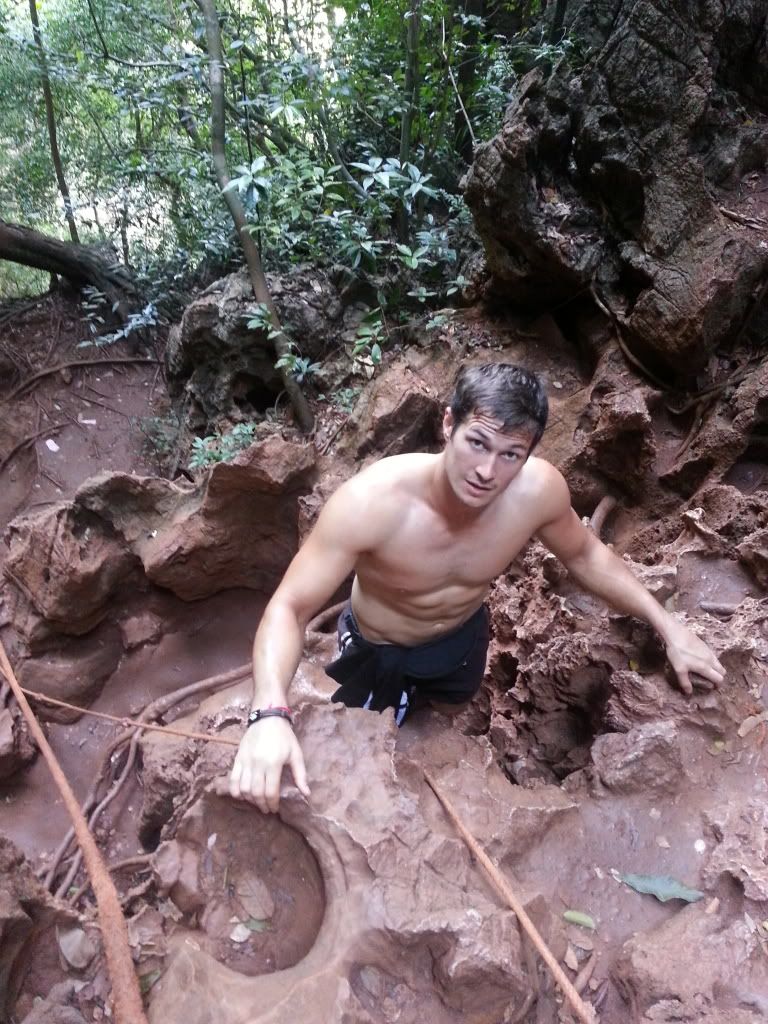 This time... It was a steep climb, with a muddy rope, the only direction being up! For most a daunting prospect, for us a challenge which we relished... In flip flops!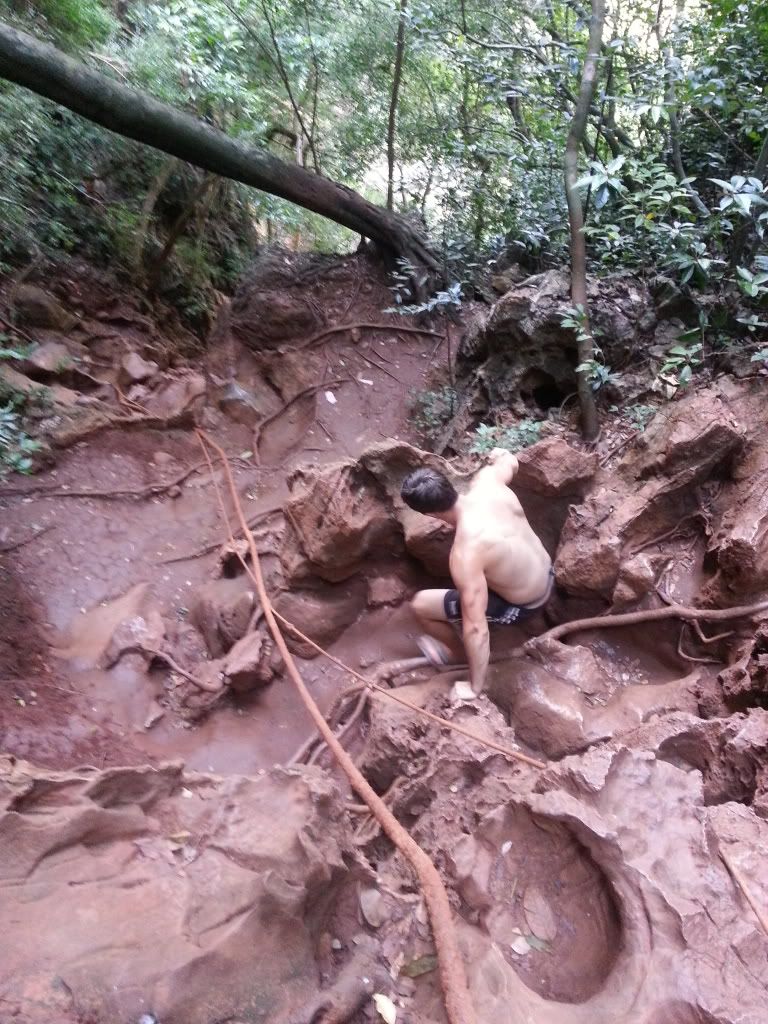 Dressed for the occasion we climbed in search of the viewpoint and lagoon, rock climbing could be a sport we both would enjoy. All those squats and lunges finally served a purpose... With both of us finding ourselves in some strange and awkward positions!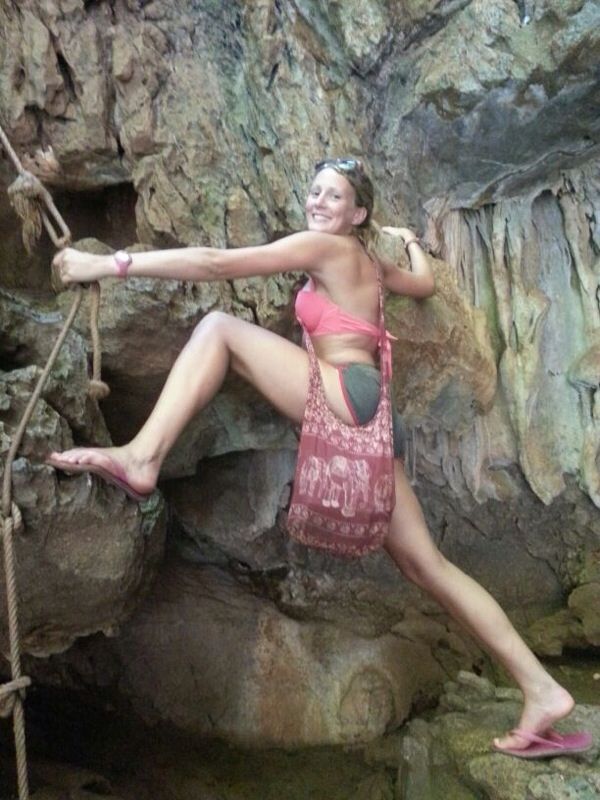 We enjoyed a spot of lunch, from our onsite beach shop... selling anything from cold drinks and ice creams, to full on meals ... Pad Thai, so Tom was happy :)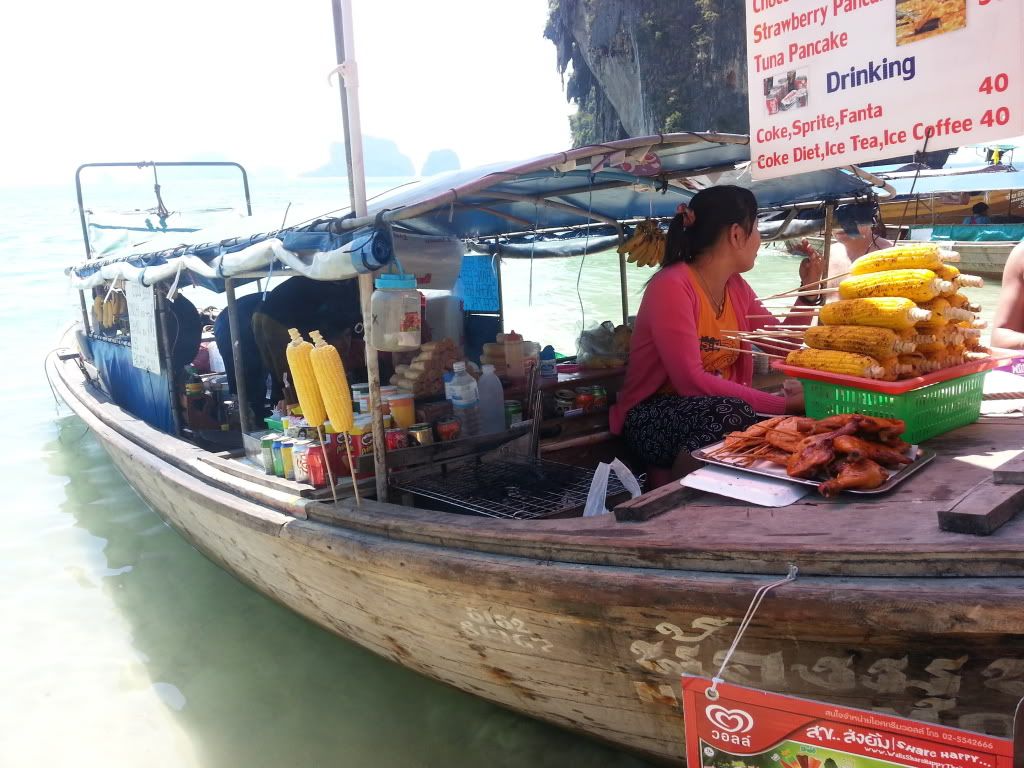 Enjoying being active we created a workout on the beach: 30x pressups, lunges, band pull aparts plank and squat jumps! Did I mention with a shuttle in between or worse still animal bear crawls! Yep... Safe to say the sun worshippers on the beach thought we were potty!
Our reward... Witnessing the sun set!! Magnificent... Check out the Sweaty Betty picture!
Hard to believe it was our last few nights in South East Asia! We took full advantage ordering a meal fit for the king, with four Asian courses between us, followed the next morning by an extortionately expensive breakfast buffet! May as well stock up before rationing in Australia commences!!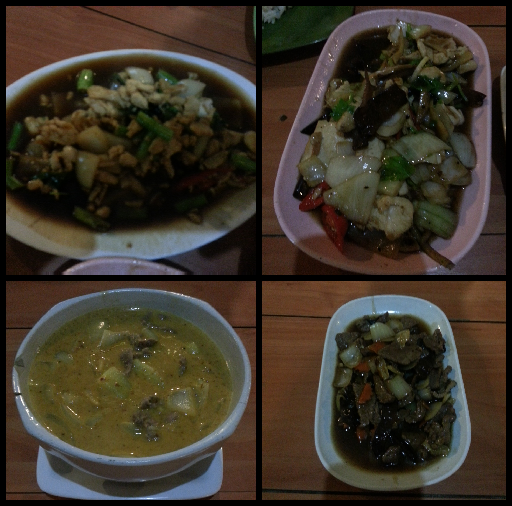 Over the past few weeks we have immensely enjoyed travelling in Asia, and we will definitely be back in the future!
---