Cherbourg Hotel Incheon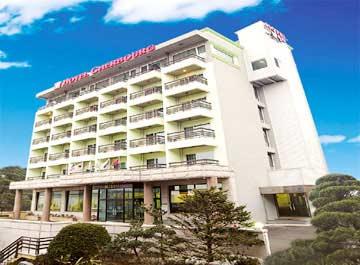 Photo of Cherbourg_Hotel_Incheon
Cherbourg Hotel Incheon
Address: 703-41 Eulwang-dong Jun-gu, Incheon, South Korea
General Description
The hotel is located near the Ulwangli bathing beach, around 10 minutes from the Incheon International Airport. Free transfer services will be available from to the Incheon International Airport that the visitors who needs the transfer service have to call to the hotel directly for the service then the hotel will pick them up within 15 minutes.
There is also meeting room. Free pickup and sending service is available between hotel and Incheon International Airport by request. 04/10 CH.
The hotel is an eight storey modern building.
The lobby is small.
The standard rooms are approximately 26 square meters and good in condition.
There is no restaurant in the hotel but numbers of local restaurants are near the hotel.
10 kms to the airport (incheon), 20 kms to city centre, 3 minute walk to the nearest bus stop, 38 kms to the airport (gimpo), Close to the beach.
Hotel Facilities
• Air Conditioned
• Banquet Facilities
• Business Center
• Currency Exchange
• Dry Cleaning
• Elevator / Lift
• Hair Dryer
• High-speed Internet
• Laundry service
• Meeting Rooms
• Parking
• Refrigerator
• Room Service
• TV