Lake Hills Hotel Bugok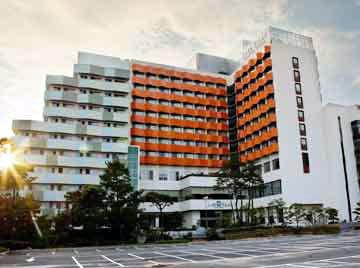 Photo of Lake_Hills_Hotel_Bugok
Lake Hills Hotel Bugok
Address: 213-19 Geomun-Ri Bugok-Myeon Changnyeong-Gun, Gyeongsangnam-Do, South Korea
General Description
Lake Hills Bugok Hotel is among the other quality hotels in Gyeongsang Nam Do which has been serving the guests with unfailing consistency. Whether you are a business traveler or just a tourist you will get all the required facilities in Bugok Hotel.
Location of Lake Hills Bugok Hotel Gyeongsang Nam Do, South Korea
Lake Hills Bugok Hotel at Geomun-ri is a quality accommodation which is easily connected with all the major business and entertainment hubs. If you are planning to check-in at this stylish hotel you can choose either flights or the trains to get in. The Milyang railway station is around 40 minutes from the Bugok hotel from where you get the trains to Seoul.
The Gimhae Airport is the nearest airport from Lake Hills Hotel and it takes around 1 hour and 30 minutes to reach here from this airport. While you are staying in this hotel you can easily get connected with the nearby attractions like, Manokjeong Park, Upo Swamps, Yeongsanhoguk Park, and the Ice Caverns.
Room Facilities at Lake Hills Bugok Hotel Gyeongsang Nam Do, South Korea
Lake Hills Bugok Hotel comprises 132 guestrooms which are appointed with exclusive interiors. The guests have the option to choose from the 90 Korean-style rooms and 42 Western-style rooms that speak of elegance. These spacious guestrooms are gifted with a cozy setting and homely ambiance that make you feel at ease.
The guestrooms of Hotel Lake Hills are equipped with a wide range of modern room amenities starting from television, air-conditioner, and fridge, to hair dryer, internet access and personal safe. The attached kitchens in these rooms are fully equipped with the kitchen amenities.
Hotel Amenities and Services at Lake Hills Bugok Hotel Gyeongsang Nam Do, South Korea
Hotel Lake Hills Bugok has an in-house restaurant which offers exclusive culinary delights to the guests. The cocktail bar of the hotel is a nice place to enjoy your chosen cocktails. You can also sit in the coffee shop and spend some quality time enjoying your cup of coffee.
The business guests get the privilege of using the convention center and other business services offered by the hotel. Apart from the hot springs, this South Korean hotel also has an elaborate arrangement of sauna, and other health care services. You can be sure of getting the parking facility in this hotel. The hotel accepts credit cards as a mode of payment. This description is based on information provided by the hotel.
Hotel Facilities
• Air Conditioned
• Bathrobes
• Business Center
• Cable / Satellite TV
• Conference Room(s)
• Dry Cleaning
• Elevator / Lift
• Hair Dryer
• Lake
• Laundry service
• Massage
• Massage / Beauty Centre
• Mini Bar
• Parking
• Sauna
• Shower
• Spa bath / Jacuzzi
• TV