Photo of Tambuli Beach Club West Hotel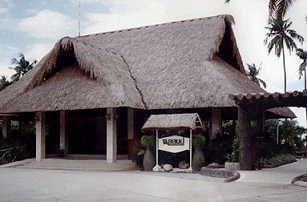 Photo of Tambuli Beach Club West Hotel
Address: Mactan Island Cebu Philippines, Lapu-Lapu City, Philippines
General Description
Some of the attractions that you can visit while staying with us are Fort San Pedro, Basilica Minore Del Santo Niño, Casa Gorordo Museum and Art Gallery, and the famous and historic Magellan's Cross.
Superior Rooms of the West Wing command a panoramic view of the resort's luxurious pool. Each room has individual air conditioning, radio, television and mini bar, hot and cold shower with bathtub, with electric current at 110v/220v. All Superior rooms feature a cozy terrace for relaxing on warm sunny days and enjoying the cool breeze of starry summer nights
Tambuli Beach Club's West Wing (formerly known as the Tambuli Beach Villas) boasts of a sparkling and grandiose swimming pool and a number spacious rooms that serve as an excellent venue for business and leisure activities. Tambuli West's serene ambiance complements its superb services and facilities that are specially designed to cater to all your needs and more.
We offer various services and amenities such as banquet facilities for all sorts of events, photocopy and fax services, laundry and dry cleaning services, gift shops, massage service, swimming pool and Jacuzzi.
Every second of your stay is time well spent. An experience you'll savor for a long time.
NULL