Photo of Transit Hotel Mumbai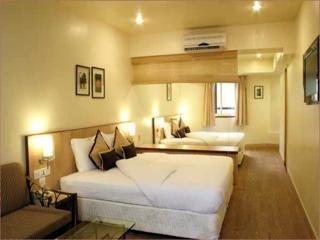 Photo of Transit Hotel Mumbai
Address: Nehru Road Extension Vile Parle East Near Domestic Airport, Mumbai, India
General Description
The Transit Hotel Mumbai is situated centrally at a strategic point making it easily accessible by many means of transport. It lies at a distance of 1 km from the Mumbai Airport. From the Vile Parle Railway Station, the hotel is just 2kms away and is only 1 km from the Centaur Hotel bus stands. Shopping around the hotel is a recognized stress-buster. There are numerous branded shops, malls and multiplexes in the immediate vicinity as well a five kilometer radius.
The hotel was established in 1974 and was the first hotel to operate at the Mumbai Airport. The hotel provides superb services and facilities that one would expect from a hotel of this type. The hotel provides excellent lodging and business facilities.
The hotel offers 54 luxuriously appointed rooms for the comfortable stay of its guests in Mumbai and it offers five customized suites with designs based on the themes from Indian Heritage. All rooms are air-conditioned, tastefully furnished, and enjoy amenities and services.
The hotel's signature gourmet restaurant and bar serves Indian specialties in an amicable setting. The bar serves up liquors, drinks and cocktails to add a zing to your evenings. The caf is popular with locals, guests and celebrities for its sophisticated Euro look, al fresco dining, fast food menu and live music.
NULL