Photo of Ming Zhu Hotel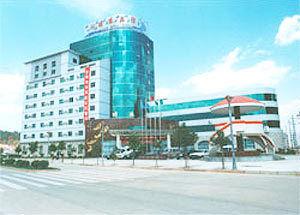 Photo of Ming Zhu Hotel
Address: Ming Zhu Plaza Economic Development District, Dali, China
General Description
The Ming Zhu Hotel is in the economic development district. It is a short walk to the Moon Square, Shuimu Palace and Mingzhou Square. Other shopping and dining accommodations in Dali are a short drive away. The pier is right next to the hotel, making transportation by water easy. The Ming Zhu Hotel can also be reached by rail and bus station, which are a short distance away. Car, taxi and shuttle service can also be used for other locations.
This hotel has 111 standard rooms, deluxe suites and single rooms. Each room in the Ming Zhu Hotel has a telephone, TV and air conditioning.
There are eleven stories on the hotel, which used to be a mansion. An onsite restaurant at the Ming Zhu Hotel serves Chinese and Western cuisine. The hotel also has a gym, a swimming pool and conference rooms. The conference rooms can hold both small and medium sized functions. Laundry facilities are available for a fee.
NULL