Photo of Hotel Emira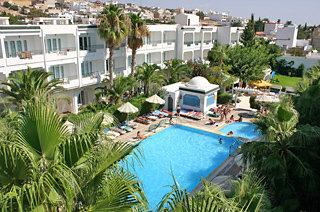 Photo of Hotel Emira
Address: Avenue Abou Dhabi, Hammamet, Tunisia
General Description
The Hotel Emira can be found only one kilometer away from the beach. Guests will find themselves one and a half kilometers from the medina near many ancient ramparts and a fortress. Old Hammamet is also located quite nearby. The Hotel Emira is situated about 70 kilometers from Tunis Carthage Airport. The airport and Hammamet points of interest can be easily reached via taxi cab or by local bus. The hotel offers a complimentary shuttle service to escort guests to the nearby beach.
Each of the guest rooms at the Hotel Emira offers a private terrace or balcony. All rooms offer televisions as well as phones and mini fridges. Private bathrooms are also included in every guestroom.
Guests of the Hotel Emira will find a diverse selection of restaurants and shops in the area. The hotel offers an onsite buffet as well as a barbecue and a snack bar. The hotel also offers bars, a parking area, and much more.
NULL